Phillips Distilling Co debuts Cubist vodka
Minnesota-based spirits producer Phillips Distilling Company has unveiled a new vodka brand that is designed to be stored in the freezer – a 'world first' for the category.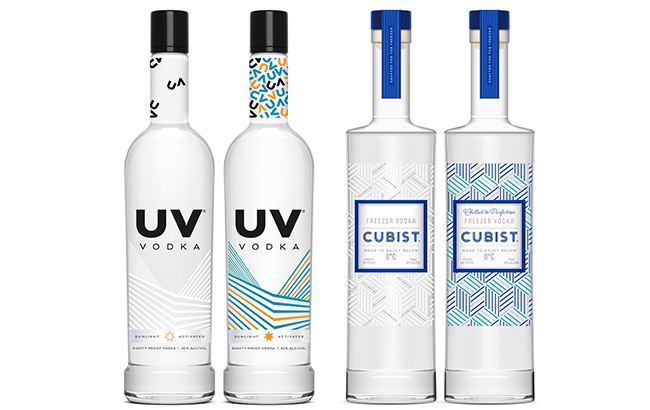 The new Cubist vodka uses thermochromic technology that turns the bottle blue to inform the consumer that it is ready to drink at or below zero degrees celsius.
Phillips Distilling Co said consumer research found that vodka fans prefer to sip the spirit ice cold, with many storing it in their freezer.
Adverting and point-of-sale materials will feature QR codes that direct the purchaser to a video which demonstrates the technology, along with further product information.
The vodka will launch in test markets, Minnesota and Arizona, in August, followed by an expanded launch in 2022. Cubist is priced at RRP US$24.99 per 750ml.
Furthermore, the distiller has created a new look for UV Vodka, featuring a photochromic bottle design that initiates a bright spectrum of colours when displayed in UV sunlight. When exposed to the light, a photochromic wave design appears on the neck of the bottle and progresses to the label. When taken out of the light, a new black UV logo remains while the colours disappear.
The brand will unveil a new campaign featuring the tagline 'Bring the Light' that focuses on 'building a deeper state of mind between the UV name and its connection with sunlight'.
Phillips Distilling Co cited CTI research, which found that sunlight-activated ink encourages 64% of consumers to purchase.
'Ground-breaking launch'
"Phillips Distilling Company has a long history in innovation," said Andy England, CEO of Phillips Distilling. "Our ground-breaking launch of Cubist is the first of many revolutionary test concepts we plan on introducing to the world.
"We also plan to launch three new brands into lead markets next year that will fuel our company's growth trajectory and deepen our relationships with distributor and retail partners."
Phillips Distilling Co is planning to 'upend the traditional flavoured whiskey category' with the relaunch of its Revel Stoke whiskey. The new marketing and brand positioning effort will be the largest in the company's history.
The brand will target men aged between 21 and 34 years old, with 'bold' and 'high-energy' packaging to attract independent whisky drinkers.
Billboards will run in September and October in Minnesota, Wisconsin and Iowa to boost brand awareness.
Additionally, Revel Stoke will host guerilla-style chalking events in key US cities during the football season. The campaign will incorporate digital elements such as social media, Instacart and Spotify.
A new advertising campaign has also been created for vodka and gin brand Prairie Organic Spirits to target the '30-something urban dweller' who is looking for ways to save the planet. It will feature billboards, 15- and six-second TV spots and paid social media content.
Furthermore, Phillips Distilling Co has unveiled a new corporate website that provides a 'modern and contemporary' experience for users.