Patrón Perfectionists names top 10 UK finalists
By Melita Kiely
Tequila brand Patrón has picked the top 10 UK finalists who will progress to the next stage of the Patrón Perfectionists Cocktail Competition 2021/22.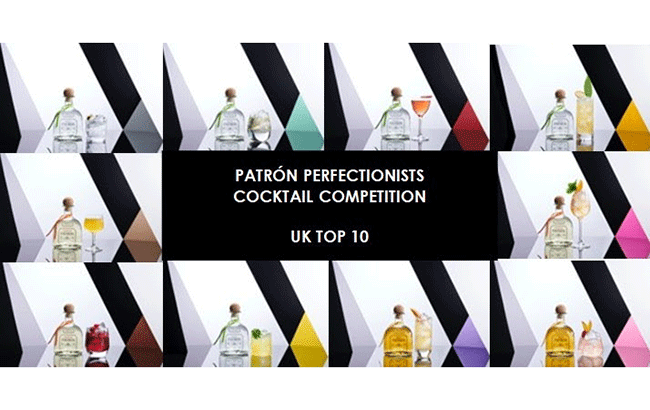 Ten leading bartenders from London, Edinburgh, Glasgow, Bristol and Belfast will compete in the UK final.
For the first time in the competition's history, consumers were asked to vote from a shortlist of 30 cocktails, published on Difford's Guide.
Consumers are also encouraged to try the top 10 winning recipes in each finalist's bar. Alternatively, the cocktails can be ordered as a bespoke Patrón Perfectionists Cocktail box through The Drinks Drop (thedrinksdrop.com) until 31 August.
Matthew Sykes, VP global commercial execution at Patrón and founder of the Patrón Perfectionists Cocktail Competition, said: "We're thrilled to see such talent, passion and innovation from this year's entries, especially those coming from the UK, which feel representative of our unparalleled bar scene.
"It's been a tough year for the hospitality industry and this has been a great way for us to support and pioneer bartenders from across the globe.
"We're incredibly excited to see how the UK final unfolds and I'm sure it will be a tough competition."
The 10 UK finalists will be judged by: two Michelin-starred chef Tom Sellers; Giulia Cuccurullo, winner of the 2020 Patrón Perfectionists Cocktail Competition; Deano Moncrieffe, founder and director of Hacha Bar and agave spirits expert; and Claire Presland, brand director for Patrón across Western Europe, Australia and New Zealand.
The national finals will be broadcast globally, and the winner from each national final will travel to Mexico in January 2022 to compete in the global final at Hacienda Patrón.
The top 10 UK finalists are:
Benjamin Shelmerdine from Filthy XIII. Cocktail name: Silver Century
Danny McManus from The Gate. Cocktail name: The Pursuit
Elli Raeside from Tonic Bar. Cocktail name: Down Time
Kat Stanley-Whyte from Uno Mas. Cocktail name: Escape the Box
La'Mel Clarke from Lyaness. Cocktail name: In Motion
Liam Scott from The Corinthian Club. Cocktail name: Jalisco Sunset
Morgana Toro from Artesian Bar. Cocktail name: Escoffier
Stefan Oancea from the London Cocktail Club Shoreditch. Cocktail name: Nabu
Tiegan King from Babel Belfast. Cocktail name: King's Rose
Yannis Heracleous from Hawksmoor Spitalfields. Cocktail name: Brick by Brick