Laphroaig debuts third Ian Hunter whisky
Islay Scotch brand Laphroaig has released the third whisky in its Ian Hunter Story series ­– a 33-year-old single malt.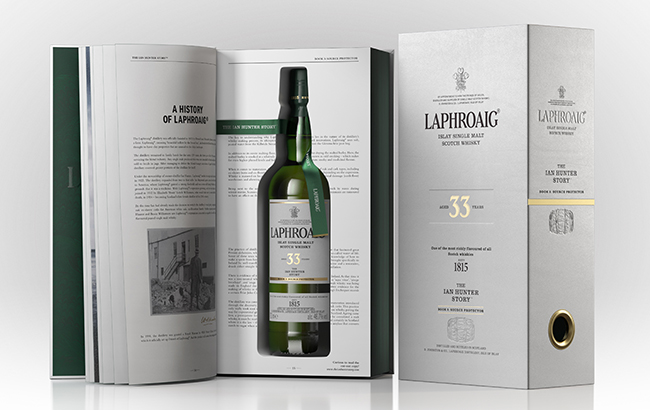 The Beam Suntory-owned brand unveiled its first expression in a new series of whiskies that honour Ian Hunter, the last member of the founding Johnston family to run the Islay distillery. The range will consist of five whiskies, each released annually.
The first bottling, Book One: Unique Character, paid homage to Hunter's decision to introduce American white oak barrels to the maturation process at Laphroaig.
Book Two: Building an Icon, released last year, was matured in Sherry casks for 30 years. The expression marks Hunter's work on expanding the distillery and his "innovative approach to whisky making".
This year's expression, Book Three: Source Protector, is a 33-year-old whisky from 1987 that has been matured in ex-Bourbon barrels.
The new single malt charts the history behind the Kirkbride stream. Following a long-running dispute, Hunter purchased the land leading up to the source of the stream to ensure the distillery would be powered by steam.
The resulting liquid has notes of pears, peaches and apricots on the nose, while the palate offers aniseed and liquorice.
John Campbell, Laphroaig distillery manager, said: "You cannot enjoy Laphroaig's exquisitely smoky and complex liquid, without paying homage to the legendary Ian Hunter.
"His influence in our whisky production techniques and our iconic brand as a whole is undeniable. The third book in our Ian Hunter Story celebrates his legacy in shaping Laphroaig to what it is today."
The limited edition whisky is available from Laphroaig.com and specialist retailers for an RRP of £920, US$1,250 and €990.