How luxury Cognac is attracting whisky collectors
With rare whisky being so expensive on the secondary market as to put it out of reach of all but the most wealthy, Cognac is becoming a popular choice for collectors. And brands are now actively targeting them, as Owen Bellwood discovers.
*This feature was originally published in the May 2021 issue of The Spirits Business magazine.
In May 2020, auctioneer Sotheby's hit the headlines when it set a new record for the most expensive bottle of Cognac sold at auction. The auction house offered one of the three bottles of Gautier Cognac 1762 known to be in existence, which had a hammer price of £118,580 (US$144,525).
However, while drinkers are now used to seeing bottles of Scotch and Japanese whisky set sky-high prices on the secondary market, the record-breaking sale marked a change in Cognac's value at auction and on the market.
"Cognac dipped slightly around 2015, 2016, which is around the time that Scotch and Japanese whisky started to ramp up," says Jonny Fowle, Sotheby's spirits specialist.
"Cognac yielded some market share to whisky and is now playing catch-up. But it does seem like there is room for vintage, aged spirits like Cognac to find favour with people who are maybe unhappy with the price of Scotch whisky."
Both Sotheby's and online auctioneer Whisky.Auction noted a growing demand for Cognac on the secondary market in recent years. That interest from collectors and drinkers alike has seen the prices of old and rare bottlings steadily climb.
"Interest in Cognac is definitely growing," says Isabel Graham-Yooll, auction director at Whisky.Auction. "In the secondary market and the auction market people are becoming more educated."
Obtainable spirit
Graham-Yooll says educated consumers with an interest in dark spirits have been attracted to the Cognac category after they were priced out of Scotch whisky.
As rare expressions from the likes of The Macallan single malt climbed close to US$1 million, the price of rare and ultra-aged Cognac has remained more obtainable for a greater number of collectors.
"Part of the issue has been whisky prices have gone up," says Graham-Yooll. "Whisky knowledge and understanding has gone up, so those people are now thinking 'where else can I find interesting things?'. When they see that a Cognac of an equivalent age to a whisky that would be completely unaffordable is actually achievable, that turns people's interests onto Cognac."
And while Sukhinder Singh, managing director and co-founder of spirits retailer The Whisky Exchange, believes demand for old and rare Cognac "has always been there", he says the biggest change for the sector has been driven by new consumers. He adds: "These new consumers include whisky drinkers who have woken up to the fact that some of these older aged Cognacs are 30 years old and above. A 50-year-old bottle only costs a few hundred pounds, compared with the thousands you would pay for an equivalent aged whisky."
Singh believes there are two main types of consumer in the sector, those that "love packaging and aged Cognac", and those that "just love good old Cognacs from smaller lesser-known domaines". No matter which camp you fall into as a buyer, price is just one of the qualities buyers look for when selecting the lots on which to place their bids.
"Consumers look for a blend of different elements for their rare or exclusive Cognac," says Thomas Soret, communications manager at Cognac Frapin. "Of course, rarity is a key word, a very limited edition is looked for by consumers who want something different.
"But rarity is not enough; consumers are looking for a real story about this Cognac, they will identify with it if they appreciate its origin, the know-how needed to create it, but also the decanter itself. Of course, quality is highly important too, the quality of the Cognac but also of the production."
Innovative offerings
To appeal to these specific consumer demands, Cognac houses and bottlers have sought to innovate with their offering on the primary market, which has in turn created investment opportunities for savvy buyers.
At Cognac house Camus, this has seen the brand create its Cuvée series of rare Cognacs, which are available in limited batches. Cyril Camus, president of Camus Wines and Spirits, explains: "With the Cuvée series we changed the model in a way and we brought investment value to the category. So that is one approach we have, which is elevating the overall price perception of Cognac and the perceived investment value."
The series comprises blended Cognacs made using rare eaux-de-vie, each selected based on qualities such as aroma and flavour.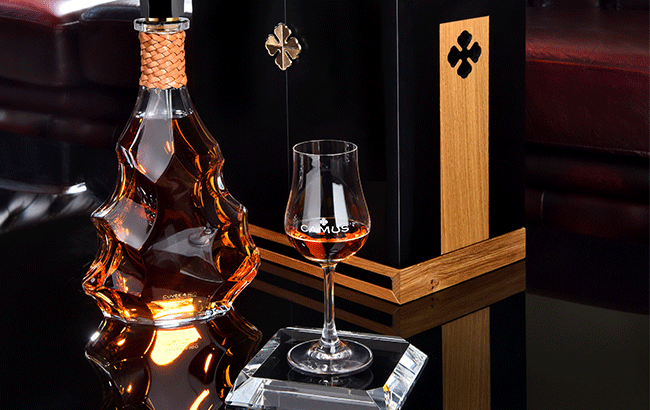 Each expression in the series uses a numerical naming system, with the latest release being called 4.160 to represent the number of Cognacs in the blend – four, and their combined age of 160.
Camus adds: "In the Cuvée series there is good investment value for the people who bought them, but there is very little commercial value for us. There is no return on investment for creating a blend of only 900 bottles, especially when you've aged the Cognac for 40 years or more. On that basis, for the people who are passionate about Cognac we do want to do something extraordinary, and that will reflect positively on the overall brand."
Camus says the Cuvée series has already seen its price rise by 50% "over a period of 10 or 15 years". As such, it's easy to see why producers are eager to create rare and luxury expressions that will appeal to consumers looking to invest in a special bottling.
Ultra-premium segment
Cognac house De Luze is also hoping to enter the ultra-premium segment with a new release to mark the brand's 200th anniversary in 2022. The firm will mark the occasion with a limited edition bottling made with eaux-de-vie no less than 40 years old.
Thomas Livorin, hospitality manager at Cognac De Luze maker Maison Boinaud, says: "Our goal with this very premium Cognac is to highlight the know-how and its transmission from one generation to another. We will try and enter into the competition of very rare and luxurious Cognacs from the biggest traditional houses."
On the secondary market, auctioneer Sotheby's has also worked directly with Cognac houses to offer one-off sales of ultra-rare Cognacs. In the past year, the auction house offered a one-of-a-kind bottle of 1969 D'Ussé Cognac signed by rapper Jay-Z, as well as a Hennessy XO decanter designed by architect Frank Gehry, which each sold for US$52,500 and US$18,750 respectively. Fowle says the sale demonstrated how innovative producers continue to be in the Cognac segment, even at such high price points.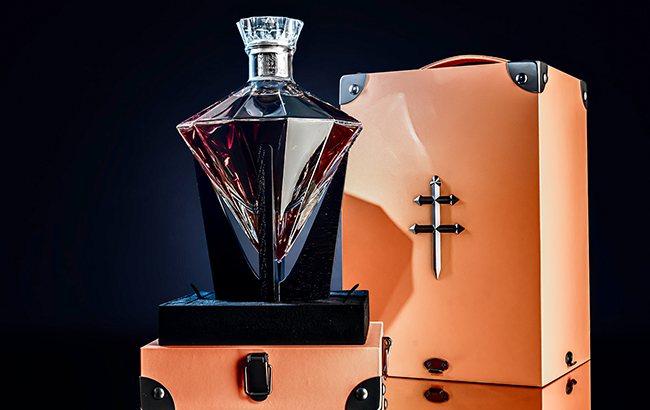 He says: "Hennessy had partnered with Frank Gehry to create a gold skin for the exterior of the Hennessy XO bottle. So, it was more of a packaging experimentation, and that was a way in which a company could experiment with an existing theme and create something that was a bit more interesting. With the D'Ussé bottle, that was a 1969 vintage, being 1969 it was a 50-year-old Cognac so it was a different style for D'Ussé because normally it releases a slightly younger expression."
David Baker, managing director of Hermitage Cognacs, has also found examples of innovation at the top end of the Cognac market. He believes sprits produced by masters of their craft in creative ways can become some of the best examples available in the category.
"We've got an 1885 at the moment, and that was probably the finest Cognac I've ever tasted, it was just out of this world," he says.
"It was looked after very well indeed. It was left in a barrel for 100 years and the owners took it out the barrel and left it out for about 10 years. They wondered what they could do with it, so put it back in another barrel, and that lifted it – it had a double ageing. The richness and the quality of this, you just have to taste it to believe what it's like."
Attention is rewarded
Creativity among producers and a more educated consumer base may be increasing interest and demand for Cognacs on the secondary market. But Graham-Yooll doesn't believe this means budding Cognac aficionados will soon be priced out of the category.
"There are some astonishing things you can buy. If you are picking up bargains, Cognac is the place to go," she says. "People forget what's out there, so you can pick up things sometimes for less than the release price, if you are lucky. Giving the auction plenty of attention is rewarded."
It isn't just in Cognac's homeland of France where demand and interest in the spirit is rife. On the primary market alone, sales of Cognac are predicted to increase by US$303.59 million between 2021 and 2025, according to a new report from market analysis firm Technavio. And, on the secondary market, Sotheby's noted that 80% of its spirits buyers came from Asia in 2020, compared with 4% in the Americas and 16% in Europe, the Middle East and Africa.
Charles Braastad, managing director of Delamain Cognac and a ninth-generation member of the Delamain family, says: "Cognac has certain key markets, currently led by China, the United States and Europe. We expect this to remain the case as the market for investment-grade Cognacs emerges and evolves, and we are very much at the beginning of that process.
"Deeper pockets, deeper product knowledge and deeper investment experience in these markets will continue to make them the most important markets for this effectively new category of Cognacs; as a product and as an investment."
Rising prices
Braastad's belief that we are now at the start of a trend of rising Cognac prices at auction is echoed by Livorin, who says increasingly educated consumers will drive this growth.
He says: "I think the demand for Cognac will grow. We have a bigger number of educated consumers now."
As newly educated Cognac drinkers turn their attention to the secondary market, Hermitage's Baker adds that he is seeing the price increase happening, and that there isn't "any doubt about it" that this trend is set to continue in years to come.
While Fowle remains light-hearted in his prediction that "whisky and Cognac are going to create a European super club and it will be the end of auction market as we know it", he agrees that the sector is poised for growth.
"We will see an increase in value of older bottles," he says. "With that, we will see Cognac houses that lead the primary market try to dip their toes into the secondary market or invest in the secondary market. I think we will see the emergence of prestige and private‐client teams interacting more with auction houses, and at the same time as we see higher prices for these super old bottles, we will probably see more of these luxury styles."