Gin Ting releases TV ad with Sky
By Melita Kiely
English brand Gin Ting has released its first commercial after securing £20,000 (US$27,400) of TV advertising through Sky's SME100 scheme.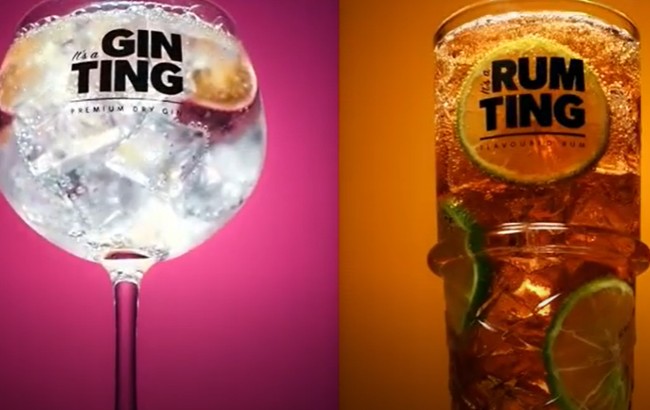 Sky Media's SME100 is a £2 million (US$2.7m) support scheme for small businesses, which gives them free access to TV advertising through Ad Smart.
The scheme gave 100 small companies £20,000 of TV advertising across Sky Media's channels, and Gin Ting was one of the successful applicants.
Kris Hindley launched Gin Ting and Rum Ting in 2018. The advert focuses on two of the brand's flagship expressions: Gin Ting Passionfruit, Mango and Elderflower, and Rum Ting Passionfruit, Mango and Elderflower.
The advert will be broadcast across the entire Sky and Virgin platform, with the exception of BBC 1 and ITV 3 channels.
Hindley said: "Since we brought the brand out in 2018 it has really accelerated and we've had a successful launch.
"From launching in May 2018 to being listed in every Weatherspoon in the country [UK] in six months is zero to hero; how fast we've grown is amazing.
"Hopefully from the exposure of the ad – especially on Sky TV, which is surreal – it will generate more people to discover the brand, and help us grow exports."
The brightly coloured TV spot showcases Rum Ting and Gin Ting's flavoured expressions being poured into glasses over ice, with mixers.
The advert then details the brand's website – ginting.co.uk – before ending with the tagline #bringyourting, accompanied by a nod to Amazon Prime, where the brand's full range is available to buy.
With the rollout of the ad, Hindley is looking to expand further in both the on- and off-trade. The brand already works with numerous retailers and distributors, including Co-op, Ocado, Matthew Clark, LWC and Booker, to name just a few. Last year, Gin Ting appointed CPG International Brand Development as its global distribution partner.
Hindley enlisted the talent of Emily Mills to create the ad. The photography student graduated from Bournemouth University in the UK this year.
During her final year, Mills created an advert for cider brand Kopparberg, which went viral on TikTok with more than 2.5 million views and nearly 500,000 likes. Kopparberg then spent more than £50,000 to take her content from TikTok and broadcast it on TV.
"Emily has done so well. We used her with another production team, called Agent at Large," Hindley explained. "It's a great little story; we're the small guy, she's also just starting out, and we've come together to create something massive.
"As a small brand, to gain exposure like this is incredible. It's great to raise awareness of the brand."
The advert will be focused on central England until 15 September. Afterwards, the TV ad will be extended to London and the southwest of England "as the budget becomes available".
Click the video below to watch the Gin Ting and Rum Ting advert, which comes in 20-second and 30-second formats.