Aberfeldy partners with The Bee Conservancy
Bacardi-owned whisky Aberfeldy has collaborated with a bee charity to launch its signature cocktail in the on-trade.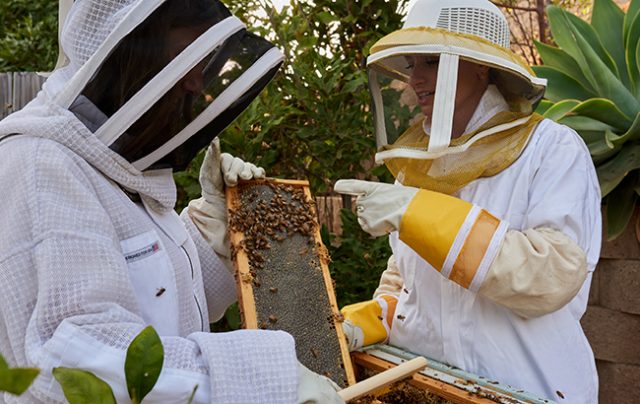 In 2018, single malt Scotch whisky Aberfeldy launched its Barrel & Bees programme to support urban bee communities producing local honey. This included taking steps such as installing bee hives at Bacardi's global headquarters.
This year, the brand is expanding its commitment to supporting bee populations across the US by launching a number of initiatives in the on-trade and online with charity The Bee Conservancy.
"The Aberfeldy Barrels & Bees platform educates people about the plight of bees, while advocating provenance and the use of quality ingredients," said Sara Ivy, brand director of single malts at Bacardi. "We are proud to continue driving awareness for bees and to do our part to support their populations."
To further its commitment to the insects, Bacardi has also unveiled the Barrels & Bees Award, which will be presented to 16 US-based bars and restaurants.
The selected venues will serve Aberfeldy's signature cocktail, the Herbed Honey Smash, which combines local honey, Aberfeldy 12 single malt Scotch whisky, lemon juice and herbs harvested from the pollinator garden.
Aberfeldy will also donate US$15,000 to The Bee Conservancy, as well as US$20 for each instance the hashtag #BarrelsAndBees is used on Instagram by members of the public. This will continue throughout National Honey Month in September until an additional donation of US$10,000 is reached.
"The decline in bee populations and the toll of their loss is intrinsically linked to the ability of local areas to grow food," said Rebecca Louie, managing director of The Bee Conservancy.
"This is why beyond saving the bees, The Bee Conservancy strives to educate, engage with nature, grow food and community bonds and build sustainable economic opportunities.
"We are thrilled to be partnering with Aberfeldy, a collaborator that shares these same goals, as we continue our important work."
Furthermore, the partnership has produced limited edition cocktail kits to recreate the Aberfeldy Herbed Honey Smash at home. There are only 100 available to purchase at reservebar.com for RRP US$45.
An educational video series is also available on the brand's YouTube page. Plus, Aberfeldy has donated whisky barrels to the charity, which can be used as garden planters for bee-friendly flowers.