Whistlepig moves into Irish whiskey
US distiller Whistlepig has partnered with Darryl McNally to create the world's first single barrel Irish whiskey under the revived Limavady brand.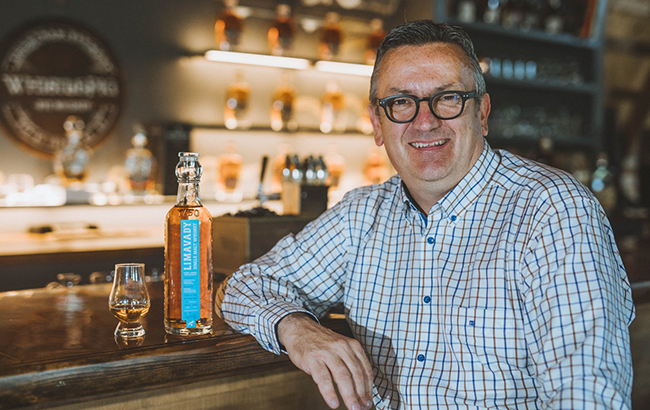 Vermont-based rye whiskey producer Whistlepig will manage the bottling and distribution of the whiskey under McNally's direction, who will lead production and innovation.
Whistlepig will help McNally establish the single barrel Irish whiskey category in the same way it has led aged and experimental rye.
Whistlepig believes the Irish whiskey category 'needs to stretch and break through stereotypes established by industry giants'.
Furthermore, the US distiller said Irish single malts and single barrel bottlings 'deserve the same recognition as both single malt Scotch and craft American whiskey'.
Limavady is said to be one of Ireland's oldest whiskeys, dating back to 1705. The brand is being revived by McNally, a descendant of the Limavady Distillery's 18th-century operators. McNally, who was born in a bar in Limavady, Northern Ireland, has spent more than 20 years in the Irish whiskey industry.
He was previously the master distiller of the Dublin Liberties Distillery, and has worked for Bushmills and the Belfast Distillery Company.
"I've been working in the Irish whiskey industry for a long time and reclaiming the Limavady whiskey name has been a long-held dream of mine, so finally bringing it to market is already a huge leap for me but teaming up with a visionary company like Whistlepig to do so makes it even more exciting," said McNally, Limavady's master distiller.
"Forward-thinking and not afraid to push the boundaries of innovation, Whistlepig is the perfect match for Limavady, and I couldn't wish for a better partner in taking Irish whiskey to new heights."
Limavady will be the first Irish brand to join Whistlepig's range as the firm seeks to create a 'global craft portfolio'.
In December 2020, Whistlepig sold a minority stake to Moët Hennessy in a bid to help the brand expand internationally.
'Reimagine the category'
"We originally met Darryl at an industry event and then stayed in touch over the years," said Jeff Kozak, CEO of Whistlepig. "When we understood his desire to reimagine the category and learned of his plans to revive Limavady whiskey, we jumped at the opportunity to partner with him.
"We visited Limavady and experienced the historic distillery grounds. While the brand draws its inspiration from the past, we are looking to the future of Limavady as Darryl takes Irish whiskey to the next level."
Limavady will be sold in select markets in the US, UK and Northern Ireland from August. Limavady will be distributed in the US through Whistlepig's existing distribution partners, which include Republic National Distributing Company, Breakthru Beverages and Southern Glazer's Wine and Spirits, priced at US$49.99 per 700ml bottle.
Additional details on the brand will be revealed in the coming weeks.