Strykk launches alcohol-free vanilla 'vodka'
Non-alcoholic 'spirits' brand Strykk has released a vanilla-flavoured 'vodka' to tap into popular serves such as the Espresso Martini.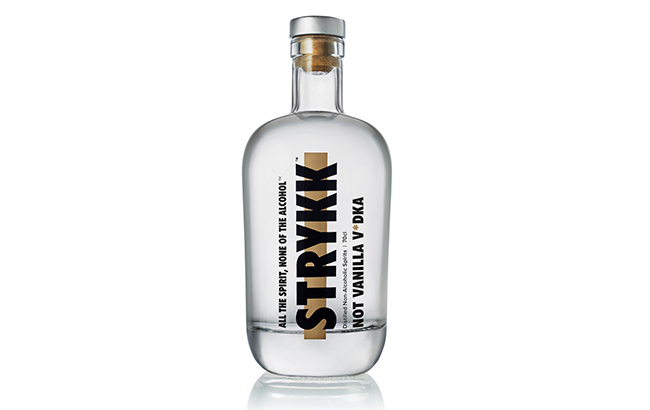 Strykk Not Vanilla V*dka is described as an alcohol-free 'spirit' alternative for vanilla vodka cocktails such as a Passionfruit Martini. According to the CGA Mixed Drink Report Q3 2020, the serve accounts for one in five cocktails served in the UK.
Strykk was launched in 2018 by Alex Carlton, the founder of Funkin cocktail mixers.
In June 2019, Funkin and Irn-Bru owner AG Barr acquired a 20% stake in Elegantly Spirited, producer of Stryyk, for £1 million (US$1.2m).
Carlton, Elegantly Spirited CEO, said: "With 8.6 million drinkers looking to reduce their alcohol intake, Strykk Not Vanilla V*dka represents a huge trade-up opportunity, giving consumers a non-alcoholic alternative to a favourite flavoured spirit.
"Consumers want to maintain social rituals and with the introduction of Strykk Not Vanilla V*dka, drinkers can stay in the round and enjoy cocktails, such as a Passionfruit or Espresso Martini, minus the alcohol."
In addition to vodka-based cocktails, Strykk recommends mixing the bottling with cola.
The vanilla-flavoured expression joins the Strykk range, which includes alcohol-free alternatives to gin, rum and vodka, as well as a ready-to-drink range. The brand has listings with Tesco, Amazon and Ocado.
Like the rest of the core range, Strykk Not Vanilla V*dka is priced at RRP £18.99 (US$27) per 700ml. It is distributed in the UK by Funkin Cocktails.