Father-and-son duo to open £5m Welsh distillery
Entrepreneurs Andy and Rhys Mallows have revealed plans to build a £5 million (US$6.9m) distillery in south Wales, which will produce a Bourbon-style whisky.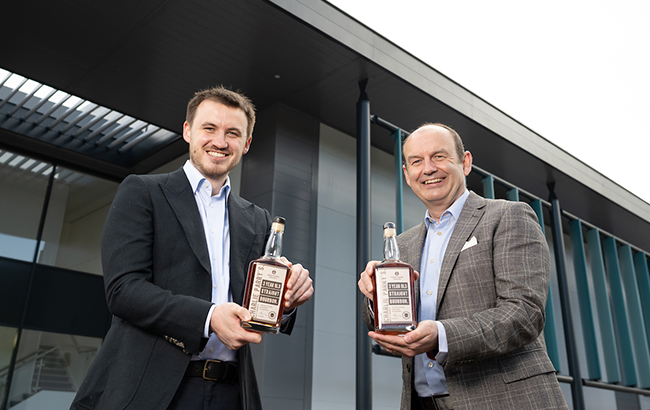 The father-and-son duo will open a 30,000-square-foot distillery, which will start contract bottling for international brands, as well as producing own-label spirits.
Contract bottling will form 90% of the output of Mallows Distillery by volume, while the remaining 10% will comprise own-label gins, rums, whiskeys and liqueurs.
The facility in Llantrisant can process up to 12,000 bottles an hour, ranging from 50ml to three-litre bottles, with product lines set to be distributed to global locations.
The distillery will produce what is described as Wales' 'first Bourbon', called Charlie Parry's. The product is named in honour of Rhys' late grandfather and Andy's father-in-law.
The Bourbon is stored in virgin American oak barrels for two years before being shipped to Wales, where it will be blended with local water to create a 40% ABV expression.
It is said to have sweet vanilla, caramel and toffee undertones. The company said pre-sale orders and interest from across the globe have been 'phenomenal'.
"Many people are unaware of the many Welsh links to traditional Bourbon," said Andy Mallows, co-owner of Mallows Bottling.
"Jack Daniel's grandmother is said to be from Wales, while Evan Williams Bourbon were originally from Pembroke before emigrating to the USA. It's long been an ambition of ours to create the first-ever truly Welsh Bourbon, and it's very exciting to see that dream come to fruition.
"We char the Bourbon barrels to release the colour and sweetness, a process known in the industry as 'blowing dragon's breath' into the barrels, before adding Welsh water to give it a distinctly Welsh twist."
The first 12 bottles from each batch will be given to Welsh charities to auction.
The company plans to create 29 jobs in production, accounting, engineering and quality control in the first year.
Andy Mallows added: "Opening our new distillery is the culmination of a lifelong dream for us. We have developed a range of innovative artisan spirits, which we are looking forward to exporting to many territories globally.
"We have already secured contracts to supply retailers in the USA, France, Australia and Poland."
The father-and-son duo was due to open a £7m (US$8.8m) distillery and visitor centre at Hensol Castle in south Wales. However, in May 2021 the pair sold their 25% share in the site to the castle's owner, The Leekes Retail & Leisure Group.
The Hensol Castle Distillery is expected to open in September 2021 – 18 months after it was originally due to launch in March 2020.