Deano Moncrieffe to open second Hacha bar in Brixton
Industry veterans Deano Moncrieffe and Emma Murphy are bringing their agave spirits bar Hacha to south London with the opening of a second site in Brixton's Market Row.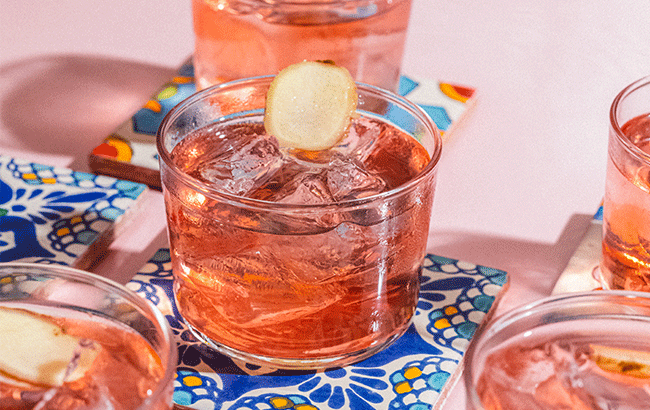 Hacha Brixton will build on the agave-focused offering of the original location in Dalston, which opened in 2019 and quickly garnered acclaim for its striking signature serve, the Mirror Margarita, and its thoughtful list of Tequilas, mezcals and other distillates.
Set to launch next month, the venue sprawls over two floors. The ground level will feature a bottle shop, where guests can sample variations of the Mirror Margarita to help them decide which ones to take away (the cost of the flight is subtracted from the price of the bottled cocktail upon purchasing).
Meanwhile, the buzzy upstairs will be home to a 50-cover bar and an open kitchen run by Maiz Azul, the residency behind the food at Hacha Dalston. Drawing on the aesthetic of the flagship site in east London and designed by Murphy herself, the space will be decked out with rattan sofas, low concrete tables and low lighting.
Like the Kingsland Road venue, Hacha Brixton will offer a rotating selection of 25 agave spirits, each paired with an ingredient that highlights its flavour profile.
In terms of cocktails, the Mirror Margarita will have a place of honour on the menu, but Moncrieffe has also developed a new drink that will act as the bar's signature: La Bandera, a twist on the classic Mexican three-shot drink. The serve features three mini cocktails, each with a different agave spirit base, in the colours of the Mexican flag.
Community spirit
Moncrieffe and Murphy chose Brixton as the site of their second bar because of the parallels they noticed between east and south London.
"We are truly excited to bring Hacha to Brixton, there's a synergy to Dalston and Brixton that drew us here," Murphy explained. "Both are such eclectic areas with a strong sense of community, a mass of independent businesses and an openness to try new things.
"Lockdown has really highlighted our long-held belief that bars, pubs and restaurants are essential cornerstones of local communities so Brixton felt the obvious and perfect place."
Moncrieffe and Murphy plan on contributing to the neighbourhood in ways that go beyond spirits and cocktails. Once a week, Hacha Brixton will close its bar and host a 'community day' in partnership with Equal Measures, the non-profit organisation Moncrieffe founded last year to foster diversity in the hospitality industry.
"Community Day is all about providing opportunities for people who want to grow, learn, share and help others," said Moncrieffe.
"We will run seminars, educational courses, workshops, cooking lessons, spirits master classes, mentorship sessions, networking events as well as providing a venue for other Black businesses to showcase their businesses."