American Bar hires new head bartender
The acclaimed American Bar at The Savoy hotel in London has named American mixologist Shannon Tebay as its new head bartender.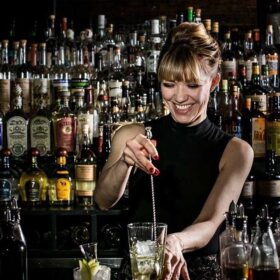 Tebay is a seven-year veteran of the renowned bar Death & Company in New York City, and will begin her tenure at the American Bar in August.
Her appointment marks the first time an American has ever held the title of head bartender at the hotel.
Throughout the bar's history, the role that has been filled by some of the most respected figures in the industry, including famed bartender Ada Coleman, who served the venue from 1903 to 1924. Tebay will be the first woman to hold the position since Coleman's time at the bar, nearly 100 years ago.
Tebay said: "Becoming head bartender at the American Bar is not just the professional opportunity of a lifetime, it's also an opportunity to continue building the bar's legacy as a beacon of innovation and quality – in both the way we create our drinks and in how we deliver our service."
She takes on the job following the departure of former head bartender Maxim Schulte in July 2020, who said he "could not align his vision and goals with the future structure and plans of The Savoy" after the hotel's staff redundancies during the Covid-19 pandemic.
Tebay studied at the French Culinary Institute and has a background in pastry, which she applies to her cocktail-making technique. She said she aims to reassess some of the processes of the American Bar, which first opened in 1893.
"I hope to honour the historical significance of the American Bar and modernise bartending culture within the community at large, championing under-represented perspectives and re-evaluating best practices in order to maximise sustainability," she explained.
Franck Arnold, managing director of The Savoy, commented: "We're really excited to be welcoming Shannon to The Savoy. We admire her vision and her focus on teamwork. We're looking forward to seeing her reopen the American Bar with a menu that will display her reverence for the bar's history, and showcase the creativity and talent of the team as a whole."