Patrick Pistolesi on building an RTD brand
By Owen Bellwood
Industry veteran Patrick Pistolesi is owner of Rome's Drink Kong, one of the world's hottest bars – but with the venue in lockdown, he turned to RTDs. We spoke with the NIO Cocktails co-founder about the challenges of making great serves in pouch form.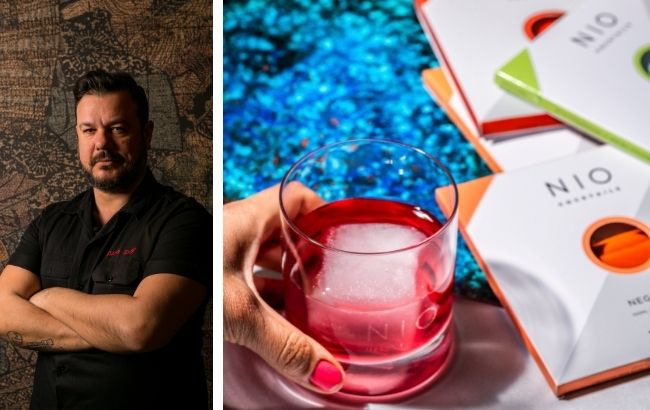 After 23 years in the industry, Patrick Pistolesi has seen it all. He's travelled the world to uncover new ways of serving drinks, entered and won cocktail competitions, helped spark a cocktail renaissance in Rome, and has now embarked on the launch of a ready‐to-serve cocktail company.
"I have been in the drinks industry since before I thought it was an industry," he quips. "It was always more cultural to me. I've always loved bars and pubs, and everything that concerns alcohol."
Half Italian and half Irish, Pistolesi built a name for himself while rejuvenating the cocktail scene in the Eternal City. He opened the doors to the Italian capital's first gin bar in 2013, the aptly named Gin Corner, and five years later launched cocktail den Drink Kong.
However, while venues have been forced to close their doors amid the ongoing coronavirus pandemic, Pistolesi has turned his hand to the ready‐to‐drink (RTD) sector.
"This is one of those things that happens in your life, which you're not sure whether to be happy about – but now I am," he says. "My partner in business and in Drink Kong said we had to go to Milan to meet this friend. So, we go to Milan and we go to this small garage, and the guy says 'listen, I want to do RTD cocktails', and I'm like 'are you kidding me?'."
A CRAZY PROJECT
Alongside founders Luca Quagliano and Alessandro Palmarin, Pistolesi has developed RTD brand Nio Cocktails. Pre‐packed drinks have proven a hit amid lockdowns across Europe, offering a taste of the bar at home. However, Pistolesi was initially sceptical of the project. At the time, he says he was concerned about the reputation of RTDs on the market. But, an afternoon with Quagliano was enough to convince him that the project was "so crazy that it might work".
"We started making cocktails bottle by bottle," he says. "Luca, who is the real mind behind all this, has believed in this and was giving it the boost. Now I create about four or five new cocktails a week, which are produced, printed, then go around the globe. That was a real big bet at the time."
The cocktails are packed in 100ml pouches, which can be bought in boxes of three, six or nine drinks. Cocktails currently on offer include classics such as the Cosmopolitan, Daiquiri and Negroni, as well as signature creations like the Garden of Russia, described as a 'fresh and fragrant take on the Vodka Sour with an elderflower twist', and the alcohol‐free Lemongrass Citrus, which is said to be a 'refreshing tropical non‐alcoholic cocktail'. Once delivered, the drinks can simply be opened and served over ice, with no shaking or additional mixing required.
Pistolesi says: "NIO means 'needs ice only', so we always promote the fact that there is a little ritual with each drink. It's like taking a bath, you know, and lighting the candles. It's about taking the glass, the ice, pouring the drink, having a sip. This is the romantic part."
The cocktails may strive to recreate the romance of the bar, but Pistolesi and his team turned to a host of cutting‐edge techniques and scientific know‐how to safely bring those flavours into drinkers' homes. The process, which Pistolesi describes as "very frustrating and very hard to realise", saw the team experiment with acids in place of citrus, and other ingredients that could retain the "soul of the drink itself".
"You can't use fresh lime because you need a shelf life, you want that flavour to be OK," he explains. "I wanted to have everything fresh, everything without preservatives and shit like that. So that was the main challenge, and NIO brought me to the challenge to be better and better without using any chemicals – that to me was a big goal."
In developing the drinks, Pistolesi used techniques normalised by creative mixologists in boundary‐breaking bars. Pistolesi says: "I have been inspired by great cocktail bars like Tayēr + Elementary in London. They have been using acids, and we use them at Drink Kong, and it's fantastic."
As venues around the world reopen, and drinkers look to return to their favourite bars, Pistolesi expects the trend that saw world-renowned bartenders develop RTD products and takeaway cocktail offerings will be here to stay. While drinkers could soon enjoy their go‐to drinks at their favourite bar, a good takeaway cocktail offering could mean they aren't forced to end their party at closing time. "It could be a Tuesday night and if you don't want to go out, you could have a drink at home," Pistolesi says. "Or, at 2am on a Saturday if you are in full party mode but the bar has to close, you could get a couple of drinks in this way, totally legal, totally accepted. You then bring them home and you continue the experience at home."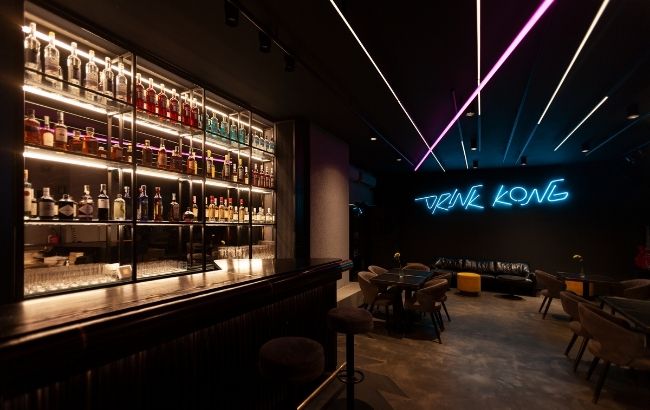 A TASTE OF ROME
The RTD boom also means drinkers around the world are able to sample serves from bars they may have never travelled to in person. For Pistolesi, this has meant offering imbibers on the other side of the world a taste of the drinks he serves at Drink Kong.
He says: "We also have the NIO serves for Drink Kong, with our own drinks. So, if you can't come to Drink Kong and you're on the other side of the planet and you've heard about our bar, if you want to taste our drinks then you can do so."
Drinkers should certainly have heard of the venue, which earned its position on The World's 50 Best Bars list in 2019. Since opening, the Italian drinking den has built its reputation on killer cocktails, a futuristic aesthetic and ties to Japanese culture.
"I'm a kid from the '80s. I was born in 1978 and when I was around 10, I had these beautiful movies like Back to the Future and Blade Runner," says Pistolesi. "This whole scifi culture just stuck with me, and Japanese bartending is the best bartending in the world because Japanese people are very precise – imagine a zen garden and bonsai, it's very precise, very harmonic, and I fell in love with that."
Pistolesi travelled to Japan after winning a cocktail competition with whisky brand Nikka, and worked his way around the country. He then combined the techniques he gained and his sci‐fi inspirations together in Drink Kong, which opened in 2018. "In Drink Kong, it's very dark, there are neons here and there recalling the '80s," explains Pistolesi. "We have two video game booths, the toilets are inspired by Tron, we have a Japanese room that looks like a sushi bar, but it's not. We have all these little bits and pieces. Plus, at the start of Blade Runner, it says 'Los Angeles, 2019', it's raining and they speak Japanese. This multicultural situation struck me when I was a kid and I wanted to pursue it."
While the world around Drink Kong may not quite live up to Ridley Scott's vision in Blade Runner, Pistolesi will be sure to fix a drink for anyone at the bar seeking hospitality and scifi escapism to shed their worries from the outside world – or deliver it to their door.