Licor 43 targets 40m consumers with campaign
By Melita Kiely
Spanish liqueur brand Licor 43 hopes to reach 40 million consumers with a new advertising campaign in support of its Carajillo 43 launch in Mexico.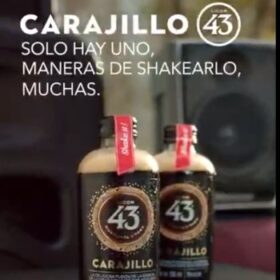 The campaign features the tag line: "Carajillo solo hay uno. Maneras de shakearlo, muchas," which translates into English as: "There may only be one Carajillo. But ways to shake it? Many."
Initially launched on 7 June, the entirely digital campaign will run across YouTube, Facebook and Instagram for nine weeks.
Licor 43 owner Zamora Company released ready-to-drink Carajillo 43 in March this year as part of the liqueur brand's 75th anniversary celebrations.
It combines Licor 43 with 100% Mexican coffee, and has been bottled at 10% ABV. The label encourages consumers to shake the bottle before drinking to create the characteristic foam of the drink.
Julian Fernandez, global marketing and innovation director for spirits at Zamora Company, said: "Everyone in Mexico knows that an authentic Carajillo is made with Licor 43, but there are just as many ways to shake it as there are people in the country – and that's 127 million.
"We're very excited about our first RTD launch there and this campaign is all about driving awareness and conversation for it in a fun way – including inviting people to share their own shaking techniques in our Instagram challenge."
Licor 43 worked with award-winning independent Mexican advertising agency Made on the campaign, which was produced by Cannes-awarded house Oxigeno.
Earlier this year, the brand revealed it would host its annual Bartenders and Baristas Challenge in a virtual format for 2021.