Edinburgh Gin offers dinner and cocktail prizes
Ian Macleod Distillers has unveiled a range of prizes for Edinburgh Gin consumers, including a gin-pairing dinner created by Michelin-starred chef Tom Kitchin.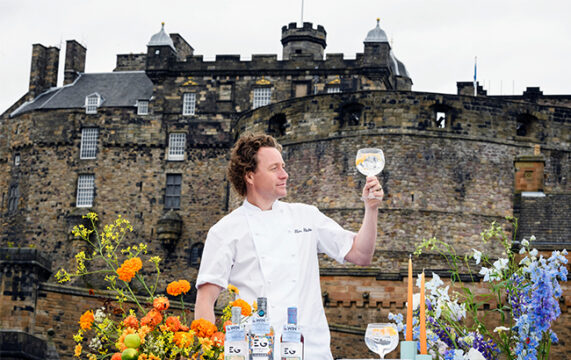 Edinburgh Gin's summer on-pack promotion includes prizes of a private dinner with a Michelin-starred chef, a 'luxury' treehouse overnight stay and a museum night tour.
Neil Boyd, UK managing director at Ian Macleod Distillers, said: "Our magical home city is filled with wonder, and it really is one of a kind.
"We can't wait to showcase the city of Edinburgh to the lucky winners in ways they will have never experienced before – from unlocking the doors to the castle for a Michelin-star meal, to a private night-tour of the stunning National Museum of Scotland."
The gin-pairing meal is a six-course dining experience, served up by Michelin-starred chef Tom Kitchin – an exclusive prize to one winner and a guest.
Each plate is paired with Edinburgh Gin cocktails, and the experience is located in the 1,000-year-old Edinburgh Castle.
Another prize is an overnight stay in 'luxury' treehouse on the Edinburgh coastline, which includes a private chef, three-course BBQ dinner and a mixologist serving cocktails with Edinburgh Gin Seaside – a 'sweet' and 'mineralistic' expression.
A gin tasting at Royal Botanic Gardens, with a 'night at the museum experience' in the National Museum of Scotland, is also available. This prize includes a three-course meal and private night tour of the museum.
200 online gin-tasting experiences can also be won.
The promotion is taking place from June until September, with promotional neck tags on Edinburgh Gin bottles displaying a unique code, which can used to enter the competition at edinburghginwonder.co.uk.
The winning codes will be available on Edinburgh Gin's Classic London Dry Gin, as well as two of its gin liqueurs – Raspberry or Rhubarb and Ginger – in major supermarkets.