The big interview: Mark Reynier, Renegade Rum
By Melita Kiely
Renegade Rum founder Mark Reynier has built an operation from scratch in Grenada, and has fought to prove the validity of terroir in whisky production. Now he is determined to make rum a quality offering, he tells Melita Kiely.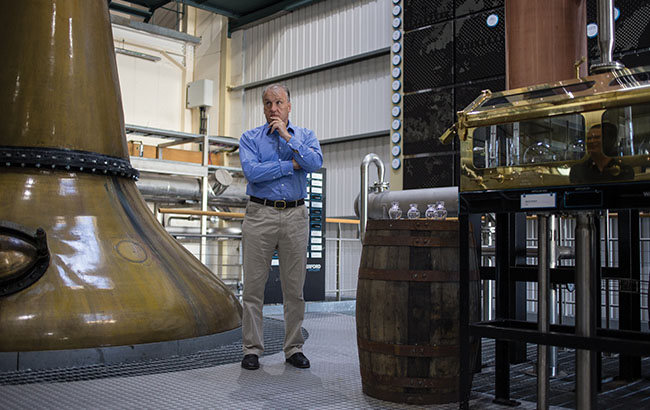 "I don't really care where rum is going; the same thing with Waterford – do I care where Irish whiskey is going? Not really." Waterford Distillery and Renegade Rum Distillery founder Mark Reynier has never been one to mince his words. Reynier is on a terroir‐driven quest to make the "ultimate single malt whiskey – and the same with rum".
News of Reynier's intention to build a distillery in Grenada emerged in 2018, but the idea came to Reynier around 2012/2013. Grenada became home to the project after a fruitless 10‐year search around the world.
"I went to Fiji, I went to Mauritius, Réunion, and then all the way down the Caribbean, and there just weren't any distilleries worth buying," Reynier recalls. "I knew I wanted sugarcane as the primary source of flavour. So it became clear I was going to have to build my own distillery."
The former managing director of Bruichladdich was no stranger to such a challenge. After renovating the Victorian Islay distillery, then converting the Guinness Brewery in Waterford into his "state‐of‐the-art, technological marvel" Irish whiskey distillery, Reynier had learned a few lessons in "what to do and what not to do in building a distillery".
ASPIRATIONS INTO REALITY
After being introduced to Grenada through a contact via his finance director at Bruichladdich, Reynier was certain he had found the place to turn his rum aspirations into reality. "The moment I turned up on Grenada, the moment I arrived at the airport, I thought 'wow, this is it; this is exactly what I've been looking for'," he says. "But I remember driving around the island and thinking 'well, where is all the sugarcane?' And there wasn't any."
This presented the perfect "blank sheet" for Reynier's terroir‐driven plans. "It gave us the opportunity to start completely anew, to propagate, via tissue culture, fresh, disease‐resilient, genetically clean sugarcane," he explains.
Before the distillery could be built, Reynier had to ensure the island could cultivate enough sugarcane. "We started growing the sugarcane first to prove we could actually grow enough to make it worthwhile to build a distillery, so this was all back to front," he says. "In that process, we got very good at growing sugarcane, and we had carefully synchronised the growth so we would have enough mature sugarcane to allow us to distil all year around."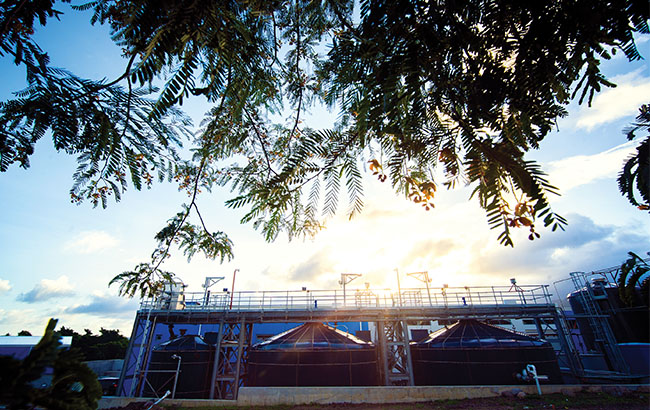 Located near Pearl, on the north‐eastern side of the Windward Island – "right on the Atlantic shore" – the US$25 million Renegade Rum Distillery was designed to sit low so as not to obscure the view of the horizon. The distillery houses a pot still and a column still, "split in half" to reduce the skyline of the building. "We started with the waste streams first," Reynier explains. "We first designed a US$2m triple‐cleansing system for the boiler emissions. We built a US$2.5m biomass boiler from South Africa to burn the sugarcane leftover. We installed an organic rankine cycle (Orc for short) to generate electricity from that steam – steam also runs the stills – and a three‐tier US$2m water treatment plant to process the wastewater after distillation. And then we use a natural phytoremediation of that cleaned wastewater through the soil, into the mangrove to feed the fish that were in it. So, it's a pretty funky system."
The pride Reynier feels for what he and his team have accomplished with Renegade is tangible. "It's a game‐changer as a distillery, it shows you what you can do; this is how distilleries should be – it is possible. It's expensive, we very nearly went bust, but it's the way forward."
Rum production officially began on 21 September 2020. However, because of delays with Covid‐19, financing and completing the distillery, Reynier's carefully planned synchronisation has "gone out the window". As such, 2021's output from Renegade is likely to be around 250,000 litres of alcohol, growing to around 450,000 litres in 2022 "when some of that synchronisation comes back". The distillery is built to produce up to 500,000 litres in the pot still and approximately 1.5m litres in the column still, "if we wanted to, but we don't", Reynier says, explaining the maximum volume at the site is likely to be 500,000 litres per annum. "That's probably optimum for us," he adds.
Aspirations into reality
The initial warehouse has space for 7,000 barrels, and Renegade has about 81 hectares of farmland where the sugarcane is grown. Two more sugarcane farms are already being prepared, which will bring capacity up to around 105ha. "We are distilling only for ourselves, for our brand, Renegade Rum," insists Reynier, ruling out any possibility of third‐party proprietary bottlings. Renegade Rum will have "distinctly French influences – we could call it rhum agricole if we wanted to", Reynier offers, but says the first release this summer will be called "pre‐cask".
"They'll be available on a terroir‐by‐terroir basis," he explains. "So we're repeating the single farm origin idea from Waterford with full traceability, full transparency, because there is very, very little authenticity in rum. If you try and research rum, there is a dearth of verifiable, inaccurate information. It's unbelievably devoid of authority. It's not about rejecting traditional methods, but shining a light on how rum can be made in a modern way."
Reynier is first to admit what he is aiming for at Renegade "won't be for everybody", but that's not his goal. "This is about refinement and purity, and integrity and intellectual curiosity," he says. "This is the answer to a very simple question I asked myself at the beginning: how on earth can you make a really profound rum?"
The distillery is using several varieties of sugarcane, grown in different soils and at varying altitudes to "maximise flavour differences". Sugarcane harvests from each field will be milled and distilled in isolation before being matured in oak barrels. The first white rums will be single farm origin bottlings while the spirit in barrels matures.
"We should have something barrel‐aged within two or three years to show, and this will also be single farm origin like Waterford, but ultimately for assembling into a cuvée of ultimate complexity. That's the aim, and it comes from that question I asked myself, with all these old farms, how do you get complexity into rum? And my answer was sugarcane grown terroir by terroir, and assembled, and that's what we're doing."
Many variables
Renegade Rum Distillery will endeavour to fill as many casks as possible with single farm origin spirits to create "as many variables as possible". "Like a great Bordeaux, or Lafite, it's not made from harvesting all the grapes on the estate and putting them in a big vat, vinifying them then putting it into a barrel as a homogenous thing, no; they're made from individual wines, optimised to the terroir of the estate, harvested separately, vinified separately. Fifty different mini wines are made, then 18 months later they are assembled in varying proportions to make the grand vin, or think of Champagne, like a grand cuvée," Reynier explains.
He admits the approach at Renegade is "unashamedly borrowed from the great wines of France", because "that's how you create unbelievable ultimate levels of complexity". It's the method that was also applied at Reynier's Waterford Distillery in Ireland.The first trial spirit runs began in 2015, and last May the inaugural commercial Irish whiskey series from the firm was revealed: Single Farm Origin. The range launched with three whiskeys made from 100% Irish barley: Bannow Island: Edition 1.1; Ballykilcavan: Edition 1.1; and Ratheadon: Edition 1.1.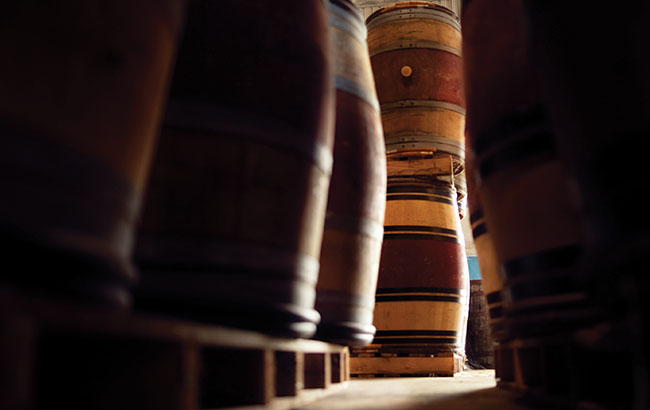 "The system we've adopted at Waterford of an assemblage, or a cuvée, individual spirits distilled terroir by terroir, then assembled together to create complexity, is the same model that we're applying here in Renegade," Reynier explains. The Renegade range will, eventually, comprise single farm origin bottlings "because that's really fun, interesting", which will complement a core range of rums built from these individual styles. What that will eventually taste like is still to be determined – "we'll see what happens", Reynier says.
The first permanent cuvée of Waterford whiskey, as Reynier likes to call it, will be available this summer, "the first product that will give a true reflection of the flavour potential to come from the distillery", he teases, keeping further details closely guarded for now.
What's even more exciting for him are the results of an academic study into whether terroir can affect the flavour of whisky – something Reynier has long been a firm believer in, but a matter that is the subject of contention in the whisky world.
The results of the three‐year study, led by Oregon State University and Waterford Distillery, concluded terroir can be found in barley and single malt whisky. Last month, the peer‐reviewed academic study was published in scientific journal Foods, and is the first paper from The Whisky Terroir Project. Research was carried out by a team of academics from the US, Scotland, Greece, Belgium and Ireland, and analysed two barley varieties: Olympus and Laureate.
Terroir tests
The two strains were grown on two farms with different environments in 2017 and 2018 – Athy, County Kildare, and Bunclody, County Wexford, both in Ireland. Each barley sample was micromalted and microdistilled in laboratory conditions to create 32 different whisky distillate samples. These were tested by lab analysts using gas chromatography – mass spectrometry – olfactometry, as well as by sensory experts.
The results revealed more than 42 flavour compounds, half of which were 'directly influenced' by the barley's terroir.
"The Terroir Whisky Project was started to address a criticism aimed at me that terroir cannot exist in whisky because it undergoes too many transformative procedures to possibly have, or demonstrate, any terroir effect," Reynier says, "even though there's a whole appellation contrôlée system for Cognac that is based on terroir in spirit. But the French have just taken this for granted, there's been no scientific study to verify that terroir exists – until now."
The only variable in the experiment was the barley varieties. The barley was harvested over two consecutive seasons from 2017 to 2018. Sowing and harvesting of the crops, and micromalting of the barley, was carried out by Minch Malt in Ireland. Sixteen kilogram samples were micromalted following the malting protocol, steeping at specific times and temperatures.
Mashing and distillation of the malted barley was carried out by Tatlock & Thomson in Scotland. For this step, around 10kg of each sample was ground in a lab with a three‐roller mill. The malt grist was mashed with 28l of hot water (65 ̊C) and then 14l of hot water (85 ̊C) in a lab mash tun. The water from each mashing was drained, mixed, and around 28l of wort was collected. The wort was then fermented using anchor-dried distilling yeast for 72 hours, at 32.5 ̊C. After fermentation, the wash was distilled in a lab spirit still to no more than 76% ABV. For the gas chromatography olfactometry sessions, panellists were asked to avoid spicy food, smoking and coffee for at least one hour before nosing, and to not wear perfume or strong deodorants.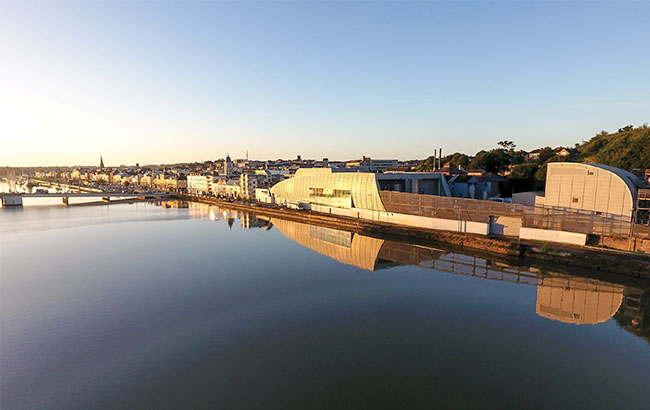 These tests were carried out by six trained panellists: two men and four women. Statistical analysis was conducted with JMP Pro software, using a mixed linear approach to analyse the sensory data. The study concluded: "This study has clearly demonstrated variations in the contribution of the aroma‐active volatiles and sensory attributes in these new make spirits, and reflects changes in barley growth in relation to environmental elements, including soil nutrients and prevailing seasonal weather patterns, and therefore reveals a 'terroir' effect."
"You're the first person I've spoken to of this: this is a game changer," says Reynier. "This is going to cause merry hell because now I can wave this bit of paper at the deniers. Over the last 50 years, flavour hasn't been investigated. Yield and climate adaptability and disease resistance have been investigated… but the very thing that makes whisky taste of whisky, which are the flavour compounds in the barley (otherwise we would use corn or maize or wheat or oats or rye) has taken a back seat."
He explains the results suggest different barley varieties "make very little difference" to whisky flavour because "they're genetically too similar from the original propagation".
"What we have been able to demonstrate is that even with the uniformity of flavour compounds, those varieties respond differently to different terroir conditions. So even with the uniformity of flavour, certain environmental conditions, certain terroir conditions do augment some of the flavours that are there."
The next phase of the project will investigate the same role of terroir in whisky using analysis based on Waterford Distillery's own commercial spirit and matured whiskey. The results should be published in 2022.
Old varieties
Reynier says he has started cultivating old varieties of barley from 1960, from 1900 and from the Middle Ages "where, of course, the yields are appalling, but the flavours are much more interesting". The hope is that if the science can identify what those flavours are, it will be possible to "breed modern varieties with old flavour compounds from the iridescent era, and that is really, really exciting, and that's what we're working on at the moment".
The exploration of terroir is also being applied to the sugarcane in Grenada, and Renegade has just installed its own gas chromatography machine. Consumers will be able to use the same trace‐and‐track methods seen at Waterford on products released by Renegade to create the transparency and authenticity Reynier believes rum so desperately needs.
"Sixty countries make rum, and every year they have some marketing guy saying 'rum's going to be the next big thing'. Well, it won't be, not unless you change something," Reynier says. "If you keep banging your head against the same thing, it's the definition of madness, expecting a different result, and you still churn out the same shit – it ain't going to be the next big thing. It will only be the next big thing when there is some authority, some integrity in rum, when that spirit can be taken seriously alongside great whisky, great Cognac and great Armagnac, and other great spirits of the world. I don't think it will be the next big thing until there's a change of attiude, and perhaps – perhaps – in our own little way, we might be the catalyst for that. I hope we are."