Raasay Distillery receives 17,000 bids for new single malt 
Isle of Raasay distillery has received more than 17,000 worldwide bids for 2,500 bottles of its new single malt.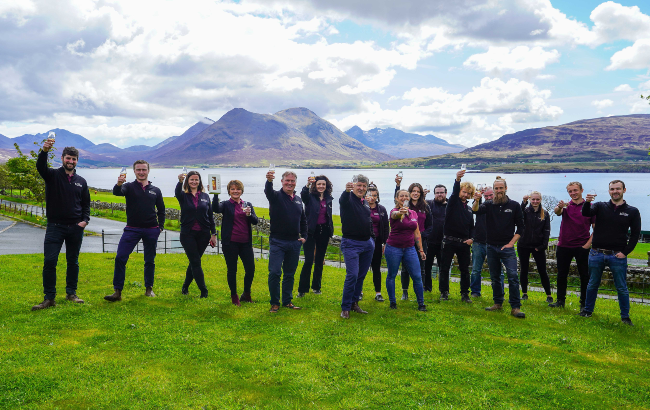 The distillery, based on a Hebridean island with just 161 inhabitants, has been 'taken aback' by the 'remarkable reaction' from whisky fans across the world.
Ahead of the release of its single malt whisky in June, Raasay Distillery has received 17,478 online ballot applications for the bottling. Only 2,500 winners will be selected as early owners of the signature expression.
With more than 10,000 applicants in the first 24 hours alone, the whisky's release is a highly-anticipated one.
Bids were received from locations as far as Barbados and Bangladesh before the ballot closed yesterday (19 May).
Alasdair Day, co-founder of the distillery, said: "We've been taken aback by the hugely positive response from whisky fans right across the world.
"Our unique six cask maturation combines peated and unpeated Isle of Raasay spirit with first fill rye whisky, chinkapin oak and first fill Bordeaux red wine casks.
"It is the first of this cask combination in Scotch whisky history."
The single malt is distilled, matured and bottled on Raasay after developing 'complexity' and 'depth of character' in six recipe casks.
Day added: "This launch puts the Isle of Raasay firmly on the whisky map and is a testament to the innovation and hard work of our distillery team."
A further 500 ballot winners will receive an exclusive ticket to a virtual launch event featuring the whisky's maker, writer Dave Broom.
Interested buyers can purchase the whisky from UK stockists, and in the distillery's 20 international markets – more can be found using the interactive map on Raasay Distillery's website.
London-based stockist Jeroboams has already seen demand from customers for the single malt.
James Phillips, spirits and beer buyer at Jeroboams, said: "The Isle of Raasay Distillery is a brilliant addition to the Scottish distilling landscape and another great addition to the vibrant UK distilling scene.
"We are looking forward to the Isle of Raasay whisky having a place on our shop shelves, and watching Raasay grow."
The 700ml bottling is said to have sweet, smoky notes on the nose with a honey and cinnamon palate.
Its finish is 'long', with a 'hint of saltiness' and 'faint wood smoke'.
The distillery, which employs more than 10% of the island's population, will release single casks of the six signature recipe casks later this year, to be determined by poll at the distillery's launch event.
The non-chill-filtered expression has an ABV of 46.6%, and is available for purchase for an RRP of £48 (US$67) from 4 June.
Earlier this year, the distillery bottled a single cask Scotch whisky to mark the end of poet Jackie Kay's tenure as Scots makar.