Morrison family reveals Scotch whisky portfolio
Family-owned Morrison Scotch Whisky Distillers has unveiled its portfolio of whisky brands, including a new 15-year-old Islay single malt.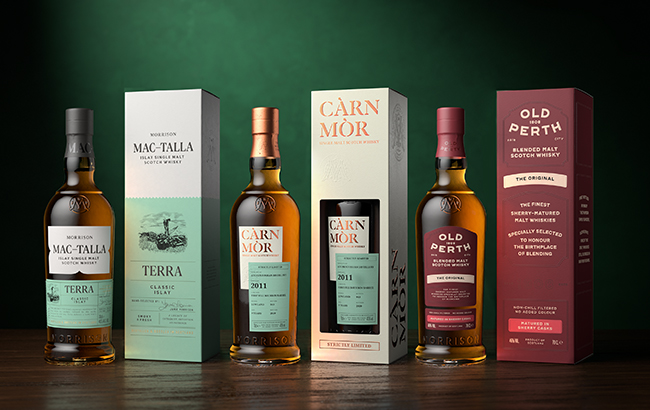 Morrison Scotch Whisky Distillers, formerly Morrison and Mackay, came under the ownership of father-and-son team Brian and Jamie Morrison in 2020.
The Morrison family has been involved in the whisky industry for more than five generations. Brian's grandfather, William Walker, was a whisky broker, and his son Stanley purchased Islay's oldest distillery Bowmore in 1963. Brian later became a managing director of the Islay site before it was sold to Japanese drinks producer Suntory.
Jamie Morrison, chairman of Morrison Scotch Whisky Distillers, said: "As one of Scotland's oldest whisky families, we can trace our involvement in the whisky business back five generations where we have held almost every role possible in the industry including licensed grocers, brokers, blenders, bottlers and distillers."
The new range includes Islay single malt Scotch brand Mac-Talla, blended malt whisky Old Perth and single malt Càrn Mòr.
Mac-Talla's range includes two expressions, Terra and Mara, with a third bottling, Strata, launching this month.
Strata is a 15-year-old whisky that offers a 'velvety texture with earthy peat and winter spices, making it rich and warming with a lovely smoky finish'.
The Old Perth line includes The Original and Cask Strength whiskies, and will be followed by an aged collection this autumn. The Old Perth range is made using Sherry-matured malt from a selection of unnamed distilleries, located in the Glenlivet region of Speyside.
Meanwhile, Càrn Mòr's collection consists of two bottlings, Strictly Limited and Celebration of the Cask. The range includes whiskies made from single cask or limited casks. The line will be joined by Family Reserve whisky this autumn.
Jamie Morrison added: "In the coming years we will release Aberargie Single Malt Scotch Whisky. Distilled in our purpose-built facility in Aberargie, just outside Perth, its release will mark the return to distilling after nearly 25 years for my father and I."