Molson Coors invests $100m in hard seltzer expansion
Brewing giant Molson Coors Beverage Company will invest US$100 million to boost production of spirit and malt-based hard seltzers in Canada.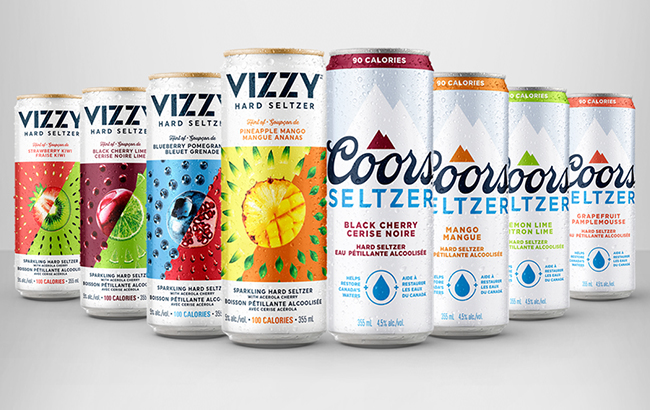 The new upgrade to Molson Coors' Toronto site will give the brewer the capabilities to make spirit and malt-based hard seltzers for the 'fast-growing' Canadian market.
The expansion, which will more than quadruple capacity, is due to be completed in early 2022.
The investment will involve the installation of reverse osmosis and nanofiltration technology, a flavour kitchen, a blender and a canning line. The new canning line is capable of handling up to 1.5m hectolitres in annual production.
The new equipment will allow Molson Coors to increase hard seltzer production by more than 300% at full capacity.
"The number one priority for our Canadian business is ramping up our hard seltzers to position ourselves as a top-share performer," said Brian Erhardt, chief supply chain officer for Molson Coors.
"These investments will help us control our own destiny on manufacturing, balancing production between our own facilities and trusted third parties."
The company will continue to use unnamed partners for the production of hard seltzers and 'beyond-beer beverages', even as capacity is boosted.
Molson Coors predicts the hard seltzer category will become a multi-billion-dollar segment over the next few years in Canada – a market in an early stage of maturation, the firm said.
The introduction of the Vizzy and Coors Seltzer brands in Canada this year was the company's "most successful launch" in recent times, according to Molson Coors' Canada chief commercial officer Martin Coyle.
"We're talking about putting Coors Light-levels of marketing investment behind these two brands, and we aim to earn the same share in the hard seltzer segment in Canada as we have in beer," said Coyle. "We have huge ambitions for the scale we want to generate in the next three years."
In 2020, the world's third-largest brewer installed new canning lines and other equipment to boost its US capacity fivefold for the production of hard seltzers and other beverages. The move helped the company double its share of the hard seltzer segment last year, Molson Coors said.
The Canadian expansion is part of a 'broader investment plan to grow Molson Coors' above-premium hard seltzer business across the globe'.
New hard seltzer launch
Molson Coors also recently unveiled its spirit-based Proof Point hard seltzer line in 27 US states.
The zero-sugar Proof Point (5% ABV) range comes in four flavours: whiskey seltzer with blackberry, rum seltzer with mango pineapple, Tequila seltzer with grapefruit, and vodka seltzer with lime.
The company said there are few hard seltzer brands on the market being made using 'real' spirits. Proof Point seeks to stand out among its competitors by blending seltzer with spirits, such as Tequila, barrel-aged whiskey, Caribbean rum and six-times-distilled vodka.
Molson Coors has partnered with celebrities including rapper Meek Mill and filmmaker Terrence Jenkins on the launch.