Brora distillery restarts production after 38 years
Diageo has restarted production at the refurbished Brora distillery in Scotland following a multi-million-pound investment.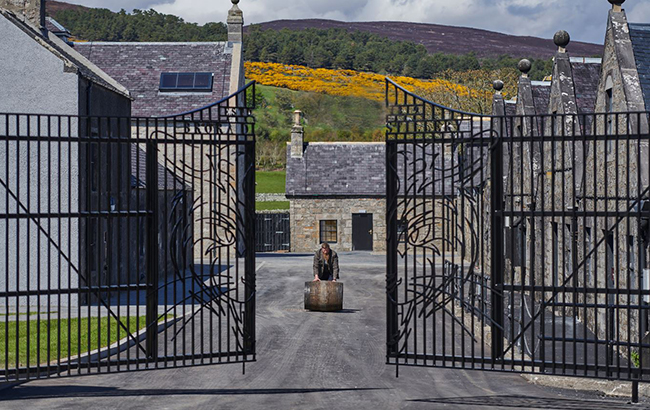 In October 2017, Diageo pledged a £35 million (US$46m) investment to restart production at closed distilleries Port Ellen and Brora. Both sites were mothballed in 1983. Brora and Port Ellen are two most of the highly collectible Scotch whiskies in the world.
Diageo gained planning approval to restore Brora's original buildings in October 2018.
As part of a three-year restoration project, the Sutherland-based Brora distillery was taken down and reconstructed stone by stone to replicate the site when it was new in 1819.
The renovated site is capable of another 200 years of production, according to Diageo. As one of Diageo's smallest distilleries, Brora has the capacity to produce 800,000 litres of spirit annually.
Sutherland native and Brora master distiller Stewart Bowman officially marked the launch by opening the site's gates and filling the first cask of Brora spirit in more than 38 years. Bowman's father was the last exciseman at the distillery.
Bowman worked with industry specialists and archivists in reinstating the distillery and its spirit.
Bowman said: "We have gone to every effort to replicate, as closely as possible, the conditions, equipment and processes from Brora in 1983 in order to recreate the spirit for which the distillery is famous.
"The original pair of Brora stills were carefully refurbished by our highly-skilled coppersmiths; we raised up the original pagoda roof to conduct intricate repairs, and rebuilt the stillhouse brick by brick using original Brora stone to restore this historic Victorian distillery."
'New dawn'
The facility has also installed a biomass boiler powered by sustainably sourced wood chips from northern Scotland.
Ewan Andrew, Diageo's president of supply chain and procurement, said: "This is a new dawn for Brora – a distillery that is a beautiful new jewel in the crown of our portfolio in Scotland.
"I am particularly proud that Brora will be a carbon-neutral distillery entirely powered by on-site renewable energy. This marks a major milestone on our journey to invest in Scotland, its rural communities and the future of Scotch whisky."
Brora, which sits within the Diageo Reserve portfolio of premium-and-above spirits, recently released a trio of single malts aged from 38 to 48 years.
Brora will welcome a small number of visitors by appointment only from July. Tours will include tastings of rare Brora releases, and a new distillery-exclusive bottling, called The Brora Distillery Collection: Hidden Beneath, a Brora 1982 39 Year Old.
Islay-based Port Ellen is also due to begin production this year after Diageo received planning approval in January 2020.