Britain's licensed hospitality sector shrinks 7.4%
By Kate Malczewski
As indoor drinking and dining returns today (17 May) across England, new figures have revealed that Britain now has 7.4% fewer licensed hospitality venues than it did before the pandemic.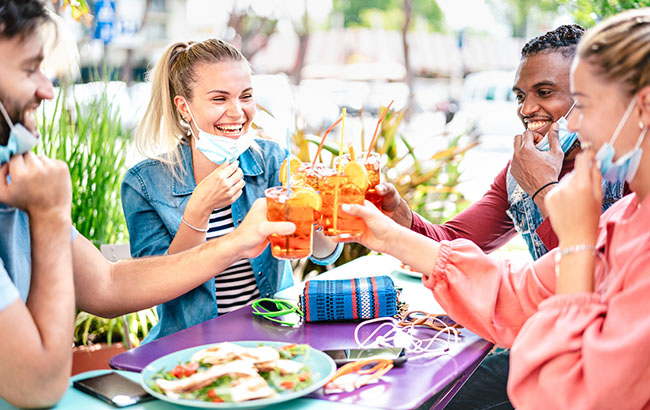 According to the latest Market Recovery Monitor report from hospitality industry researcher CGA, Britain registered 106,548 licensed premises at the end of April 2021 – meaning 8,560 sites have been lost since March 2020.
The number is equivalent to the closure of 22 venues per day over the 13 months of Covid-19.
Food-led venues have been hit the hardest, with 9.7% fewer venues than last year, while the drinks-led sector was down 5.6%.
Though these losses demonstrate the struggle the hospitality industry has battled over the past year, CGA reasoned that the closures offer 'more room to breathe for businesses that have survived lockdowns, and more opportunities for new and growing operators in particular'.
Bouncing back
The report also highlighted the rates of reopening among Britain's hospitality venues since outdoor service was permitted beginning 12 April. One-third of licensed hospitality venues traded during this initial phase.
Rural operators managed the highest reopening rates, with 37.7% of licensed venues in the countryside back in business by the end of April. 
Meanwhile, 34.3% of venues in city centres opened for outdoor trading, a higher rate than expected. Of Britain's cities, Leeds performed the strongest, with 41.7% of its venues trading.
Newcastle and Manchester also showed impressive recovery rates, at 37.9% and 37.3%, respectively.
Meanwhile, London showed the slowest recovery of all the cities analysed, with 29.1% of venues reopening, due in part to 'its lower proportion of pedestrianised areas'.
Karl Chessell, CGA's director for hospitality operators and food, EMEA, said: "Pubs, bars and restaurants with the space to trade have returned confidently since mid-April.
"Consumers' enthusiasm, decent April weather and the opening up of street-side space by some enlightened local authorities have all worked in their favour, and encouraged more venues to open up in the weeks since.
"But the fact remains that more than two-thirds of Britain's licensed premises were still unable able to welcome guests, and thousands of pubs, bars and restaurants have been closed for good during the pandemic. As we enter the second phase of hospitality's reboot, the landscape of eating and drinking out is going to be much changed from pre-Covid."