The Cognac Masters 2021 results
The increasing popularity of France's native spirit has been met by quality products across the board, as this year's blind-tasting competition shows.
Global Cognac sales have gone from strength to strength in recent years. Despite a blip in volumes in 2020 because of the pandemic, sales are set to bounce back over the coming years. In March, a report by market analysis firm Technavio projected total Cognac sales to increase by a compound annual growth rate of 2% from 2021 to 2025. This year alone, the report expects the category to grow by 1.34% in value.
It is clear that consumer demand for France's native spirit is on the rise. The question is, does the quality live up to expectations? For The Cognac Masters 2021, Tobias Gorn, spirits specialist, consultant and writer, and co‐founder of International Drinks Specialists, joined me, Melita Kiely, editor of The Spirits Business and chair of the tasting over Zoom, to put the category's reputation to the taste test.
Ongoing Covid‐19 restrictions in the UK meant the tasting took place remotely from the judges' homes, with entries packed and shipped anonymously by Wine Sorted.
HIGH EXPECTATIONS
Expectations are always high when it comes to Cognac – and the opening flight proved exactly why. The No Age Statement – Super‐ Premium heat brought the first Master medal of the day, which was awarded to "fresh and bold" La Pouyade. Tasting notes included a "hint of nuttiness on the palate" with "raisins and caramel", and a "touch of bitterness on the finish" for added complexity.
Rémy Martin 1738 Accord Royal picked up a Gold medal with its "full and luxurious" palate, which had notes of "baking spices and raisins". Larsen Aqua Ignis received a Silver medal, enjoyed for its flavours of "fruit pastilles and muscovado sugar".
"The no‐age‐statement (NAS) category gives producers more freedom to put younger, fresher aromatics into their blends, and mix some older Cognacs that can give more depth and complexity," said Gorn. "This was a great start to the tasting."
In the following flight, attention turned to Ultra‐Premium No Age Statement Cognacs. Camus Extra was awarded a Gold medal for its "very nice complexity and balance for the price". Tasting notes included aromas of Cognac Masters dried apricots and tastes of "caramel, toffee apples" and a "resinous character".
Exsto Elixir also received a Gold in this flight. The Cognac offered a "big tropical fruit blast" on the nose, leading to a palate that was "smooth and long with plenty of wood elements".
From NAS, the competition delved into vintage Cognacs in the premium price bracket. Courvoisier Napoleon Fine Champagne delivered flavours of "cedar wood, toasted nuts, cocoa powder and vanilla", and secured a Gold medal.
Meanwhile, Hermitage 2010 Grande Champagne collected a Silver medal with its "floral aromas, sweetness and spice".
In the ultra‐premium contingent, the standard soared and a Master medal was presented to "complex and superbly balanced" Hermitage 1990 Grande Champagne. The judges found notes of "orange peel, dried apricots and mahogany wood" on the nose, leading to a "silky smooth texture" and "spices" on the palate.
"It was super long, with fresh fruit, prune juice, nutty elements – really long and expressive," said Gorn. "There are these sort of leather armchair notes, it's quite classic but done properly."
The Master standard was maintained into the VS – Single Cru flight. Ferrand Cognac 1840 Original Formula collected the top award for its "fruity nose, peaches and grape juice" with "caramel sweetness, toffee apples and a nice spice" on the finish.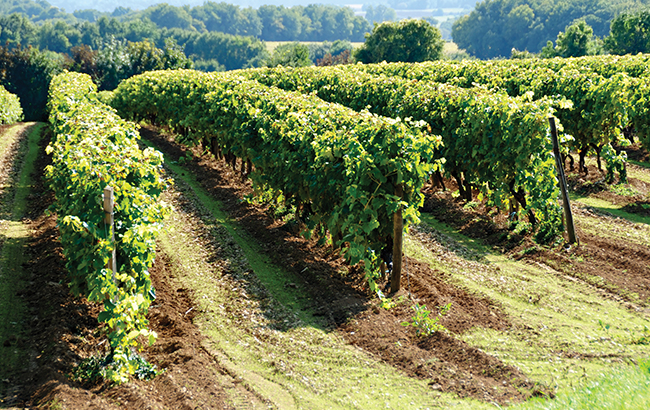 "I get a little peach compote, dark chocolate, and the balance is bang on – this is really cool stuff," added Gorn. "Single cru Cognac is really exciting; this was really lovely and worked very well."
In the VS – Premium flight, Cognacs priced up to £30 (US$42) were tasted. Branson Cognac VS Phantom took home a Gold medal in this heat, praised for being "great value for money". Judges uncovered "classic flavours" of "dried fruits, and some caramel sweetness" with a "touch of spice on the palate". "Easy sipper" Courvoisier VS received a Silver in this flight. In the VS – Super‐Premium round, A de Fussigny Selection was up to the Gold standard, delighting judges with its "big, bold and rich palate" full of "dried fruit, honey and a hint of chocolate". "This was a really great crowd‐pleaser Cognac," noted Gorn. "A great example of a VS Cognac, quite drinkable on its own."
A trio of Golds followed in the next flight: VSOP – Single Cru. The first was awarded to Return to Saint‐Aulaye by Camus. A "touch grassy" on the nose, the Cognac delivered "sticky toffee pudding" on the palate, along with "dried fruit and a slight tropical element". Ferrand Cognac 10 Générations also received a Gold, with hints of "Maraschino cherries" on the nose and "burnt sugar, cinnamon" on the palate. And a Gold was also awarded to "well balanced" Ferrand Cognac Ambré with "baking spices and vanilla sweetness" on the palate. Cognac Frapin VSOP completed the flight with a solid Silver medal.
A TOUCH OF SPICE
Camus enhanced its medal collection further in the following flight: VSOP – Single Estate. The Cognac house's VSOP Borderies Single Estate bottling took home a Gold medal, enjoyed for its "nice texture" and notes of "dried fruits, apricots and a touch of ginger cake spice". Overall, the Cognac delivered "good depth of flavour and balance".
The VSOP – Premium flight was flush with Gold medals. Five products were deemed to be of exceptional quality, including Merlet Brother Blend, described as a "great sippable Cognac, perfect for newcomers to the category".
Maison Bache‐Gabrielsen also received a Gold for its Triple Cask bottling, which offered complex aromas of "furniture polish, woodiness and caramel sweetness" – again hailed as a "good starting point for new Cognac drinkers". Rémy Martin VSOP also impressed with "cedar wood, tropical fruit" on the nose and its "rich, flavoursome" palate. Gold medallist Courvoisier VSOP was "beautifully complex" with a "great balance between "sweet notes and zesty tangerine".
And completing the Gold tally in this round was Branson Cognac VSOP Royal, which opened with "orchard fruits" on the nose and a "hint of buttery pastry and dates". The palate complemented these aromas with "brioche and a touch of woody spice".
"There were loads of flavours, exciting compositions and complexity in this flight," enthused Gorn. "This showed just how exciting VSOP at this price point can be. They were very much worth the money and there is a lot to discover here. Some very tasty Cognacs indeed."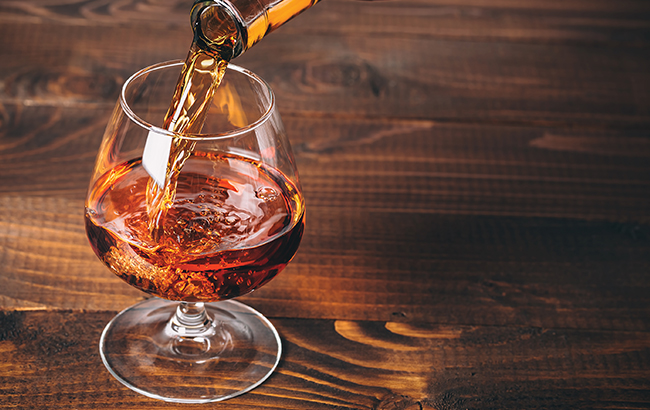 In the higher price range, VSOP – Super Premium, the quality only improved as another Master was found. A de Fussigny Pure Organic was awarded the top accolade for offering a "fresh, bright aroma with cereal notes and caramel". Meanwhile, the palate brought "big, bold flavours" with "warming spice, a touch of chilli heat and dark chocolate – a really beautiful Cognac". La Milliardaire VSOP won a Gold medal for its "fruity" aroma and "light and creamy" palate.
In the most expensive price bracket, VSOP – Ultra Premium, Branson Cognac VSOP Grand Champion was also found worthy of the Gold award. With "caramelised apples and some cereals" on the nose, the Cognac developed into flavours of "coffee and a hint of dark cocoa" on the palate.
The next flight produced some truly spectacular Cognacs. The first of two Master medals in the XO – Single Cru heat went to Ferrand Cognac SDA Sélection des Anges. This had "lovely caramel, sticky fudge" flavours and a "luxurious texture" on the palate. A "touch of dry wood spice and raisins" added "delicious complexity" to the spirit.
Also deserving of Master status was "rich and resinous" Cognac Frapin – Cigar Blend XO. Tasting notes included "warming spices, a hint of black pepper, vanilla and burnt caramel sweetness". Gorn said the Cognac was "complex, long and super fresh".
"These Cognacs were well balanced between beautiful sweetness and some drier, richer flavours," he added. "These were properly aged, very well made and beautifully done."
SKILLS ON SHOW
The XO – Single Estate contingent also demonstrated the skills of Cognac producers through Gold medallists Camus XO Borderies Family Reserve and Cognac Frapin Extra.
The aroma of Camus XO Borderies Family Reserve was akin to "tarte tatin, burnt sugar and raisins". The Cognac was said to be "well balanced, sophisticated and refined" overall.
Cognac Frapin Extra was found to be "big, bold and rich with a spicy palate". "Everything about this Cognac was great," added Gorn.
As the tasting moved on to assess XO – Premium, "very pronounced" Courvoisier XO picked up a Gold medal. The Cognac had a "nutty nose" with "dark chocolate, wood and a touch of liquorice" on the palate. Branson Cognac XO also received a Gold medal for its "warm and spicy" palate, full of "cinnamon and Christmas cake", complemented by "a hint of caramel". "Easy to drink" Member's Mark Cognac XO Impérial completed the flight with a respectable Silver.
"We had some outstanding expressions in this round," said Gorn. "Truly brilliant and at a pretty affordable price."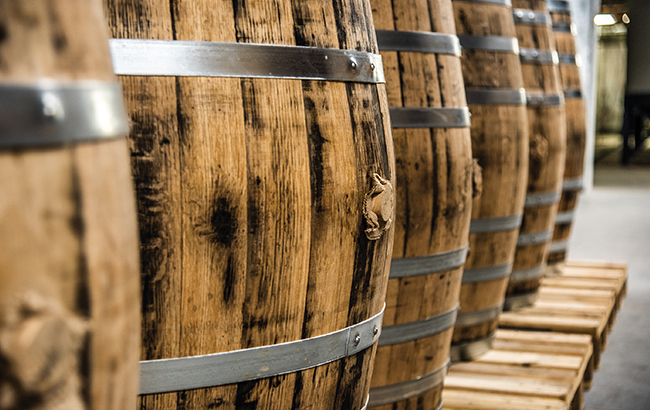 XO – Super‐Premium was the penultimate round of the day and brought some exceptional liquid to the tasting. Camus XO was bestowed with a Master award due to its "excellent complexity". The Cognac delivered "toasted nuts and raisins" on the nose, while the palate brought "fruity sweetness, stewed apples, cinnamon, dried fruits and baking spices".
Cognac Roullet XO Cadet was deemed to be just as brilliant, collecting a Master medal for being "delicious and fresh" with "lots of fruit, peaches – a juicy Cognac".
Cognac Richard Delisle XO Grande Champagne was awarded a Gold medal in this flight, for being "just brilliant" with "warming spices throughout".
The final flight of the day, XO – Ultra‐ Premium, also produced the last Master of the competition: Rémy Martin XO. The Cognac was "beautiful and bold" with "sticky fudge, a hint of pear, spices, cinnamon" and an "overall great balance". "Very expressive" Rome de Bellegarde XO and "fruity and spicy" Louis Royer XO were awarded Gold medals in this flight. Meanwhile, Branson XO received a Silver.
At the end of the tasting, the Master medals were put through their paces one last time to decide The Cognac Taste Master 2021. The Cognac found to be most deserving of the highest accolade was Rémy Martin XO. "This was silky smooth and so easy to drink – dangerously good stuff," noted Gorn. On reflection, the judges agreed the Cognac category was in good shape.
"I'm always happy to see innovation in Cognac because it's still sometimes viewed as an old‐fashioned category, but there are so many exciting flavours to be discovered," Gorn said. "There were some Cognacs that were stunning as they are, and others that would be better suited for mixing – and it was great to see that variation. After all, Cognac is about blending beautiful elements together and letting the younger and older elements work together nicely."
Click through the following pages to see the results from The Cognac Masters 2021.
No Age Statement – Super‐Premium
Company
Product
Medal
Sarl Jean Fillioux
La Pouyade
Master

E

Rémy

 Martin & Co
Rémy Martin 1738 Accord Royal
Gold
Larsen
Larsen Aqua Ignis
Silver
No Age Statement – Ultra‐Premium
| | | |
| --- | --- | --- |
| Company | Product | Medal |
| Camus | Camus Extra | Gold |
| Exsto Cognac | Exsto Elixir | Gold |
Vintage – Premium
| | | |
| --- | --- | --- |
| Company | Product | Medal |
| Courvoisier Cognac | Courvoisier Napoleon Fine Champagne | Gold |
| Hermitage Cognac | Hermitage 2010 Grande Champagne Cognac | Silver |
Vintage – Ultra‐Premium
| | | |
| --- | --- | --- |
| Company | Product | Medal |
| Hermitage Cognac | Hermitage 1990 Grande Champagne Cognac | Master |
VS – Single Cru
| | | |
| --- | --- | --- |
| Company | Product | Medal |
| Maison Ferrand | Ferrand Cognac 1840 Original Formula | Master |
VS – Premium
| | | |
| --- | --- | --- |
| Company | Product | Medal |
| Sire Spirits | Branson Cognac VS Phantom | Gold |
| Courvoisier Cognac | Courvoisier Cognac VS | Silver |
VS – Super‐Premium
| | | |
| --- | --- | --- |
| Company | Product | Medal |
| A de Fussigny | A de Fussigny Selection | Gold |
VSOP – Single Cru
| | | |
| --- | --- | --- |
| Company | Product | Medal |
| Camus | Return to Saint‐Aulaye | Gold |
| Maison Ferrand | Ferrand Cognac 10 Générations | Gold |
| Maison Ferrand | Ferrand Cognac Ambré | Gold |
| Cognac Frapin | Cognac Frapin VSOP | Silver |
VSOP – Single Estate
| | | |
| --- | --- | --- |
| Company | Product | Medal |
| Camus | VSOP Borderies Single Estate | Gold |
VSOP – Premium
Company
Product
Medal
Merlet
Merlet Brothers Blend
Gold
Maison Bache‐Gabrielsen
Triple Cask
Gold

E

Rémy

 Martin & Co
Rémy Martin VSOP
Gold
Courvoisier Cognac
Courvoisier Cognac VSOP
Gold
Sire Spirits
Branson Cognac VSOP Royal
Gold
VSOP – Super‐Premium
| | | |
| --- | --- | --- |
| Company | Product | Medal |
| A de Fussigny | A de Fussigny Pure Organic | Master |
| La Milliardaire Spirits | La Milliardaire VSOP Cognac | Gold |
VSOP – Ultra‐Premium
| | | |
| --- | --- | --- |
| Company | Product | Medal |
| Sire Spirits | Branson Cognac VSOP Grand Champion | Gold |
XO – Single Cru
| | | |
| --- | --- | --- |
| Company | Product | Medal |
| Maison Ferrand | Ferrand Cognac SDA Sélection des Anges | Master |
| Cognac Frapin | Cognac Frapin – Cigar Blend XO | Master |
XO – Single Estate
| | | |
| --- | --- | --- |
| Company | Product | Medal |
| Camus | Camus XO Borderies Family Reserve | Gold |
| Cognac Frapin | Cognac Frapin Extra | Gold |
XO – Premium
| | | |
| --- | --- | --- |
| Company | Product | Medal |
| Courvoisier Cognac | Courvoisier Cognac XO | Gold |
| Sire Spirits | Branson Cognac XO | Gold |
| Sam's Club | Member's Mark Cognac XO Impérial | Silver |
XO – Super‐Premium
| | | |
| --- | --- | --- |
| Company | Product | Medal |
| Camus | Camus XO | Master |
| Maison de Negoce Charentaise | Cognac Roullet XO Cadet | Master |
| Hawkins Distribution | Cognac Richard Delisle XO Grande Champagne | Gold |
XO – Ultra‐Premium
Company
Product
Medal

E

Rémy

 Martin & Co
Rémy Martin XO
Master and Taste Master
Rome de Bellegarde
Rome de Bellegarde XO
Gold
Louis Royer
Louis Royer XO Cognac
Gold
Cognac Jean Fillioux
So Elegantissime XO
Silver