Ten spirits brands making major moves in sustainability
Spirits brands have upped their game when it comes to sustainability with big and small players unveiling new green strategies and initiatives. We look at some of the latest moves in the industry to mark Earth Day today (22 April).
From a billion-dollar sustainability strategy from Beam Suntory to the 'world's first' spirit in a paper bottle, producers have gone the extra mile when it comes to sustainable practises.
The past year has seen producers including Diageo and Bacardi move forward with ambitious packaging goals, while rum brand Diplomático sought to tackle food waste in on-trade venues across the US through a new programme.
Meanwhile, Mijenta Tequila joined forces with Whales of Guerrero to boost community-driven conservation, and The Lost Explorer Mezcal unveiled its new Celebrate the Earth campaign.
Click through to the following pages to see some of the industry's top sustainability moves to celebrate Earth Day today. 
World's first spirit in a paper bottle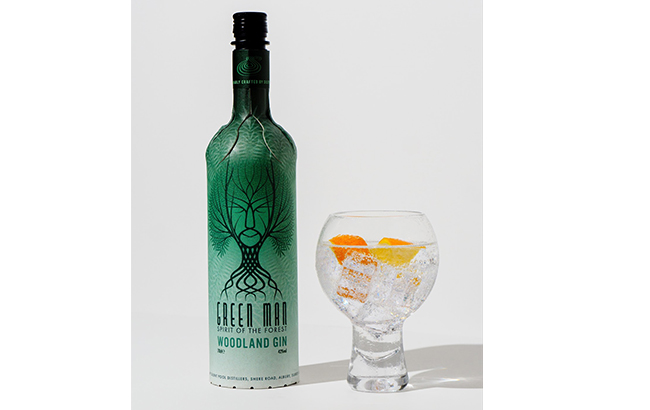 English producer Silent Pool Distillers has created the 'world's first' spirit in a paperboard bottle to coincide with Earth Day.
Green Man Woodland Gin is contained in a bottle made by Frugalpac and is five times lighter than glass alternatives. The bottle uses 77% less plastic than other plastic bottles and has a carbon footprint six times lower than glass or PET plastic bottles.
The paperboard is made from 94% recycled paper, while a separate pouch can also be recycled, making the bottle fully recyclable.
Other producers including Diageo and Bacardi have revealed plans to launch products in paper bottles, but Silent Pool claims its new gin is the first commercially available paper bottled spirit on the market.
The gin is made 25 botanicals that symbolise the forest and woodlands of Surrey, where Silent Pool is based.
Silent Pool's main still is powered by biofuel, reducing emissions by up to 90%.
Beam Suntory's US$1 billion sustainability pledge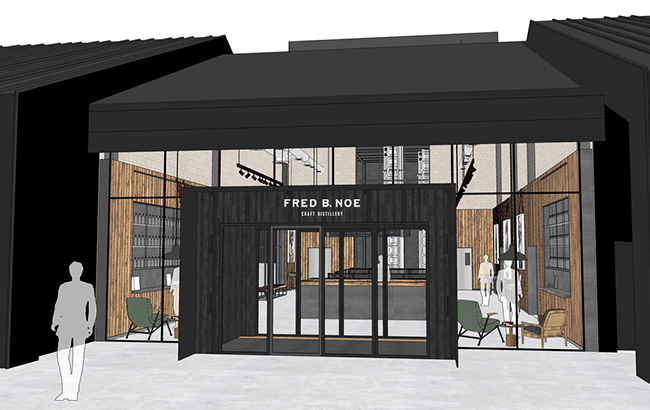 Maker's Mark owner Beam Suntory has pledged US$1 billion in Proof Positive, the company's first sustainability strategy across its entire business.
The strategy is inspired by parent company Suntory's Growing for Good vision.
Beam Suntory has set a number of targets for 2030 and 2040, including cutting its greenhouse gas emissions by 50% across direct operations by 2030. By 2040, the group hopes to remove more carbon than it emits across the entire value chain.
The new Fred B Noe Craft Distillery, due to open later this year in Kentucky, will be the company's first distillery powered by renewable energy.
The company has also committed to planting 500,000 trees annually by 2030. Furthermore, Beam Suntory said it will only work with suppliers that use sustainable practises by 2040.
The firm will aim to use 100% recyclable packaging and 40% recycled materials by weight across its portfolio by 2030.
The company will also invest US$500 million to promote responsible drinking and behaviour, and will ensure 50% of women are in leadership positions globally. In addition, the firm will aim to ensure it has 45% racially and ethnically diverse employee representation in the US.
The Lost Explorer and Voice for Nature partnership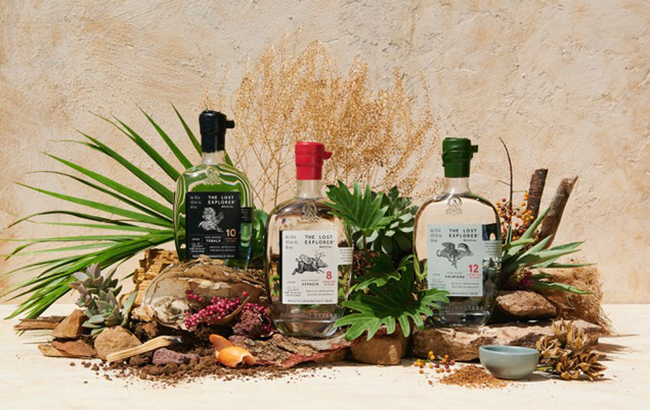 The Lost Explorer Mezcal has revealed a new partnership with the Voice For Nature Foundation, which aims to support organisations and initiatives that promote positive climate change.
The partnership will allow the mezcal brand to leverage the charity's global network, and create and support an exchange of information and best practises from industry experts and stakeholders.
At the same time as the partnership, The Lost Explorer has unveiled its new Celebrate the Earth campaign, featuring 'purpose-driven' educational videos and content, and sustainable cocktails.
The initiative aims to highlight the brand's commitment to sustainable production, while helping the local mezcal-producing community in Oaxaca and safeguarding the land's biodiversity.
The Lost Explorer turns agave waste into fertiliser, uses solar panels to power its distillery and replants at least three agave plants for each one used.
Each bottle is also made from more than 50% recycled crystal scraps, while its stopper is made from natural wood.
Mijenta supports whales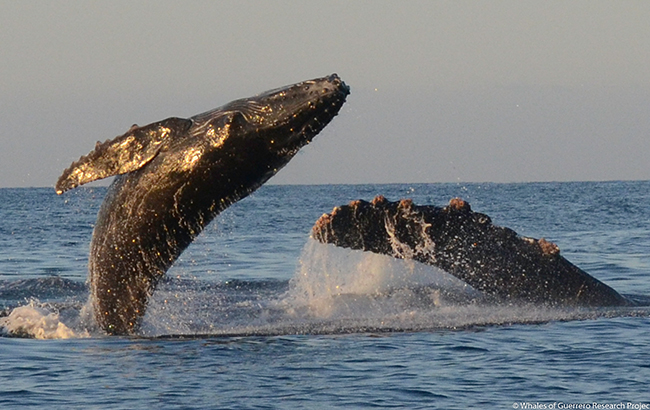 Tequila brand Mijenta has joined forces with Whales of Guerrero to boost community-driven conservation in the region.
Whales of Guerrero organises community-driven preservation in the fishing village of Barra de Potosi and the southwest Pacific State of Guerrero, Mexico.
The organisation aims to 'transform the relationship between people and nature by creating programmes that inspire change'.
Mijenta's contributions to the project will be used for the research and protection of whales, and will also help educate the local community.
In 2020, Mijenta offset 25kg of CO2 emissions per bottle sold. The brand's label and box are made of agave waste, with all packaging elements purchased from local businesses in Mexico.
Bacardi's biodegradable bottles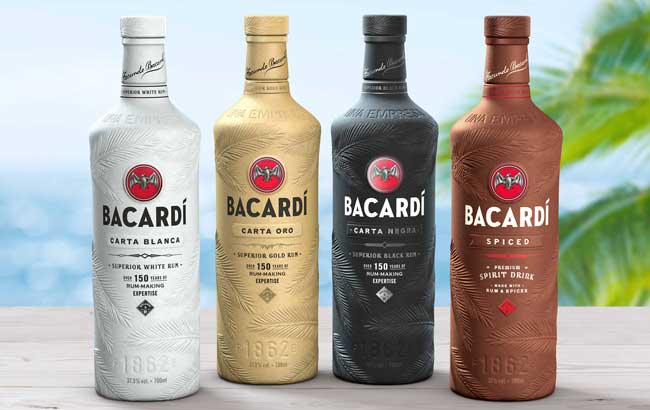 Last year, Bacardi partnered with biodegradable products manufacturer Danimer Scientific to create a bottle made using natural oils derived from seeds including palm, canola and soy.
The resulting plant polymer-based bottle will biodegrade after 18 months without leaving behind microplastics. A traditional plastic bottle can take up to 400 years to decompose. The move will replace 80 million plastic bottles used by the firm every year.
Bacardi rum will be the first spirit to appear in the new bottle, before the plant-based material is rolled out to replace single-use plastic across brands including Bombay Sapphire, Grey Goose vodka, Patrón Tequila and Dewar's Scotch whisky.
As well as the new 100% biopolymer spirits bottle, Bacardi is also creating a sustainably sourced paper bottle. Made using the same plant polymer base, the paper bottle will have equally strong environmental credentials.
Diageo's sustainability push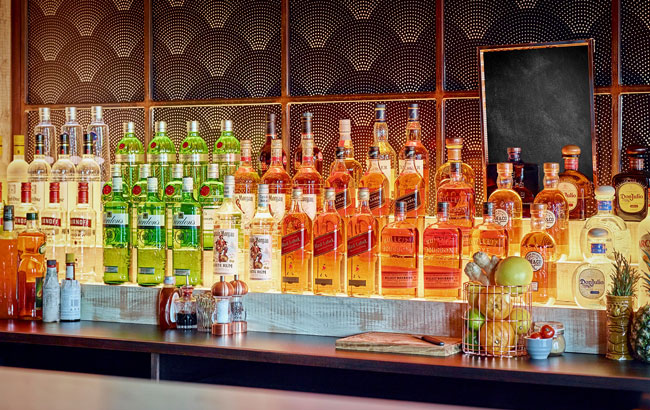 In November 2020, Johnnie Walker owner Diageo unveiled its Society 2030: Spirit of Progress plan, which features targets covering sustainability, diversity and positive drinking.
Diageo will turn to 100% renewable energy in an attempt to achieve net zero carbon emissions across its operations. The firm will aim to achieve net zero carbon emissions in India by 2025.
Diageo also plans to reduce the water required in production by 30% by 2030 and will deliver more than 150 community water projects across the world.
Over the next 10 years, the company also aims to transition to using 100% recycled content in plastic packaging and 100% of its packaging will be widely recyclable.
Diageo recently unveiled its biggest sustainability campaign to date for blended Scotch brand Johnnie Walker, called The Next Steps.
Johnnie Walker is seeking to 'reinvent' the drinking experience through the creation of a new bar experience in collaboration with bar owner Ryan Chetiyawardana. The project, which aims to 'showcase the future of sustainable socialising', will debut this year.
Heaven Hill Brands
American whiskey maker Heaven Hill Brands unveiled its first official environmental sustainability strategy for the next 10 years.
The decade-long plan focuses on four key areas: water, emissions, waste and conservation.
Using science-based research, Heaven Hill's goals include improving water efficiency by 15% and reducing carbon emissions from operations by 30%, with an aim to eventually reach zero carbon emissions.
Furthermore, Heaven Hill will work to eliminate 10% of waste generated by operations, reduce virgin plastic in bottles by 50% and create zero-waste visitor experiences.
In order to conserve ecosystems that support the business, Heaven Hill will also sponsor the planting of 5,000 trees of 'substantial size' in local communities, supporting sustainable white oak supplies and sustainable agriculture.
Moët Hennessy collaborates with Clean Cargo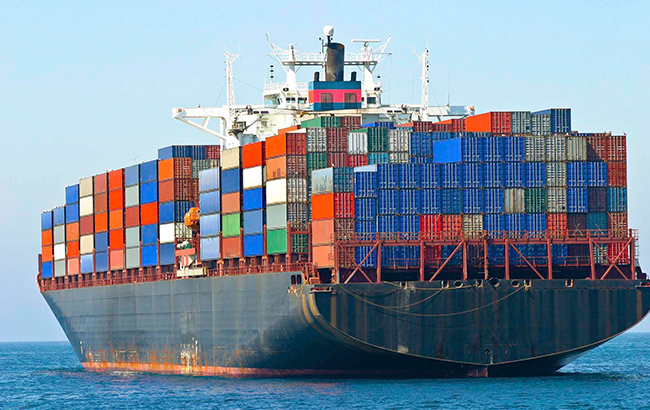 Moët Hennessy, the wine and spirits arm of luxury goods firm LVMH, has partnered with the Clean Cargo initiative, which aims to decarbonise sea transport.
Moët Hennessy ships its products primarily by sea. For the past five years, maritime transport at Moët Hennessy has accounted for 85% to 90% of its shipments and nearly a third of its total CO2 emissions.
The partnership with Clean Cargo will seek to share sustainability best practises for transporting goods by sea.
Moët Hennessy and the Clean Cargo working group will work to minimise pollution, boost energy efficiency and protect marine biodiversity.
Diplomático tackles food waste
Rum brand Diplomático has launched a new pilot programme that aims to boost sustainability across the on-trade, while addressing food insecurity in the US.
The Project Leftover campaign seeks to connect non-profit food rescue organisations with bars and restaurants that have leftover food.
The scheme is expected to launch initially in South Florida with programmes rolling out in Houston, New York and Los Angeles during 2021.
Each market will enlist 25 participating restaurants and bars, which will be paired with a local community partner organisation. The organisations will work with venues to deliver leftover food to those who need it.
Diplomático's goal is to donate 35,000 pounds of food in total through the programme.
The scheme is part of the rum brand's global sustainability platform, Distilled Consciously.
Avallen's Bee More Report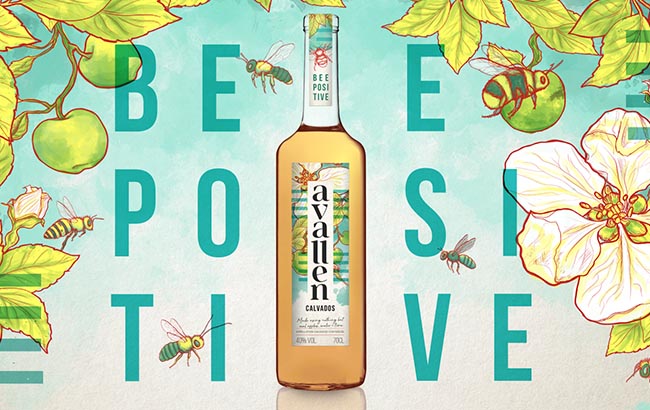 Calvados brand Avallen is marking Earth Day with the release of its first sustainability report, called Bee More Report.
The 'transparent' report reveals the progress made by the brand as it seeks to take action against the climate crisis.
The report explains how the brand's production actively removes 2.73kg of CO2 from the atmosphere with every bottle – the equivalent of removing the emissions caused by driving 13 miles in an average UK car.
The brand has also committed to saving water through its production by using only 1.2 litres to make a single bottle. Avallen said it takes 13 litres to make a bottle of Bourbon on average.
Avallen uses eco-friendly packaging, with its label made from apple pulp.