Two Days vodka soda secures £185,000
By Owen Bellwood
Ready-to-drink brand Two Days has gained a £185,000 (US$258,000) investment to accelerate its growth in the UK.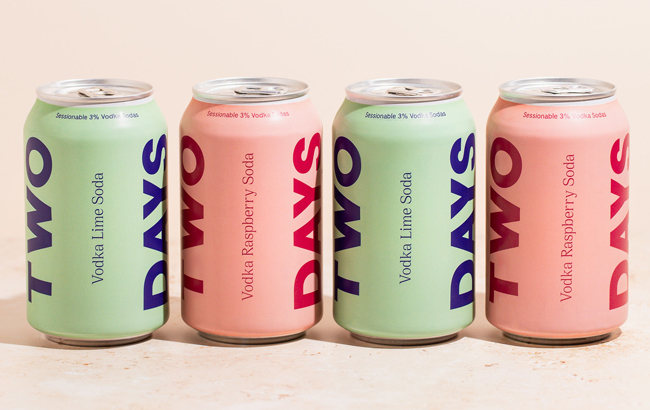 Flavoured vodka-based soda maker Two Days was founded by Elise Marks and Brendan Bennett in early 2020. The firm offers two canned ready-to-drink (RTD) expressions at 3% ABV: Vodka Lime Soda and Vodka Raspberry Soda.
The company has received £185,000 in seed funding from investment firm SFC Capital.
Ed Stevenson, SFC investment executive, said: "With a significant number of people actively looking to moderate their alcohol intake, Two Days is the perfect option and ultimately made our decision to invest an easy one."
Two Days has also agreed its first retail listing with supermarket chain Whole Foods Market, and secured partnerships with two distributors.
Each expression in the Two Days portfolio is made without the addition of sugars, sweeteners or artificial ingredients. The drinks are made from a single measure of British vodka, sparkling water and fruit extract.
Two Days sodas are also gluten-free, vegan and suitable for keto diets.
Marks and Bennett said in a joint statement: "We're seeing a shift in the way people are interacting with alcohol. Moderation is on the rise, but most people do still drink alcohol on occasion. Moderation means different things to different people and we didn't want it to be a choice of all or nothing.
"This has inspired us in everything from the brand itself, to the development of the drinks. We wanted to create a range of beverages that had a more sessionable ABV and a refreshing flavour profile, so you can enjoy one or a few with friends today and still make the most of tomorrow."