Native's Vijay Mudaliar on championing local ingredients
By Owen Bellwood
Native, the Singapore bar run by Vijay Mudaliar, recently won a prestigious TOTC award. But while the venue enjoys international acclaim, the bartender tells SB why home ingredients are vital.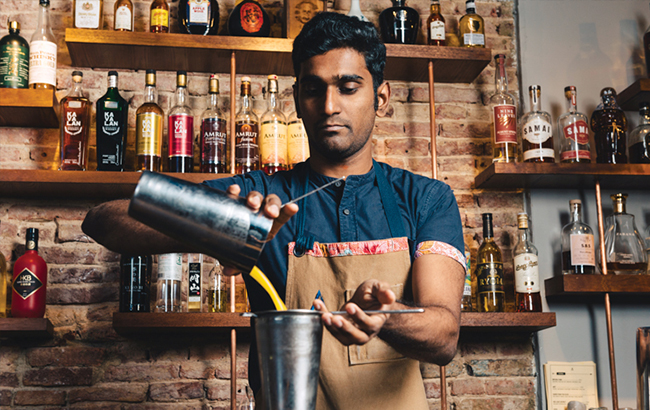 *This feature was originally published in the December 2020 issue of The Spirits Business
Since opening four years ago, Singapore's Native has garnered a reputation for championing local seasonal ingredients in creative cocktails. But despite gaining industry‐wide recognition, owner Vijay Mudaliar still seems surprised that patrons flock to his bar for its innovative creations. "I never thought people would even like what we do," he says. "It was a personal mission to open this bar and I was ready for people to never accept it."
Thankfully, people do like what Mudaliar and the team at Native do. So much so that the Singapore venue won Best International Cocktail Bar at Tales of the Cocktail's Spirited Awards 2020. "I'm super honoured to get recognition for what we do," Mudaliar says.
"I don't wake up feeling like awards make me better or worse, but I like to think it gives hope to the team and the people looking at us from afar who think 'wow, a small independent bar that is working with local ingredients and doing something different could reach such heights, that means in the next five to 10 years I could do the same'."
HIGH STANDING
Despite his high standing in the industry, Mudaliar says he wasn't instantly drawn to a career behind the stick. His first shift was at Singapore nightclub Zouk, where he expected to "rock up and make some drinks". However, he found himself stuck in the back, washing glasses: "I went through maybe 2,000 glasses that night," he recalls.
After a rocky first shift, Mudaliar worked at Zouk for a further four months before he had the chance to serve his first drink. Working behind the bar helped fund his independence while studying, but after graduating, he decided to step away from the bar to enter the "real world".
"I went into a corporate industry but I was miserable at a desk," he says. "As a form of escapism at the weekends I would go and tend bar. I just needed that enjoyment in my life. Then one day, I realised if I was going to be happy in the long run then I should do what I love – and I really love bartending."
Since going all‐in on the on‐trade in an attempt "to live happier for a longer time", Mudaliar has worked with the likes of Michelin‐starred chef Jason Atherton and award‐winning bartender Luke Whearty of Singapore's Operation Dagger. While working at Atherton's Singapore venue, Mudaliar gained a grounding in the classics, learning to make Old Fashioneds and Negronis. At Operation Dagger, Mudaliar gained an in‐depth knowledge of modern bartending.
He says: "My time at Operation Dagger helped me a lot, realising that as a bartender you can modify flavours in many ways. Luke was always trying to finesse the way I think. Even before he would taste a drink, he would ask me to tell him my thought process."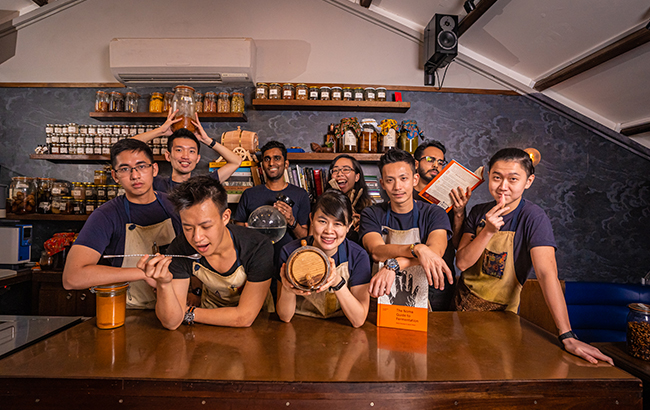 LOCAL INGREDIENTS
It was also while working at Operation Dagger that Mudaliar began experimenting with local ingredients in his cocktails. After finding books on foraging and native ingredients stashed away at the bar, he began exploring his surroundings and "randomly picking up grasses and things" to see how they tasted.
"Eventually, the first thing I found was wild sorrel," he says. "It just snapped something in my mind, that I could go out to a patch of grass, pick up a herb from our land and it have such an immense flavour profile. That was the start."
While rooted in tradition, Mudaliar says this was a new way of thinking for bartenders in Singapore, who he says were more interested in uncovering exotic, unheard‐of ingredients that showcased new flavours. However, using produce sourced close to home had proven essential to the island nation's previous generations.
"I was about 26 and I was getting to a point where I was listening to my parents and the older folks a lot more. I realised that many young people – and even I – couldn't identify a lot of the ingredients they were using," says Mudaliar. "One time I was making a homemade yoghurt at a bar and I was super proud of it. I went home and I was talking to the family about it over dinner and my mum was like 'how do you think I've been making your yoghurt your entire life?'. That's when you stop and realise this stuff has already been done at such a high level."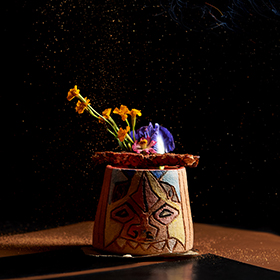 The practice has since wound its way into everything Mudaliar does, and he has pushed the limits of living local through the menu at Native, which, in one incarnation, was made using ingredients sourced from within 60km of the bar. "In a city state like Singapore, it's challenging," he explains. "We drew up all these ingredients that we could get and one was oysters. So we had to work back from there and create a drink with oysters. We created an oyster omelette cocktail. We distilled local oysters then we made a miso‐ cured egg foam; it was a cocktail that tasted almost like a chawanmushi," an egg custard dish found in Japan.
Mudaliar says the idea of sticking with hyper‐local ingredients seemed daunting. But the rules surrounding what could or could not be used in a cocktail offered a blank canvas for the team to build upon.
He says: "We really didn't want to just take an Indian whisky and make an Old Fashioned with it; that would not really do justice to tradition. So, we said why not try building cocktails that are not based on classics and instead do them in a way that when people have them, they can relate to them. It was restrictive in the beginning, but after you free your mind you find that you can build cocktails without these shackles."
Mudaliar and the team have begun working on the next menu for Native, which he teases will be out "one day", as the team are "major procrastinators". The concept for the new drinks list aims to unite cultures and countries across Asia through cocktails made using a single base ingredient, or at least forming "huge components" of each serve.
"It's going to be exciting," he says. "The next idea is about going back to one single ingredient that connects Asia together, and that ingredient could be made into a spirit, it has acidity, it has sweetness, it could be a lot of things. We're talking about an ingredient that is like five or 6,000 years old."
Mudaliar remains tight‐lipped about any further details surrounding the new menu. But one thing is for sure, his meticulous approach to ingredient sourcing, flavours and cocktail creation is sure to keep curious drinkers flocking to Native for years to come.