Loch Lomond launches single malts to mark 149th Open
Scotch whisky producer Loch Lomond has released two limited edition single malts to celebrate the 2021 Open golf tournament in July.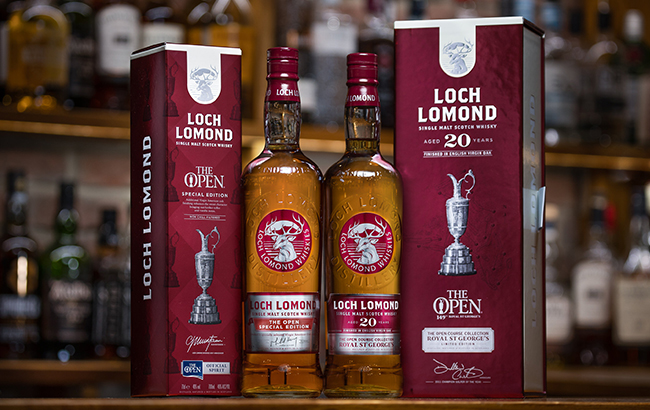 The 149th Open Championship is due to be held on 15-18 July at The Royal St George's Golf Club in Sandwich, England, after being postponed last year.
The new Open Course Collection Royal St George's 2021 and The Open Special Edition 2021 whiskies have been created by master blender Michael Henry.
The bottlings celebrate the company's first visit to England as the official spirit of The Open. Loch Lomond agreed a five-year partnership with the organisers of The Open in February 2018.
Colin Matthews, CEO of Loch Lomond Group, said: "Like all golf enthusiasts across the world, we were disappointed to learn of the postponement of The Open last year, but we are very much looking forward to the championship returning in the summer.
"We are very proud of our partnership with The Open, which has allowed us to showcase the very best of the Loch Lomond Whiskies range among golf and sport fans across the world.
"Both our Special Edition and Open Course Collection expressions are very special limited editions and are emblematic of the true diversity and distilling expertise we have at our Loch Lomond Distillery, and mark Loch Lomond Whiskies' first trip to Royal St George's as the official spirit of The Open perfectly."
The 20-year-old Open Course Collection Royal St George's 2021 whisky has been created in collaboration with Open 2011 champion Darren Clarke, who is also a Loch Lomond ambassador.
Made using English virgin oak casks, the 50.2% ABV bottling has notes of spiced apple, elderflower and caramel, followed by a 'long, dry' finish of lime citrus, cumin and ginger.
The 20-year-old whisky joins a range of expressions created by Loch Lomond to mark previous Open tournaments in 2018 and 2019.
Meanwhile, The Open Special Edition 2021 (46% ABV) was made in partnership with Loch Lomond ambassador and Scottish golfer Colin Montgomerie. The expression combines spirit from straight neck and traditional pot stills, resulting in a 'fruity' single malt with a hint of smoke on the finish.
The liquid was matured in three types of American oak casks, before being finished in virgin American oak.
Clarke and Montgomerie also collaborated with Loch Lomond on the creation of whiskies to mark the 2019 Open competition.
The Loch Lomond Open Special Edition 2021 (RRP £40/US$55) and The Loch Lomond Open Course Collection (RRP £160/US$220) are now available to buy from the Loch Lomond website and select retailers.