Keyatta Mincey Parker on creating a haven for bartenders
Having fled Liberia for the US, Atlanta-based Keyatta Mincey Parker knows about the importance of refuge. That's why she founded a garden where bartenders can go and wind down.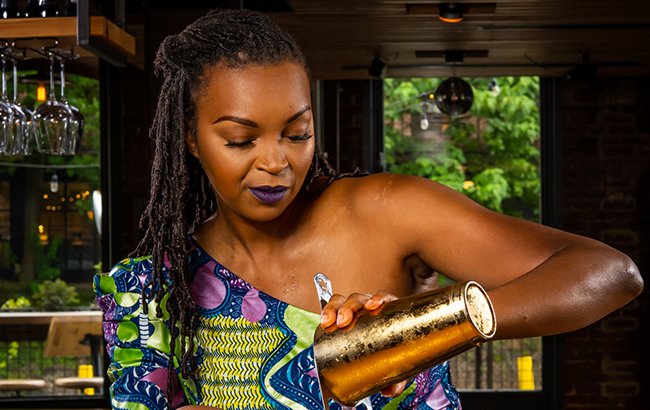 *This feature was originally published in the January 2021 issue of The Spirits Business
Born in Liberia, Atlanta‐based bartender Keyatta Mincey Parker was forced to flee her home country when she was 12 after war broke out and threatened the safety of her family. "We came to America permanently in May of 1990," says Mincey Parker. "There had been wars before, and we would come to America for a year or two and then go back. But this war was particularly devastating because my father was a target, so we all had to leave. Unfortunately, I haven't been back home since."
Moving to the US proved to be a culture shock and it took time for Mincey Parker to adapt to what she "couldn't do or wasn't supposed to do". Since leaving Liberia, Mincey Parker says she has remained connected to her heritage through aspects of her life and career. She says Liberian fashion influences her clothes, and that the country's emphasis on fresh produce and flavours such as spices and fruit remains important.
"Someone said the first thing you lose is your language, but you never lose the food and you never lose the internal culture," she says. "I love pepper, I love rice, anything African – I love brilliant, bold flavours. I try to mix all these cultures together, because I'm a mixed‐culture person – I have to be."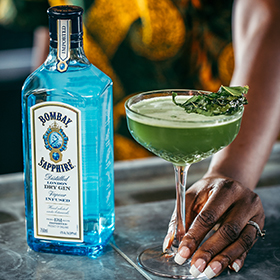 WINNING FORMULA
Mincey Parker started bartending 18 years ago when she returned to work at Copeland's restaurant in Atlanta following the birth of her daughter. In the years since, her heritage has wound its way into the drinks she serves. The influence of her Liberian roots proved a winning formula in 2020 when she entered Bombay Sapphire's Most Imaginative Bartender competition with a cocktail that featured a mix of ingredients to represent her "parents, their love and their struggles".
"The cocktail that I entered was a collard greens and green apple cocktail," she says. "Both of these things grow here in America, as well as in Liberia, and I wanted to tell the story of my parents. I wanted that to be reflected in the cocktail."
The creation earned Mincey Parker a spot in the competition's Chicago final and saw her finish third overall.
As well as creating a signature Bombay Sapphire serve, the contest, which is run in collaboration with the Tales of the Cocktail Foundation, challenged bartenders to showcase a project that highlights their interests outside of bartending.
For Mincey Parker, this was her love of gardening. "I feel like they realised that bartenders were kind of coming apart at the seams, so they asked what do you do when you're not at the bar?" she explains. "I immerse myself in my culture as a Liberian woman, as well as in gardening. It was something my granny did and growing up with fresh foods, it's something I'm used to."
As such, Mincey Parker pitched the A Sip of Paradise community garden, which would provide a space for bartenders in Atlanta to escape from the stresses of a career behind the stick and take time for themselves.
Although Mincey Parker didn't take home the US$25,000 fund that was awarded to the winner, she spent 2020 launching the project herself. "I wanted to start a bartender‐only community garden because there is nothing for us," she says. "A Sip of Paradise is a place for you to have for your own.
"This is a place to experience cocktails if you want to, it's a place to grow your own foods if you want to, to have your own space and meet your friends."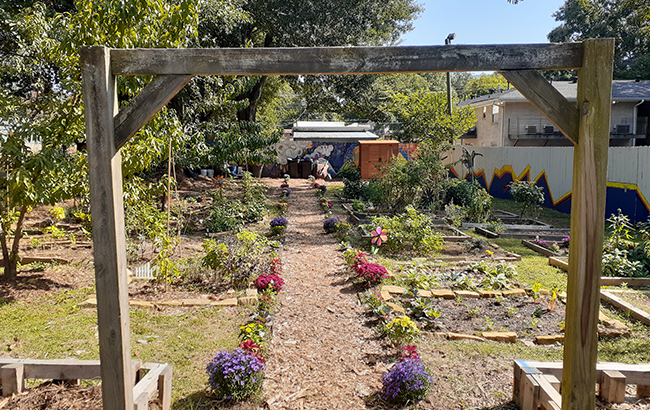 WAITING LIST
The garden opened in 2020 and covers a quarter of an acre in the east of Atlanta, Georgia. The space is divided into 41 plots that bartenders can reserve, and Mincey Parker already has a waiting list of 27 people hoping to get a spot of their own.
"We have 35 members and every member has a plot, and the plots are 25 bucks for a growing season," she explains. "But it's not about the money it's about being able to provide a space for us. And my bigger goal is to have a building. I would like a facility where once you leave the garden you can recap your notes, do whatever paperwork you need to do, write about the space – it would be a continuation space."
She says the response to A Sip of Paradise has been "overwhelming". Bartenders have been eager to help out where possible, and brands and local businesses have supported the project in their own ways.
"We put the plans together to do this, then slowly everyone's restaurants and bars started closing because of the lockdowns. People had free time and were like 'I'm not working, I can come help'," she says. "Then brands were like 'hey, you're all out there, I'll drop by with some drinks'. Then people were like 'you guys got a garden? I've got a bunch of seeds if you want them?'. It's snowballed into this magical thing."
For Mincey Parker, the project stems from a desire to do something for her community and to reconnect with her love of gardening. But as the project has grown, its effect on those involved has exceeded her wildest dreams.
She says: "The most powerful thing was that a bartender friend of mine told me that she wanted to buy a plot. I told her I would buy her one, but she told me that she needed to feel like she owned something. She said she needed a reason to get out of bed and come here, or she would kill herself. That was very impactful. I came home and I cried so hard."
The garden has now closed for the season, and the next steps are being mapped out, which includes plans to take A Sip of Paradise to as many bartenders as they can.
She says: "The goal has always been to have a bartender garden in different cities. Popular cities like New Orleans, Chicago, Los Angeles and definitely back home in Liberia – that is part of a plan that I'm working on as well."
Brands have already reached out about the possibility of launching a second site in San Francisco in 2021, but Mincey Parker warns that the coronavirus pandemic could put these plans on hold.
Mincey Parker says 2020 encouraged her to take stock, and consider her career. While currently not tending bar full time, she has been freelancing in Atlanta alongside her work with A Sip of Paradise.
She also remains steadfast in her desire to raise awareness of the issues bartenders face, such as the impact the career has on their mental and physical health, and is hopeful that she will be able to continue doing good things to benefit others.