Glencairn Crystal celebrates 40 years in business
By Melita Kiely
Crystal glassware manufacturer Glencairn is celebrating its 40th anniversary this year and will mark the milestone by revisiting some of the company's past decanter projects.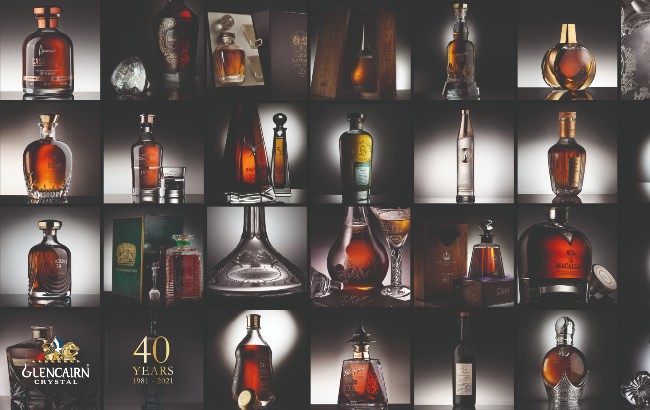 Raymond Davidson founded Glencairn Crystal in 1981, a company that is now synonymous with the world's leading whisky glass, the Glencairn glass.
Today, the company is run by Davidson's sons, Paul Davidson and Scott Davidson.
Raymond Davidson said: "When I started Glencairn Crystal in 1981 it was my ambition to create the most innovative, creative and impressive crystal decanters for the drinks industry.
"We started off as a small business with everyone in the family rolling up their sleeves to get involved.
"Though we have grown to a team of over 70 staff now, our family values and customer relationships are still at the core of everything we do and we continue to lead the world in creating ground-breaking design and developing unique techniques that delight our customers."
To celebrate 40 years, throughout 2021 Glencairn will be releasing 'behind the scenes' decanter stories from the past four decades.
The stories will be featured on the Glencairn website, across the brand's social media channels and also mentioned in podcasts delivering interviews with leading luminaries from the whisky industry.
The anniversary will also be marked by the official opening of the new expanded Glencairn Crystal Studio site in East Kilbride, Glasgow, in Scotland.
Glencairn invested more than £1 million (US$1.4m) in the new premises, which covered a refurbishment, a new brand-orientated reception and a 'substantial' new build on the original Glencairn site to meet growing demand.
Scott Davidson, Glencairn's new product development director, added: "Last year was an important year for us with the 20th anniversary of our iconic Glencairn glass for whisky, however this is also a momentous year for us as we pay homage to 40 years of Glencairn Crystal since my father started the company in 1981.
"We could not have built the business without our talented and passionate team, including the best craftspeople in the industry, some of whom have over 30 years' experience in working with crystal.
"We look forward to continuing to lead the market in crystal, glass and container innovation and craftsmanship, whilst working with friends and colleagues across the industry."
In November last year, Glencairn Crystal expanded its portfolio with the launch of a gin goblet.