Bombay Sapphire creates sunset-inspired gin
Bacardi-owned Bombay Sapphire has unveiled a new 'versatile' gin designed for cocktails as part of its Special Editions series.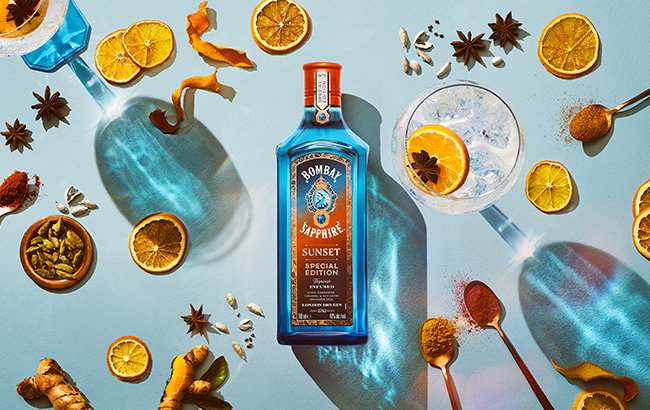 The new Bombay Sapphire Sunset is the second gin in the brand's Special Editions series, following the launch of English Estate in 2019.
Bombay Sapphire's master of botanicals, Ivano Tonutti, draws inspiration from places across the globe for the botanicals used in the range.
The new gin is inspired by the 'mellow heat and orange glow of the setting sun'.
Natasha Curtin, global vice-president of Bombay Sapphire, said: "As the global gin boom continues to thrive, we remain dedicated to championing creativity and craftsmanship within our products.
"The Special Editions are unique and contemporary expressions of Bombay Sapphire gin, each inspired by the natural world from which we source our exquisite botanicals."
Bottled at a higher ABV of 43%, Bombay Sapphire Sunset is said to be the 'ideal gin for cocktail creativity', allowing drinkers to use the expression for 'late-afternoon apéritif occasions' and evening consumption.
Sunset is made with Bombay Sapphire's 10 core botanicals, as well as golden turmeric, Indian white cardamom, and Spanish mandarin.
Tonutti said: "I have worked closely with our master distiller Dr Anne Brock to create a subtle combination of warming spices and citrus notes that truly enhance the complex flavour profile of Bombay Sapphire gin, providing a lingering warmth and refreshing taste.
"Bombay Sapphire Sunset balances the spices of the cardamom and turmeric together with bittersweet sun-dried Spanish mandarin delivering aromatic spice and warmth, just like those last rays of sunshine at the end of the day."
The gin is said to have 'warmth and depth' from the addition of cardamom, while the mandarin provides a 'sweet' note.
The expression is suggested served with tonic and garnished with an orange wheel to emphasise the bottling's 'warming spice'.
The gin is also recommended served with with ginger ale, fresh ginger and a squeeze of lime to create a Sunset Buck, or used to make a Negroni.
Sunset is priced at RRP £23 (US32) and available from major retailers in the UK, including Waitrose.
Bombay Sapphire is aiming to become the first gin made using entirely certified sustainable botanicals after eight of its ingredients were accredited.
Bacardi also unveiled its latest innovation for Martini vermouth this week – a new ready-to-drink line featuring two alcohol-free variants.