Belfast Distillery names new CEO
By Melita Kiely
John Kelly has been appointed chief executive officer of Belfast Distillery Company, maker of McConnell's Irish whiskey.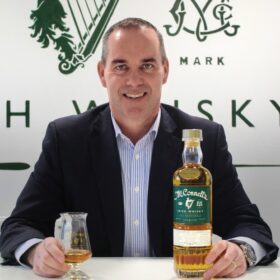 Kelly, who has more than 30 years' experience in the drinks sector, previously worked at Walsh Whiskey as commercial director.
Originally from Belfast, Northern Ireland, Kelly also worked in a range of sales, marketing and general manager roles in Ireland, Europe and the Middle East during his 22-year term with Diageo.
Kelly will oversee the expansion of McConnell's Irish whiskey, which launched a year ago. The new CEO will work to grow the brand's 'significant success' in the US and look to agree additional distribution deals worldwide.
Furthermore, Kelly will help the brand move forward with plans to establish a new whiskey distillery and visitor centre in north Belfast.
He said: "My role, and that of the team at Belfast Distillery Company, will be to build a brand, a distillery and a visitor experience that all of Belfast can be proud of.
"The journey has already begun with McConnell's Irish whiskey now available in Ireland, key European markets and of course the all-important USA market.
"In the coming months we are determined to build strong relationships with distribution partners across Europe and other priority markets for premium Irish whiskey."
The McConnell's brand is also available in New Zealand, Australia, Canada and Russia.
James Ameen, Belfast Distillery Company director, added: "Appointing John to this all-important role is a significant step for Belfast Distillery Company in what will be a big year for the firm.
"Our McConnell's Irish whiskey is already well-established in key local and export markets, and of course there is always room for growth.
"We have exciting plans for a whiskey distillery and visitor centre and we are delighted that John is now in place to lead our team and take those plans forward."