A drink with… Johnny Neill, HJ Neill
The director of HJ Neill tells us about his family ties in spirits, his move into gin and the revival of Samuel Gelston's Irish whiskey.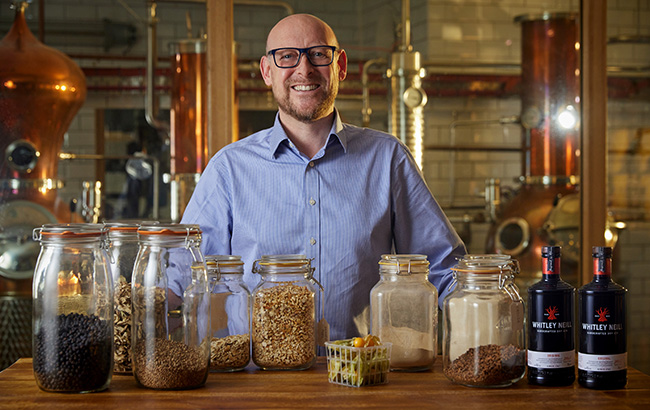 How did you get into the industry?
I started in accounting and I went into investment management. My father was a director of Greenall's Gin. I had never really had any involvement because my dad left Greenall's in the 1970s. Although I grew up on lots of alcohol, I never got into the drinks business.
I always wanted to start my own brewery and I did a short brewing course in Sunderland. I couldn't find a suitable site close to London, so I started looking at gin because there's a lot of family heritage. I started talking to distillers and formulating a brand. That's when I started Whitley Neill gin. I went on to develop the gin recipe using South African botanicals and launched it in August 2005.
What is your family's history in the spirits industry?
On my grandmother's side, I'm descended from Thomas Greenall, who started Greenall's. My great‐great‐grandfather owned Samuel Gelston's Irish whiskey, which he bought from Samuel Gelston in 1869. There are eight generations of Irish whiskey on my father's side.
What led to the revival of Gelston's?
After I launched Whitley Neill, I was trying to expand the portfolio a little bit. I started to source Irish whiskey from Cooley Distillery. I didn't know the history behind the Gelston's brand and where it came from so I did some research. I could see Irish whiskey was growing significantly.
I did more investigating and looked at the family background, and found artefacts. That was in 2007. It took me until 2016 to first of all get the funding, which came from Halewood, and to actually be in the position to launch anything.
What is in the core Gelston's line?
The core range is made of a blended whiskey, sourced from Great Northern Distillery, a no‐age‐statement single malt, a single pot still, and a Pinot Noir cask‐finished whiskey created with Sam Neill.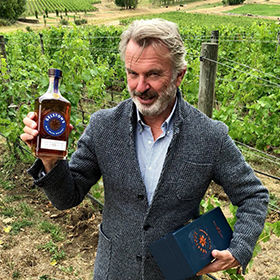 What led to the collaboration with actor-turned-winemaker Sam Neill?
He's my father's second cousin. He was delving into family history and I was doing the same. My father's great‐grandfather and Sam's great‐grandfather were brothers. We've been talking about doing a collaboration for five years. The single pot still whiskey spent 21 months in casks that previously held Sam's Central Otago Pinot Noir wine.
Once the harvest is over at the end of the summer in New Zealand, we're going to get more Pinot casks, and I've asked for Riesling casks too. That will work well with our single pot still and single malt as well. Using wine casks is a nice family connection. I'd like to make the Pinot cask one permanent, and we may look at sourcing Pinot Noir casks elsewhere too.
Are you launching any new whiskeys?
We've just launched a blended whiskey so we can properly enter the on‐trade with more volume, and look at global expansion. It's a lovely sipping blend that's perfect for cocktails. I want to target Jameson and Tullamore Dew. We've got some higher aged statements on the way, an 18‐year‐ old and a 12‐year‐old cask strength.
Are you looking to open a distillery?
Yes, sooner rather than later. I hope to find a site in the next 12 months and start moving very quickly towards making our own whiskeys. We had a site earmarked before Covid hit in March. Eventually we would like to have a visitor centre too.
What do you have planned for 2021?
I want to grow the core portfolio for Gelston's. For Berkshire Botanical Gin, I'm looking at launching more expressions using local ingredients. One we're launching in spring uses local Berkshire produce, and there will be another in autumn that is more in the spiced segment. I'm opening a little gin distillery in Berkshire, which will be up and running in February. We've just got the pot still, which can make rum too. There may be an option to look at rum further down the line.