A drink with… Chris Adaka, Adaka Vodka
Inspired by his London roots, Nigerian heritage and university days, the founder and managing director of Adaka Vodka is on a mission to take the brand global.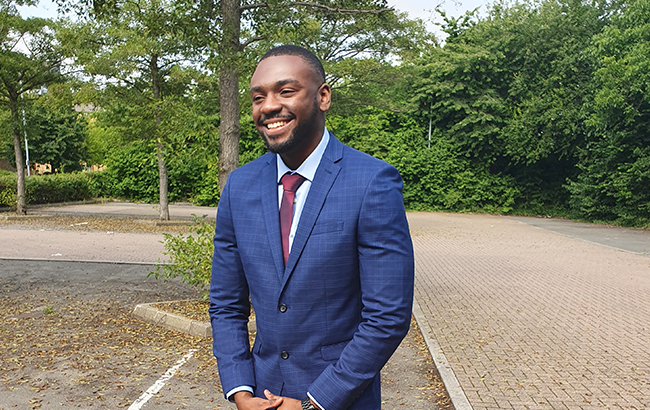 What inspired you to create Adaka Vodka?
The concept was formulated while I was at university. Being a young student, I enjoyed an active social life and part of this involved going out to events. I took a keen interest in what other students loved to drink and took notes on which were the most popular among my peers. Through my own research I decided that being in the alcohol industry was something I had grown passionate about, and knew I wanted to be a part of it.
My inspiration for the brand came from my Nigerian heritage and my London upbringing. I found that Black representation in the alcohol industry was almost non‐existent. I wanted to make a change and present a drink to the public that minorities could also identify with. I wanted the heritage to seep through with every sip, which I have emulated with the spices that are infused into the vodka.
How is Adaka Vodka made?
Adaka is crafted by a family of master distillers in Cognac. They have more than 100 years' expertise and that has been passed down through generations. It is distilled six times using the finest French wheat and infused with the finest African‐inspired chilli to create a blend like no other.
How many expressions are there in your portfolio?
We have two flavours: our flagship Adaka Vodka (37.5% ABV), a smooth, silky, spice‐infused vodka, and Adaka Savanna (30% ABV), a vodka‐based toffee‐flavoured liqueur inspired by the African savannas; it has a sweet unforgettable taste.
What sets your brand apart from other vodkas on the market? 
We believe that our identity is clear by the representation of the lion; we believe everyone has a wild side within, and Adaka can manifest it. Adaka is not just a basic spirit, it embodies a lifestyle which is inclusive of everyone. It is the perfect drink for every occasion. The bottle is sophisticated, yet simple, but at a price that is accessible to all.
Whether it's our online game show, competitions or events, we are always interactive with our customers on social media. We are a brand that does not allow the customer journey to end at the point of sale; we ensure that we maintain the customer relationship long after.
What do you find most exciting about the vodka category right now? 
Since founding Adaka Vodka in 2016 I have seen many changes in how vodka has been presented to the public. Vodka brands are becoming more daring and experimental in their flavours, designs and marketing. It is always refreshing to see what competitors produce as it inspires us to keep exceeding expectations.
Where is your biggest market?
Our most popular market is urban London – especially with millennials.
Do you plan to launch new expressions, or enter new markets? 
We are always looking for opportunities and thinking of ways to transform and create new expressions for Adaka. With an ever‐changing industry such as this it is important to keep up with the movement. We do have plans to launch new flavours and possibly enter new markets when the time is right.
Would you ever expand into other spirits categories? 
Potentially, if the opportunity presents itself. Never say never.
In five years' time, where do you hope Adaka Vodka will be?
I'd like the brand to be mentioned in the same category as the elite brands. Competing in various international competitions against world‐class brands, and winning awards.