Slingsby Gin enters hard seltzer category
By Nicola Carruthers
Yorkshire-based Slingsby Gin has expanded its ready-to-drink offering with the launch of its first hard seltzer line.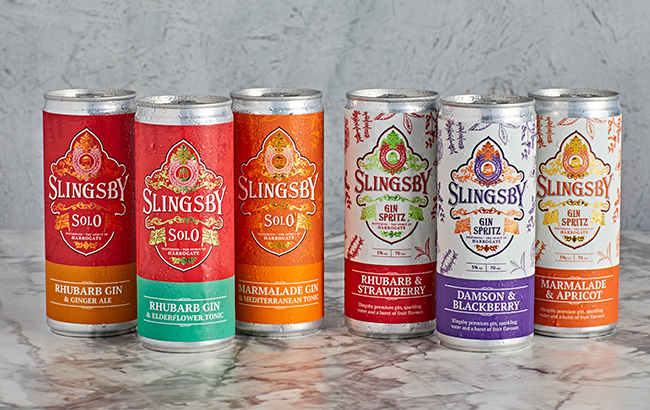 The Yorkshire producer said the new Slingsby Spritz taps into the rise in popularity of hard seltzers as drinkers seek lower-alcohol offerings.
Slingsby Spritz comes in three flavours: Rhubarb and Strawberry, Marmalade and Apricot, and Damson and Blackberry.
Each hard seltzer contains 70 calories per can and carries an ABV of 5%. The range has been launched to target a younger, health-conscious demographic, Slingsby said.
Marcus Black, co-founder of Slingsby Gin, said: "As the UK continues to embrace the RTS [ready-to-serve] and hard seltzer movement growing across the world, we are excited to be expanding the business and tapping into this new market.
"Last year was tough for the industry as a whole, however it gave our talented research and development team time to redefine our Solo offering and produce a brand new convenient Spritz in a can.
"Sales in the hard seltzer category in the US hit the billions in 2020, and although the category is relatively new to the UK, we have already seen the success translated to the UK market. Here at Slingsby, we're passionate about the quality of our ingredients and we're proud to offer a premium ready-to-serve drink at an accessible price for new and existing Slingsby fans."
In addition to the new hard seltzer line, Slingsby has also refreshed its bottled Slingsby Solo ready-to-drink (RTD) range, which now comes in a lighter, canned format.
The Slingsby Solo range comprises: Slingsby Rhubarb Gin and elderflower tonic, Slingsby Rhubarb Gin and ginger ale, and Slingsby Marmalade Gin and Mediterranean tonic.
Slingsby said recent IWSR data shows the RTD category is the only beverage alcohol sector to see growth in 2020, with volumes forecast to increase by 43%. The brand predicts that this will impact how the on-trade operates post-Covid-19, as RTD options provide an 'ease of serve and minimal touchpoints, which will see the category continue to strengthen'.
Slingsby Solo and Slingsby Spritz are available to buy from Spirit of Harrogate's website and store. It is available in a trio pack for £7.50 (US$10) or a case of 12 for £30 (US$41).
Last year, the co‐founder of Yorkshire's Spirit of Harrogate told SB about the company's ambition to make the Slingsby brand a global player.