Legislation filed to establish Indiana rye whiskey
By Nicola Carruthers
An Indiana politician has introduced a bill to regulate the advertising, labelling and sale of rye whiskey made in the US state.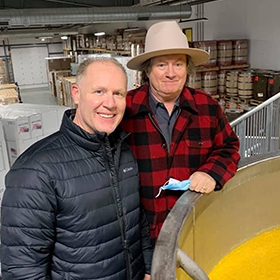 Indiana state representative Chris May is seeking to establish Indiana's reputation as a rye whiskey-producing state. As such, the politician has introduced legislation to set new standards, with assistance from Jeff McCabe, co-owner of Hard Truth Distilling Co in Nashville, Indiana.
"Indiana is home to more than 30 distilleries now, with some producing exceptional rye whiskey that has earned national acclaim," said May. "Establishing our own brand is an opportunity for the Hoosier state to stake its claim in a fast-growing market."
Some of the rules that May has set out for the labelling, marketing and selling of Indiana rye whiskey includes the stipulation that it must be made in Indiana with a mash bill that comprises at least 51% rye.
Furthermore, it must be fermented with sour mash or sweet mash, distilled to no more than 80% ABV, aged in barrels for at least two years, and bottled at no less than 40% ABV.
May is aiming to establish Indiana rye whiskey in a similar way to how the state of Kentucky has promoted Bourbon.
May said: "We want Indiana to be as popular for its rye whiskey as it is for basketball and racing. Establishing that market, both in sales and tourism, might one day put the success of our state's distilleries on par with that of the Kentucky Bourbon Trail."
According to a 2019 study by the Kentucky Distillers Association, the Kentucky Bourbon industry contributes US$8.6 billion annually to its economy and generates more than 20,000 jobs.