Equiano extends range with white rum
By Nicola Carruthers
African and Caribbean brand Equiano will release a white rum across Europe this spring, the brand's first line extension.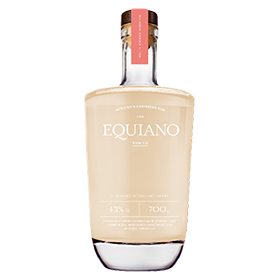 Described as the world's first Afro-Caribbean rum, Equiano was created by rum authorities Ian Burrell and Richard Seale in October 2019. It is a blend of molasses rums from Barbados-based Foursquare Rum Distillery, where Seale is master distiller, and Mauritius-based Gray's Distillery.
The Equiano range has now been extended with the new Equiano Light rum.
The rum is a blend of 'lightly aged' molasses rum from the Caribbean and infused with fresh sugar cane juice rum from Africa. The expression has notes of ripe sugarcane, natural vanilla and citrus, and is bottled at 43% ABV.
The expression is said to 'challenge the ideas and expectations' of rum by providing a taste profile that suppresses 'any notion that white rums lack the sophistication of their darker counterparts'.
Equiano Light is recommended served in classic cocktails such as a Daiquiri.
The black-owned, female-led brand will pledge 5% of company profits and £2 (US$2.80) from every bottle sold through Equinano's website to 2021 charity partner Anti-Slavery International. The brand is named after African-born writer and freedom fighter Olaudah Equiano.
Equiano Light is priced at £34.50 (US$48.80) per 700ml bottle.