British Honey Co to buy Union Distillers for £8m
By Nicola Carruthers
English spirits producer The British Honey Company has agreed to buy Leicestershire-based Union Distillers for £8 million (US$11.2m).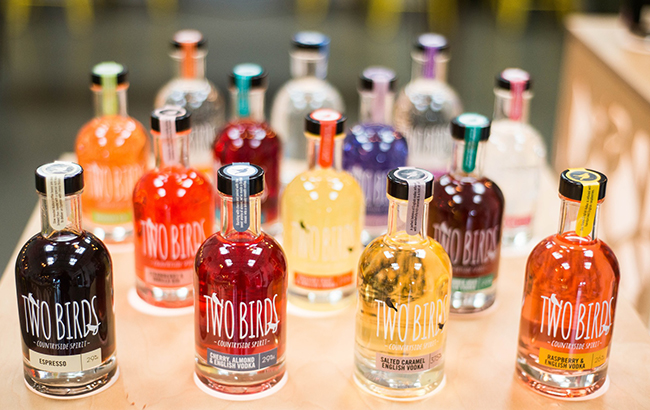 The deal includes £5m (US$7m) in cash and British Honey Company (BHC) shares worth £3m (US$4.2m), with an earn-out consideration of up to £2m (US$2.8m) based on revenue targets over the next two years.
Founded in 2012 by Mark Gamble and his partner, Union Distillers is based in Market Harborough. The distiller produces 11 gins, seven vodkas, a spiced rum, a vodka-based liqueur and an absinthe under the Two Birds spirits brand. In addition, Union distils spirits for business-to-business customers, including some German supermarkets with a UK presence.
The Leicestershire site has its own stills, a bonded warehouse, and is considering installing a canning line.
The BHC said the strategy of the new combined group is to build a multi-category portfolio across a number of markets through 'organic and acquisitive growth'. It will be led by increased marketing, new product development and significantly bigger e-commerce revenue.
Union is said to have more than £250,000 (US$350,560) in cash and the deal is expected to be 'earnings enhancing' for the combined business.
In the 12 months to 30 September 2020, Union recorded audited revenue of £4.94m (US$6.9m), and profits before taxation hit £1.13m (US$1.58m). At 30 September 2020, Union had net assets of £1.52m (US$2.13m).
According to BHC, the combined business will benefit from well established brands with strong brand recognition and retail footprint, significantly broader access to the UK off-trade, and a new larger customer base.
Furthermore, the deal will boost production and warehousing capacity and integrated production, IT and marketing systems, and proprietary software infrastructure.
BHC said the combined group will make up 4% of the UK craft spirits market, and enable the production of 3m bottles, 7m cans and 5m miniatures (50ml) in 2021.
'Transformational deal' 
Michael Williams, CEO of BHC, said: "This is a transformational deal for British Honey. Overnight, the company substantially enhances its position as a key player in the craft spirit market, adding critical mass, established premium spirits brands, additional infrastructure and an innovative senior management team, all of which will significantly enhance the enlarged group's growth trajectory."
The deal will also enable the company to have access to more cash to develop current and future relationship with strategic partners, BHC said.
BHC also recently completed a fundraiser, which saw the firm raise approximately £6.23m (US$8.74m).
Following completion of the agreement, Gamble, will join the BHC board as an executive director. He will play a major role in the integration, development and growth of the business, BHC said.
Williams added: "We have worked with Mark Gamble and his team at Union Distillers on mutual development projects and joint ventures over several years and I am delighted to be welcoming him to the BHC board where his exceptional engineering, production and new product development skills will be of significant benefit."
BHC and Union plan to complete the majority of the integration plan by the end of 2021.
Gamble, CEO of Union Distillers, said: "Finding the right partner is critical for us to continue our expansion. Union Distillers and BHC have known and collaborated with each other on many projects and we both recognise through experience that our respective businesses complement each other extremely well in terms of their ethos and respective business models. I am very much looking forward to working with Michael and the team to develop the company into a leading, international premium spirits business."
Furthermore, BHC is planning to open a second distillery on Oxfordshire's Tusmore Estate by late 2021. The site will produce triple-distilled single-estate Tusmore English whisky, and will join Tusmore single malt whisky in the range. BHC is also looking to hire a full-time chief financial officer.
In January last year, BHC acquired Dodd's Gin owner The London Distillery Company for an undisclosed sum.