Alan Lodge Award names 2020 winner
Susannah Skiver Barton has been crowned winner of The Alan Lodge Young International Drinks Writer of the Year Award 2020.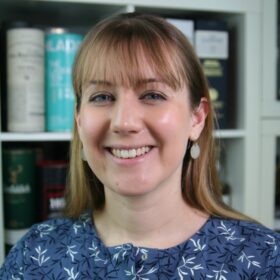 Skiver Barton, senior editor, tasting and digital at Whisky Advocate, and editor-at-large at Market Watch, succeeded against numerous entries from other international journalists, columnists and bloggers.
The 2020 edition of the annual award was judged remotely in January 2021 because of the Covid-19 pandemic. The judging panel comprised Emily Harris, director of May Fox Communications; Becky Paskin, spirits journalist and co-founder of Our Whisky; and Melita Kiely, editor of The Spirits Business.
The award was launched in 2012 in memory of The Spirits Business' late deputy editor, Alan Lodge.
Skiver Barton commented: "Covering this industry has been not just my choice of career, but a personal passion. I am grateful for the opportunities given to me by my employer, M Shanken Communications, and the editors with whom I've worked.
"I appreciated that this award links me to so many other talented writers, in particular the late Alan Lodge, for whom it is named, and I hope to continue adding to his legacy through my future work."
The judges were particularly impressed by Skiver Barton's feature for Whisky Advocate, titled Blurred lines – do Scotch whisky regions matter?
Harris said: "Susannah's talent as a writer shines through in the pieces she submitted. She manages to combine her spirits knowledge with a contemporary and dynamic style of writing that invites the reader in: she includes a level of detail that always feels relevant and interesting, while taking you on a colourful, insightful, yet balanced journey throughout. She's a much deserved winner."
Paskin noted Skiver Barton's solid grasp of her subject matter.
"Susannah writes from a place of deep understanding and knowledge of the category and she knows whisky well, but clearly has a passion for the spirit too," Paskin said. "What I find a lot of writers forget to do is write a balanced piece, but she speaks to a variety of people to back up her arguments.
"I'm thrilled to see someone like her get recognition for her work because too often in whisky recognition goes to the same people. There are too many voices that aren't recognised; I think Susannah has a huge career ahead of her."