Mauritian rum brand launches in UK
By Nicola Carruthers
Newly-formed Beach Bum Beverages has released its namesake Mauritian rums in the UK.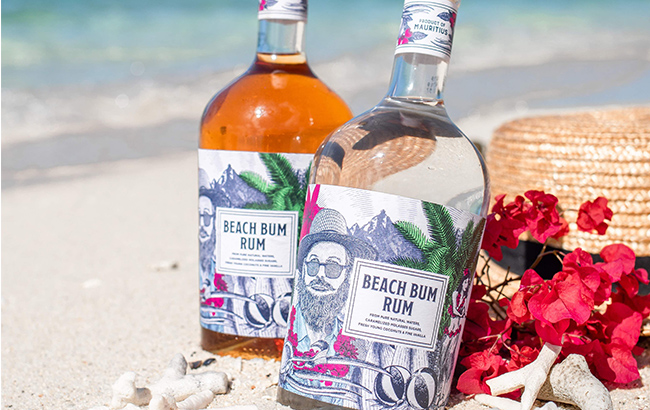 The new rum brand consists of two variants: Beach Bum Rum Gold and Beach Bum Rum Silver. The 40% ABV expressions have been made using a combination of column and pot stills, and have flavours of coconut and vanilla.
The rums are the brainchild of Scottish entrepreneur David Adamson, who visited Mauritius on a trip in 2016. He sought to create rums infused with the spirit and flavour of the island.
Adamson, owner of Beach Bum Beverages, said: "We've used the island's finest sugar cane to produce our own unique blend before naturally infusing the rums with coconut and vanilla. By combining column and pot stills in the distillation process we've made a true traditional rum with a modern twist. Both rums are incredibly versatile and can be enjoyed neat, short or long and bring a tropical vibe to any drink and occasion."
Described as a 'fresh tropical rum', Beach Bum Rum Silver is recommended served with simple mixers or as the base for cocktails such as the Daiquiri. Meanwhile, the gold rum can be consumed in serves such as the Piña Colada, combined with a mixer or over ice.
The design of the bottles is inspired by the island and includes illustrations of wildlife, beaches, fruits and flowers.
Adamson has worked in the drinks industry for more than a decade, and previously worked for family-owned wine and spirits company Sovereign Brands in Africa and Asia.
Adamson noted "there was a gap in the market for a fun, modern brand to come out of Mauritius".
He added: "We've had the vodka boom and are at the tail end of the gin craze. Now we're seeing rum's popularity grow in the UK. It's a really consumer-friendly spirit and unlike whisky and Tequila which are heavier and less approachable, rum is lighter in taste, has lots of different flavour profiles and can be mixed easily. The perception of rum is also changing. Gone are the days when rum was the reserve of sailors."
Beach Bum Rum Silver and Gold are both priced at £29.99 (US$41) per 700ml bottle. The rums are available to buy online from Master of Malt. The brand is imported in the UK by SEA Spirits.