Loch Lomond partners with Pro 14 Rugby
Scotch whisky producer Loch Lomond has agreed a new three-year global partnership with annual competition Pro 14 Rugby.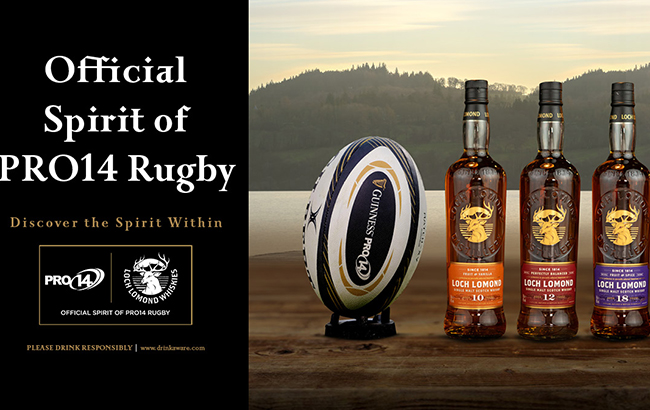 The sponsorship will see Loch Lomond become the official spirit of rugby union competition Pro 14 Rugby. As part of the agreement, Loch Lomond will showcase its single malt range at match venues and digitally throughout the season.
Furthermore, the company's logo will feature on match official's shirts and across digital pitches. Loch Lomond will also support initiatives and activities aimed at keeping fans engaged with the competition.
Loch Lomond will also work with the clubs to donate part of its profits to charities across the UK, Ireland and Italy.
Colin Matthews, CEO at Loch Lomond Whiskies, said: "What attracted us to partner with the Pro 14 Rugby as its official spirit was not only the professionalism and ambition of Martin Anayi [Pro 14 Rugby CEO] and his team at Pro 14 Rugby, but also the quality of the tournament and all of the participating teams as well as a shared passion for a commitment to attaining excellence.
"Much like our other sports partnerships, our sponsorship of Pro 14 Rugby will centre on contributing to the true spirit of the sport. We passionately believe that participation and interest in sport can make a real positive difference to individuals, groups and communities and so we are committed to leveraging our new association with Pro 14 Rugby to support the wider rugby community."
Loch Lomond has a number of sports partnerships, including in golf and football. The company is the official spirit of golf tournaments The Open, Women's British Open and the Scottish PGA. The company's Glen's Vodka brand sponsors Motherwell Football Club and recently become the official spirit of the Scottish Professional Football League (SPFL).
Last month, Loch Lomond Group joined the fast-growing hard seltzer category with the launch of Forrit.