Kirstie McCallum departs Glen Moray for Halewood
By Nicola Carruthers
Halewood Artisanal Spirits has appointed Glen Moray's Dr Kirstie McCallum as its new master blender to develop the firm's whisky portfolio.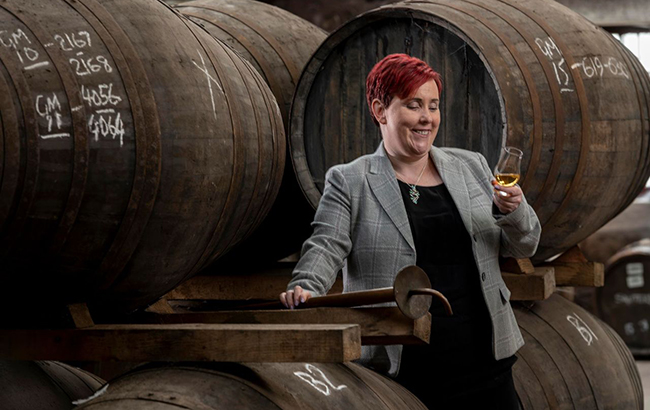 McCallum joins Halewood from Speyside distillery Glen Moray, where she has held the role of head of whisky creation since October 2019. She has more than 20 years of experience in the spirits sector.
Lee Tayburn, operations and production director at Halewood Artisanal Spirits, said: "As a business, we are dedicated to growing our portfolio of artisanal spirits, and of course whisky plays a very important part in this.
"Over the last five years we have invested heavily in distilleries across the UK and globally, and are constantly evolving to ensure that we provide our customers with premium, quality spirits with provenance. With her extensive experience and expertise Kirstie will be integral to this, and we look forward to working closely together as we grow and develop our whisky credentials."
McCallum, who has a PhD in analytical chemistry from Glasgow Caledonian University, previously worked at Distell International as senior blender for three years. McCallum had been part of the business for 12 years and was responsible for single malts including Bunnahabhain, Deanston and Tobermory, as well as Distell's blended whiskies.
In her new role at Halewood, McCallum will be in charge of developing the company's core whisky portfolio, including Scotch whisky Crabbie, Irish whiskeys Samuel Gelston's and The Pogues, and Welsh brand Aber Falls. She will also help develop a new English whisky for the Peaky Blinder spirits range, which will be made at Halewood's new £1 million (US$1.3m) distillery in Birmingham.
McCallum added: "From brands like Crabbie's, with its rich whisky history dating back to the 1830s, to new expressions from younger brands such as Peaky Blinder and The Pogues, Halewood Artisanal Spirits has a very diverse and exciting whisky portfolio.
"I'm really looking forward to working alongside the team to develop these brands, and using my industry experience to help create the best possible whisky offer."
Last month, The Spirits Business named McCallum Blender of the Year.