Bushmills offers US drinkers free whiskey
By Nicola Carruthers
Irish brand Bushmills is giving US consumers the chance to redeem a complimentary dram or cocktail as it seeks to become the nation's first whiskey of 2021.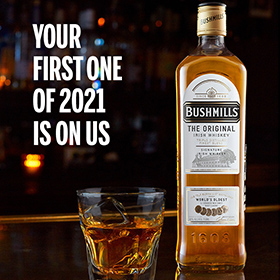 The new #FirstWhiskey initiative aims to cover the bill for thousands of new year toasts in the US in a bid to become the first whiskey consumed in 2021.
The brand is asking consumers aged 21 and over to order Bushmills on its own or in a cocktail from a bar or restaurant, whether its purchased in person, for takeaway or delivery.
The offer can be redeemed by taking a photo of the receipt and uploading it online at www.bushmills.com/firstwhiskey.
Consumers with valid receipts will receive a repayment of up to US$6 (paid through Venmo, Paypal or Amazon) on purchases from 1 January to 18 March 2021 in participating US states.
The new campaign has been launched in support of on-trade venues and encourages drinkers to visit their local watering holes.
Last year, Bushmills donated US$200,000 to the USBG Foundation's Bartender Emergency Assistance Program. The brand plans to continue offering support for US organisations that are providing relief to those affected by the Covid-19 pandemic.