Berczy hard seltzer raises £475,000 in funding
English hard seltzer Berczy has secured £475,000 (US$647,100) in funding to expand the brand's presence in the UK and strengthen its sustainability credentials.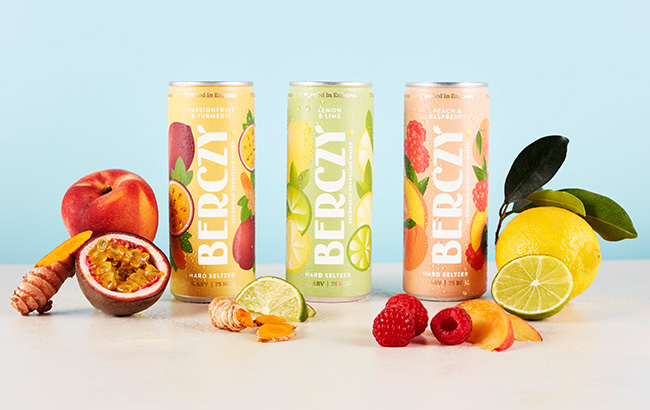 Berczy was originally launched under the name Natrl in early 2020 by three school friends Nick Graham, Matt Richardson and Nick Johnson. Following a rebrand, it was renamed Berczy in November to 'better stand out in the market'.
The inspiration for the name comes from when the founders sat in Berczy Park in downtown Toronto, Canada, and tried their first hard seltzer.
The brand has now received £475,000 from a US private equity group, along with extra funding from the Virgin Start Up Scheme, which it received in June 2020.
The investment will allow Berczy to boost its supply chain to scale, build the brand's sustainability credentials as it seeks to secure B Corp status, and grow its on- and off-trade presence in the UK.
Graham said: "We are over the moon to have received this investment. Having launched at the start of the pandemic, this cash boost gives us the opportunity to build on the great foundation we've already established at Berczy and will allow us to fulfil some of the big plans we have for this year.
"As the hard seltzer concept becomes increasingly visible in the UK, we are looking to be at the forefront of the movement, championing our British roots, sustainability credentials and most importantly, getting our delicious drinks into people's hands."
The brand recently gained a new distribution deal with UK-based Cottage Delight and hopes to expand its footprint across Europe, and eventually launch in the US and Canada before the summer.
Graham said the firm is "currently in talks with a number of the UK's biggest retailers and wholesalers".
The Berczy range consist of three flavours: Lemon and Lime, Peach and Raspberry, and Passionfruit and Turmeric. Each can has an ABV of 4% and contains 75 calories and no added sugar. It is made in the UK using spirit from sugar beets, Herefordshire sparkling spring water and 'natural' fruit flavours.
Berczy is available to the on- and off-trade in the UK for RRP £2.30 (US$3.10) per 250ml can.