Top 10 spirits marketing moves in November 2020
From a Christmas tree made with Jameson bottles to the latest campaign from Wild Turkey and actor Matthew McConaughey, these were some of the most creative brand initiatives last month.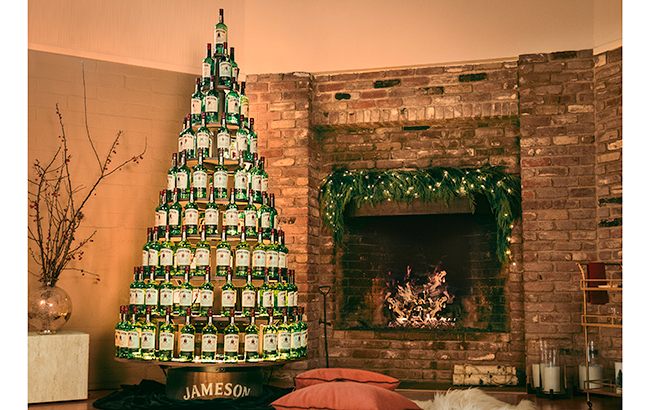 Last month, brands unveiled their latest moves ahead of the festive period, including Jameson Irish whiskey and Yorkshire's Spirit of Harrogate.
To keep drinkers entertained at home with music and Highballs, Johnnie Walker partnered with Dua Lipa for the singer's global Studio 2054 event.
Meanwhile, Absolut Vodka tapped a number of famous faces for its latest campaign, including British musician MNEK and actress Tessa Thompson.
Matthew McConaughey and Wild Turkey also thanked everyday heroes as part of the Bourbon brand's new initiative.
Click through to the following pages to learn more about the top 10 marketing moves that caught our eye in November.
Wemyss Malts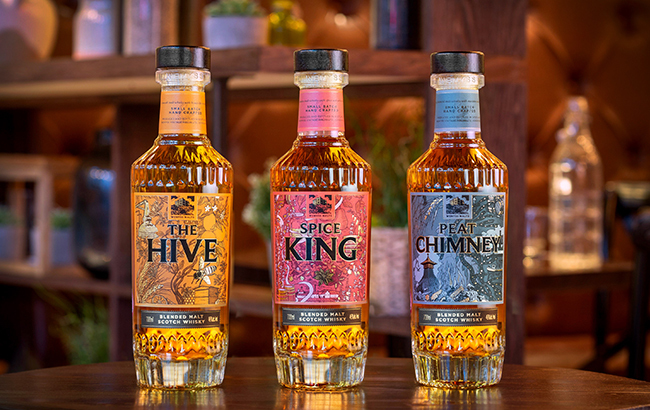 Scotch whisky brand Wemyss Malts has rolled out a 'bold and colourful' redesign for its flagship range. Wemyss Malts has updated the design for The Hive, Spice King and Peat Chimney blended malt whiskies.
The whiskies aim to appeal to three flavour profiles – sweet, spicy or smoky – and the new colours aim to reflect the flavour of each whisky.
William Wemyss, founder and director of Wemyss Malts, said: "Scotland offers a wide spectrum of malt whisky with a vast diversity of flavours, and this wealth of variety is celebrated in our newly relaunched core range."
Jameson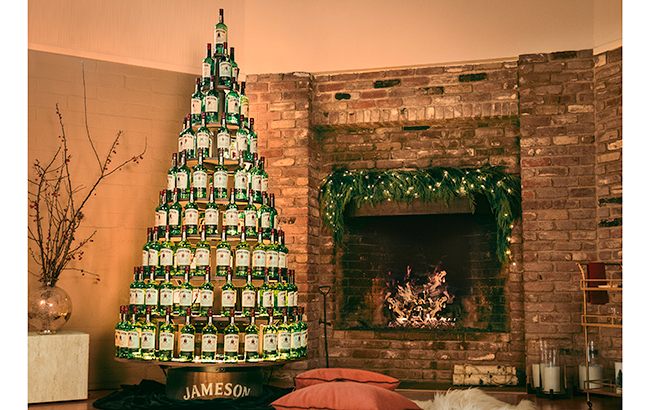 Irish whiskey brand Jameson has turned empty whiskey bottles into Christmas trees, and fans were given the chance to win them ahead of this year's festive season.
The Jameson whiskey tree stands at eight feet and six inches tall, and comprises 130 empty Jameson bottles. Seven trees have been made, each featuring a lighting system.
Angelica Scibilio, brand director of Jameson, said: "Place our Jameson whiskey tree in your window and your neighbours will be green with envy, guaranteed." To win one of the trees, whiskey fans were required to explain why they deserved to bring a tree home to share with their friends and family.
Nemiroff
Ukrainian brand Nemiroff hosted a five‐day festival last month to highlight the versatility of its flavoured vodka range.
The Nemiroff Digestive Festival took place in Kiev, Ukraine, and saw restaurants and bars serve complimentary digestif cocktails made using the Nemiroff Inked Collection of flavoured vodkas.
After‐dinner drinks were created with the Bold Orange, Burning Pear and Wild Cranberry expressions, which launched in global travel retail in 2019.
According to the brand, a "few thousand" visitors sampled cocktails made with the Inked Collection during the festival, and after sampling the spirits, repeat purchases showed the "effectiveness of the festival".
Spirit of Harrogate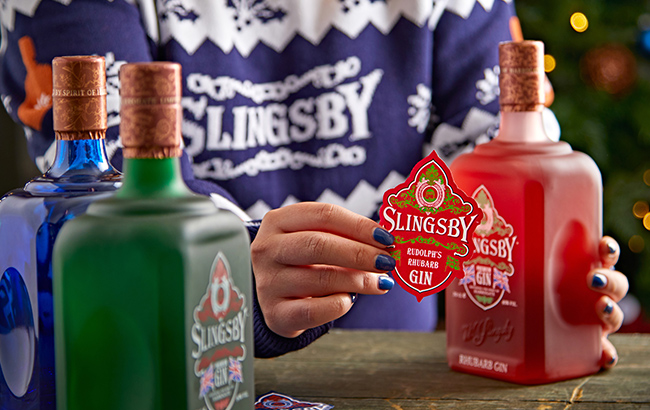 Yorkshire-based Spirit of Harrogate has created a personalisation service for its Slingsby Gin brand. Ahead of the festive period, gin fans will be able to personalise all ultra‐premium Slingsby Gin 700ml bottles by adding names and messages to bottle labels.
The service is available on bottles of Slingsby London Dry, Rhubarb Gin, Gooseberry Gin, Marmalade Gin and Barrel‐Aged Christmas Pudding Gin.
Clare Gibson, marketing director at Spirit of Harrogate, said: "We are so happy to be launching our bespoke service of personalised gin, and just in time for the festive season too. This year has been tough and so we wanted to spread a little Christmas cheer with our personalised service – I hope one ends up in my stocking this year."
The personalisation service is available for an additional £5 (US$6.70) on each bottle.
Johnnie Walker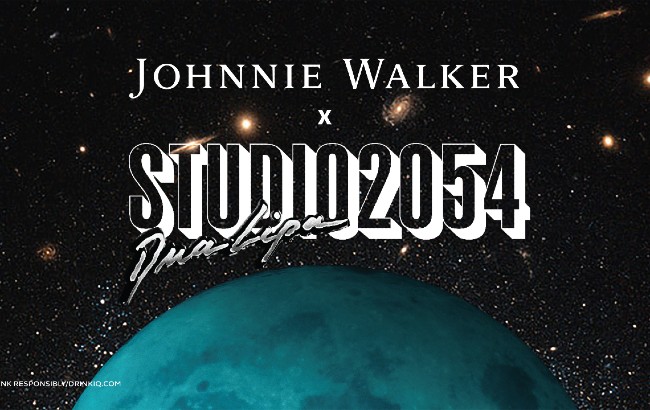 Blended Scotch brand Johnnie Walker was the official spirits sponsor of pop star Dua Lipa's global Studio 2054 event.
The singer's Studio 2054 digital music experience was livestreamed worldwide on 27 November and saw the artist singing and dancing with a number of guest stars, surprise performers, acrobats and artists. Johnnie Walker created a set of Studio 2054 Highball serves to celebrate global club culture through the decades.
Julie Bramham, Johnnie Walker global brand director, said: "We are massive fans of Dua Lipa, and her vision for Studio 2054 really captivated us."
Details about the serves were shared on the brand's social media channels.
Absolut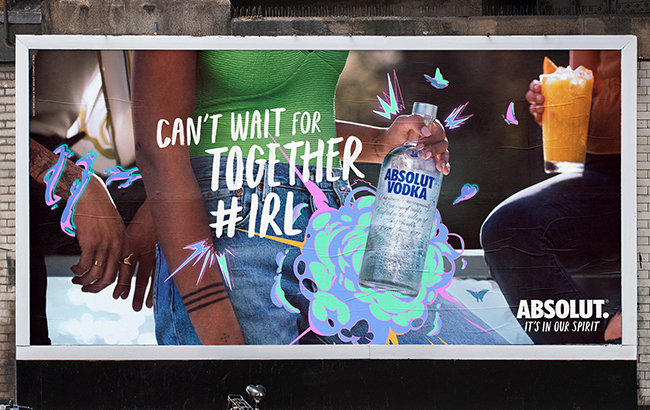 Absolut Vodka launched a campaign starring numerous famous faces, including British musician MNEK.
The campaign, called It's in Our Spirit, targets consumers of legal‐drinking age and generation Z, and looks forward to when people can socialise together again in person. It's in Our Spirit also features American actress and social activist Tessa Thompson, Taiwanese singer‐songwriter Jolin Tsai, and gamer Ricki Ortiz.
The campaign made its debut in the UK last month with a TV commercial designed by advertising firm BBH Singapore. The advert, which will launch globally in key markets, highlights the desire to come together, to be more inclusive and to create meaningful conversations.
Charl Bassil, Absolut marketing vice president, said: "Our lives are very much enhanced when we meet people from different horizons, and these moments create better understanding."
Cutty Sark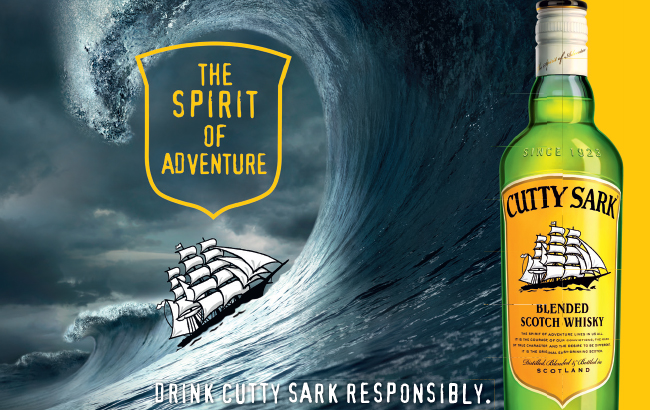 La Martiniquaise‐Bardinet launched a global campaign for Cutty Sark Scotch whisky, called The Spirit of Adventure.
The new campaign is Cutty Sark's first campaign from La Martiniquaise‐Bardinet since the French firm acquired the blended Scotch brand from The Macallan owner Edrington in November 2018. The Spirit of Adventure campaign encourages consumers to follow their dreams.
Launched in 1923, Cutty Sark is named after the British clipper ship of the same name, which also features on the label. The advert features the sailing vessel with its three masts as it sails across a rough sea to the beat of epic music.
Nadège Perrot, global whisky manager at La Martiniquaise‐Bardinet, said: "The idea is to re‐iconise Cutty Sark."
Wild Turkey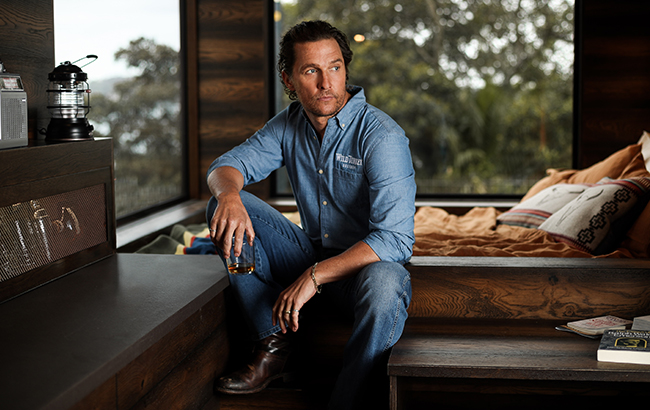 Actor Matthew McConaughey and Wild Turkey honoured everyday heroes as part of the Bourbon brand's latest 'With Thanks' campaign.
McConaughey, who is Wild Turkey's creative director, surprised four 'selfless individuals' from Austin, Chicago, Dallas and New Orleans in recognition of their service during the coronavirus pandemic with an online chat, and rewarded them with a personalised token of appreciation.
Each video can be viewed on the Wild Turkey Instagram page: @wildturkey
Double Dutch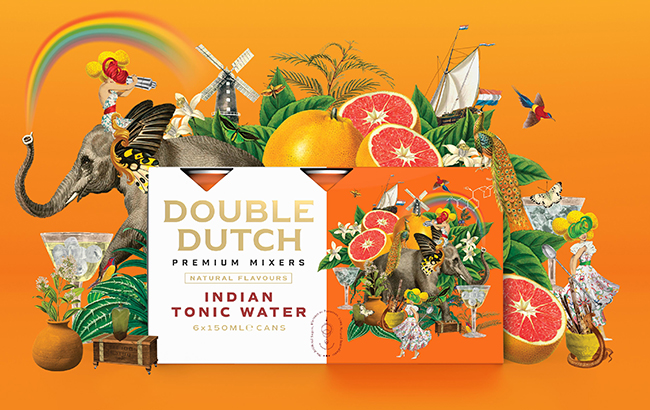 Tonic water and mixer maker Double Dutch has unveiled a brand refresh that highlights its "distinction, flavour and fun".
Double Dutch partnered with creative agency Boundless on the rebrand, which showcases a "fun and contemporary look and feel", the brand's ingredients and "distinct" flavour combinations.
Raissa de Haas, co‐founder of Double Dutch, said: "We thoroughly enjoyed collaborating with Boundless on this dynamic redesign of Double Dutch. Each variant disrupts on shelf, energised and zestful, the packs have taste appeal and a strong premium look that sets us apart in the mixers category."
Hamish Shand, creative director and founder of Boundless, said: "The new look now offers consumers easier flavour navigation, with impactful colours and sophisticated pattern arrangements that work alongside their existing brand crest."
Dewar's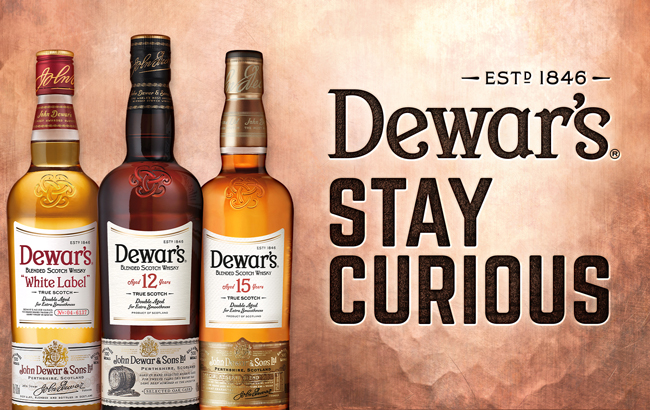 Bacardi-owned Scotch whisky brand Dewar's has launched the Stay Curious campaign, which highlights its connection to the sporting world.
The Stay Curious campaign encourages drinkers to seek out "memorable experiences" through 15‐ and 30‐second TV spots that showcase the close ties between Dewar's and sport.
Brian Cox, vice president of Dewar's for North America, said: "The brand's keen interest and investment into bringing sports across continents was something we wanted to pay homage to in this exciting campaign as it represents the brand's 'wit and grit' approach to innovation and experiential marketing."