SB meets… Rita Ora, Próspero Tequila
By Owen Bellwood
British singer-songwriter Rita Ora tells us about her love of Tequila, pushing boundaries in the drinks industry and developing the Próspero brand.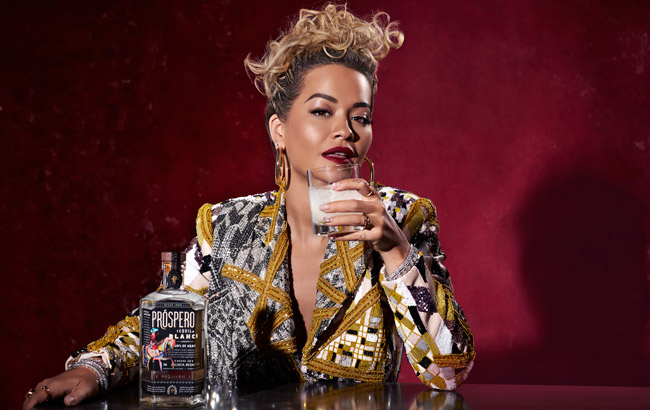 What inspired you to launch Próspero Tequila?
I never really planned on doing something like this, but I heard the story of a woman who I met in Mexico and that's what made me want to do it. She was really authentic with her approach to how she makes Tequila and her family have done it for years, and she really wanted to branch out on her own. Her name is Stella [Anguiano] and for me that was a really cool transition because it's such a male-dominated industry and I think her story made me think 'well why not, why can't I do something like this and partner with someone who's truly connected to this brand and could teach me a lot'.
How involved were you in each step of the brand's development?
Very involved. Everything from the flavour, which is where it started. I just wanted it to taste good, I was like 'would I drink this, would I be out and drink it?'. So I did everything, with the deep flavour, rich colour and texture, which is complemented by all the physical attributes – including the customised bottle and the colourful palate. And, the amazing horse logo, which is something from Stella's farm that I thought was a really good touch.
Were there any standout moments during the process of creating Próspero?
The process was really interesting, because unlike everything else that I do, musically and TV, this was something where I didn't have to be on camera. So, I genuinely got stuck in. I really wanted to know how they make it, where the agave comes from and the process of it all. I just wanted to take a more active role, rather than just being a spokesperson. It was important for me to really have that connection with the brand.
I've done a lot of collaborations with makeup and clothes, and I just felt like this really had to come from the heart, otherwise people would see through it.
Did you notice any similarities between the process of creating a product, such as Próspero Tequila, and writing an album?
I guess the similarity was the passion, I really don't work on anything unless I have a true passion or belief in why I should back this brand. Again, because it was off camera, I really wanted to get my teeth into the actual brand, rather than being like 'this is Rita Ora with a bottle', and I think that is what you can really tell with this Tequila.
With Próspero, it was really nice to be able to learn a whole market. In all honesty, I always approach projects with the same thing, with having a good time and having fun with it all, because that is what we want really – especially right now – to feel like we can have fun.
Prior to developing the brand, did you have an interest in the drinks industry?
Like everyone else I enjoy it, I enjoy having a drink after work or hosting a good dinner party, but I never thought that I would actually get involved in it to be honest – I just didn't think that far ahead. Then, when I met Stella, I thought I had to do this as it would be so amazing and it could be another chapter of my book. I've always wanted to push myself as far as I can, and this was a real push as I've never done anything like this before.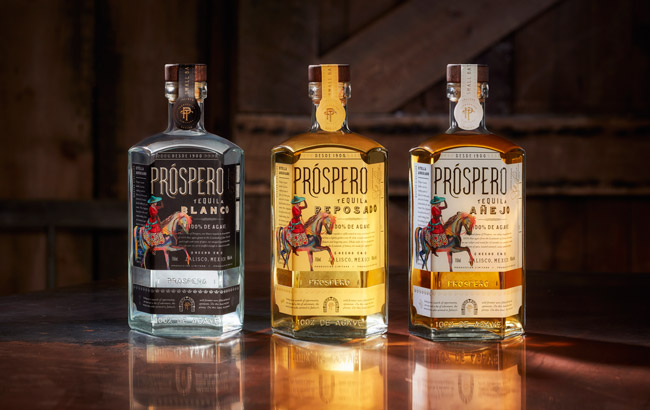 Did you consider creating a different spirit, or was it always Tequila?
I've always been a Tequila drinker, I've always felt like it was the cleanest for me and my body. I also love wine, so I don't think the end of the road is near. I definitely feel like we could eventually expand into other things, like wine, so this is just an amazing place to start.
What ambitions do you have for Próspero Tequila?
I have so many plans for Próspero, I really want it to shine and I really want it to have a fair shot. I feel like my plan for it is just to be available, it's still launching and obviously with Covid it's been a bit delayed. I want it in all stores, I want it to be an option like every other Tequila that you can get behind the bar, specifically all the different types of Próspero. You've got Blanco, which is perfect for mixing up a perfect cocktail, and you've got all the different levels. So, I think my plan is really for it to spread as far as it can and truly have a fair shot at enjoyment.
Have you noticed any similarities between the music industry and the drinks industry?
Well I would say the team, the similarities are that you need a solid team of people that can teach you things. It's important to have a really great, experienced spirit person, especially with someone like myself – there are no egos involved and I'm willing to learn. So, the team is really important and the decision-making process is really important, I think that's a great similarity to music because with music you've got to make decisions on what songs make it on an album and which don't. That is a very crucial moment because a lot can change if you pick the wrong record.
Outside of music, television and now the drinks industry, are there any other sectors you would like to explore?
I'm just thinking, what is there left? There is a lot actually, but I want to become a master in the areas that I'm involved in. I feel like you want to be great at the few things you do, rather than have loads of things to do and be OK. I feel like at this moment I'm spinning a lot of plates, so if I added any more I might lose my mind.
In the future I'd like to explore more once I take a few of the responsibilities off myself. The world is limitless and there is so much as public figures that we can do and get involved in to create an amazing business, especially for women. It's just interesting to me when I meet other women who started a business from the bottom up and I feel like that is something that I'm really inspired by and I don't think there is a limit to those sort of ideas. So, I guess who knows.