The Liqueur Masters 2020 results
By Melita Kiely
Liqueurs have seen a massive upswing in engagement thanks to the vast selection of expressive products now available. This all makes for an exciting taste test.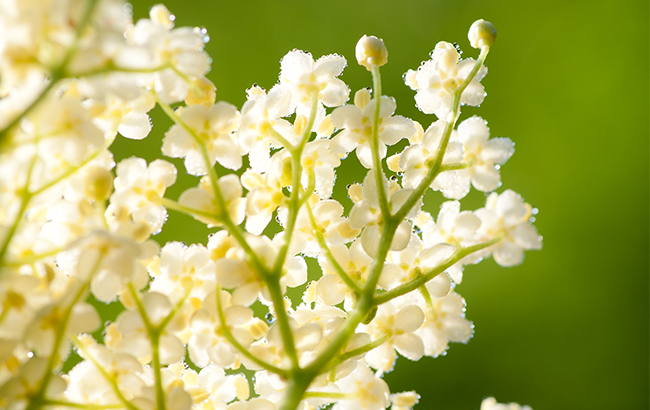 Achieving balance is a taxing, but imperative, part of producing spirits. The tipping point between being well balanced and overly sweet becomes all the harder to perfect when your product is required by law to contain at least 100g of sugar per litre of alcohol.
Recent years have seen the liqueur sector evolve from a fusty afterthought to a truly innovative category, with quality across the board that hasn't existed in the past. This was only confirmed by The Liqueur Masters 2020 blind‐tasting competition, which revealed a record number of Masters medallists for the category.
The virtual tasting took place over Skype from the judges' UK homes, with a helping hand from Wine Sorted, which decanted and shipped all of this year's entrants in anonymous bottles to ensure that the competition could continue under the stringent conditions.
Joining me, Melita Kiely, editor of The Spirits Business, for the day's tasting was Tobias Gorn, spirits specialist, consultant and writer. A Herbal flight kicked off proceedings, producing one Gold and three Silvers. Gold‐winning Amaro Rangoni was said to have a "big herbal start" with a "cool, dry liquorice finish".
The following Fruit round was the largest flight of the day, and this was when the Master medallists started rolling in. Master winner Quince Liqueur from Westjysk Smag was found to have "natural quince aromatics" on the nose and a "nice balance between acidity and sugar" on the palate. Meanwhile, Intercontinental Brands picked up three Masters for its "expressive and fruity" Palm Beach Mango & Passion Fruit Rum Liqueur, "fresh, balanced" TW Kempton Rhubarb & Ginger, and "oily, zesty" TW Kempton Blood Orange.
Alexandrion Group also excelled in this round, collecting a Master medal for Saber Elyzia Premium Sour Cherry, which the judges said emulated "cherries and sherbet, with a nice sour kick". Koskenkorva Lemon was also deemed worthy of the top award, with its "fresh lemonade" profile and "nice zestiness" on the palate. Xanté Cognac & Pear followed suit, which reminded the judges of "brandy‐soaked pears", with "some spiciness" on the palate.
Completing the Master run in this flight was a Triple Sec from Joseph Cartron, which impressed with its "lovely aromatic floral, orange start" and "marmalade" palate with a "gentle heat" on the finish.
"When we look at fruit liqueurs, I believe what needs to be achieved is the most natural transfer of fruit flavours as possible," Gorn said. "The Master winners in this flight had a nice balance between sweetness, the primary flavour and secondary flavours, like spiciness or citrus or greenness.
"There were a couple of extremely good representations of different citrus liqueurs, a nice serious sipping pear liqueur and an extremely fresh quince liqueur, where the fruit flavours worked perfectly."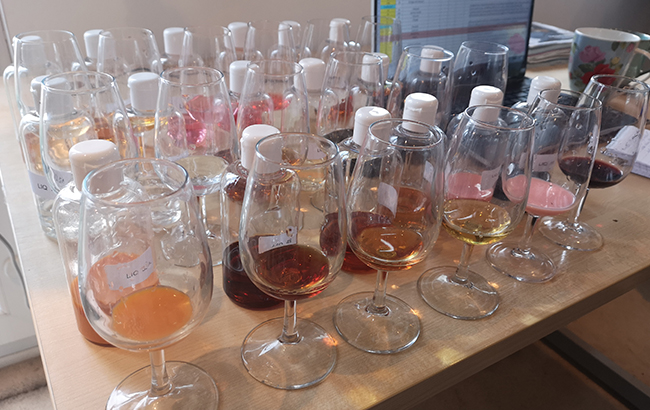 Nuage de Menthe continued the Master run as the tasting moved onto the Mint flight, impressing with its "calming, cooling and refreshing" combination of "spearmint and spicy peppermint".
Thé Noir Fumé was also made to an incredibly high standard, and took home a Master medal in the Tea flight. Gorn described the liqueur as "subtle, but gorgeous", thanks to its "Earl Grey" aroma and "very natural tea flavour" with a "touch of smokiness".
Master‐winning Sureau was hugely impressive in the Elderflower flight, with its "fresh elderflower nose" and "sharp, citrusy palate". The Confectionary flight also delivered another Master medallist – Koskenkorva Salmiakki. This was said to be "unmistakably" liquorice‐like, reminding the judges of Black Jack sweets with a "cooling finish". "It has a very beautiful liquorice definition," said Gorn. "It had a very nice salty tang to it, super expressive and just beautifully delivered. Very nicely executed."
Two Parma Violet‐flavoured liqueurs picked up Gold medals in this flight; Jeeves Parma Violet Gin Liqueur and TW Kempton Parma Violet. Two Silvers were also awarded.
La Martiniquaise‐Bardinet received a Master medal for Lejay Original Crème de Cassis in the Cassis heat, thanks to its "syrupy mouthfeel, tart berry flavours and almost creamy finish". Gorn said "this is a fantastic cassis product". Joseph Cartron also collected a Master in this flight for its Crème de Cassis de Bourgogne Double Crème J Cartron, which was "sharp, bursting with berries" and "quite dry" on the finish. And "sweet, tart, blackberry jam" Crème de Mûre des Roncières received a Gold in this flight.
Tapping into the autumnal trend for all things pumpkin spice was Mozart Distillerie, which picked up the top award for its indulgent Mozart Pumpkin Spice expression in the Chocolate round. The judges found aromas of "chai latte" on the nose and a slight "herbal quality" on the palate. "The smooth warming spices go very well with the creamy sweetness," noted Gorn.
RICH CHOCOLATE NOSE
Mozart Dark Chocolate was one of two Gold medallists in the Chocolate round, with its "rich chocolate nose" and likeness to "Askeys chocolate sauce" on the palate. Mozart Chocolate Cream also won a Gold due to its "rich texture" and for being "not overly sweet". Two Silvers completed the flight.
"With chocolate, there has always been a few genius products and a few less outstanding examples," noted Gorn. "It was interesting to see the different approaches to different types of chocolate, and how producers are matching the creaminess level and the alcohol levels. There were some fantastic products here."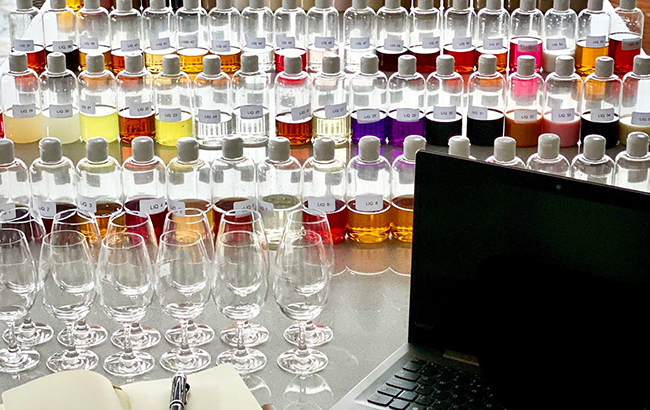 Cabin Pressure Spirits landed a Silver medal in the Coffee flight, the judges enjoying the "chocolatey Americano" palate with "slight dark chocolate bitter finish" characteristics of its Cold Brew Coffee Liqueur.
In the Toffee/Caramel heat, Bellucci Crème Caramel Spirit Drink scored a Gold. Tasting notes included "roasted hazelnuts" on the nose and "nutty caramel" on the palate. Palm Bean Pineapple and Salted Caramel Rum Liqueur also secured a Gold medal.
The judges found aromas of "tinned pineapples" on the nose, with a "nice caramel sweetness" to balance on the palate. "The pineapple was quite exciting," enthused Gorn. "It had kind of toffee, caramel toasted pineapple notes and I found that exciting and innovative. I also liked that [Bellucci Crème Caramel Spirit Drink] had a range of flavours, not just caramel, as it gave it something extra."
English Spirit's Christmas Spirit walked away with a respectable Silver in the Dessert flight, with "warm baking spices" throughout.
CHERRIES AND BERRIES
As a flight of Own Label liqueurs were presented next, two more Masters joined the growing tally. Tesco Summer Cup was one of the top winners, with notes of "cherries and tart berries" and a "slight herbal touch" for added complexity. Tesco Amaretto Liqueur also won a Master medal, with "unmistakable marzipan" on the nose and "classic amaretto" qualities. The flight also produced four Golds and three Silvers.
"This showed that own‐label brands can be just as good as branded equivalents," Gorn noted. "Sometimes they really go beyond being just a slightly more economical choice of a classic, and show some real creativity and character of their own."
There was another Master in Traditional liqueurs: Maison Ferrand's Pierre Ferrand Dry Curaçao. With its "chocolatey, orange nose" and "big round, oily orange palate" the judges agreed it was a great product. Three Silvers were also discovered.
A lengthy flight of Cream liqueurs came next, and with it another Master. Carthy & Black Rhubarb Gin Cream was described as "an interesting take on a cream liqueur", with "stewed rhubarb" on the nose and a "creamy but fruity" palate.
A smattering of Gold medals were also unearthed in this round: "light, creamy" Magnum Scotch Malt Whisky Cream Liqueur; "smooth, elegant" Xanté Coconut Cream & Pear; "subtle but sweet" Frejya's Crema Custard; Amarula Raspberry, Chocolate and African Baobab Cream Liqueur with its "lovely integration of alcohol"; "chocolatey, luxurious" Kyrö Dairy Cream; and Mountain Java, which was said to be "like a rich mocha". The final medal count in this round included four Silvers.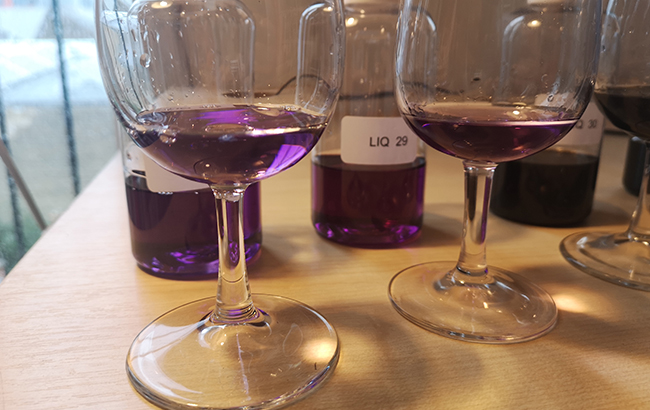 Gorn said: "It was exactly what we expected. Cream liqueurs can be quite 'same‐ ish'; it's a blank canvas. There were some exquisite examples of what can be made if the ingredients are nicely balanced and used in appropriate amounts and proportions. We had a couple of unusual and highly innovative flavour combinations, which worked really nicely, and some more classic, more traditional ones were also delivering and showing where the category should be."
A smaller selection of Irish Cream entrants were tasted as the closing flight of the day. O'Donnells Chocolate Cherry Flavoured Irish Country Cream Liqueur took home a Gold medal, liked for its "bakewell tart" aroma and "mild creaminess and sweetness". O'Donnells Irish Country Cream Liqueur and O'Donnells Tiramisu Flavoured Irish Country Cream Liqueur both received Silver medals.
Before signing off from Skype, Gorn and I revisited all 18 Master winners for the final sampling of the day, which would decide this year's Liqueur Taste Master. Recollecting the vast assortment and innovative offerings from the competition, we slowly managed to narrow down our options before selecting the winner: Quince Liqueur by Westjysk Smag. "This was as good as you can get," said Gorn, enthusiastically.
He added: "I genuinely love liqueurs because you can find balance, complexity and versatility, and also many ways to serve them, whether that's neat, on the rocks or in a cocktail – or even in cooking, or paired with puddings. With a bit of creativity and research, one can find and enjoy different serves with these liqueurs.
"There is high demand and need for liqueurs in the market. It's definitely not out of fashion, and there's a little revival going on with new, small, niche products popping up. The entries this year were of exceptionally high quality, with some great classics made immaculately and some more adventurous products with more unusual products. It's incredibly exciting to see."
Click through to the following page for the complete list of medal winners from The Liqueur Masters 2020.
Herbal
| | | |
| --- | --- | --- |
| Company | Product | Medal |
| Amaro Rangoni | Amaro Rangoni | Gold |
| Cotswolds Distillery | Cotswolds Amaro No 1 | Silver |
| Cotswolds Distillery | Cotswolds Amaro No 2 | Silver |
| W&B of Sweden | Dragon Blood Superior Strength | Silver |
Fruit
| | | |
| --- | --- | --- |
| Company | Product | Medal |
| Westjysk Smag | Quince Liqueur | Master & Taste Master |
| Intercontinental Brands | Palm Beach Mango & Passion Fruit Rum Liqueur | Master |
| Intercontinental Brands | TW Kempton Rhubarb & Ginger | Master |
| Intercontinental Brands | TW Kempton Blood Orange | Master |
| Alexandrion Group | Saber Elyzia Premium Sour Cherry | Master |
| Altia | Koskenkorva Lemon | Master |
| Altia | Xanté Cognac & Pear | Master |
| Joseph Cartron | Joseph Cartron Triple Sec | Master |
| Alexandrion Group | Saber Elyzia Premium Black Cherry | Gold |
| Westjysk Smag | Rhubarb-Elderflower Liqueur | Gold |
| Stock Spirits Group | Keglevich Peach | Gold |
| Lidl GB | Hortus Raspberry Gin Liqueur | Gold |
| Zamora Company | Villa Massa Limoncello | Gold |
| Intercontinental Brands | Palm Beach Banana & Butterscotch Rum Liqueur | Gold |
| Intercontinental Brands | Jeeves Watermelon Gin Liqueur | Gold |
| Intercontinental Brands | Palm Beach Watermelon Rum Liqueur | Silver |
| Intercontinental Brands | Jeeves Passion Fruit Gin Liqueur | Silver |
| Intercontinental Brands | Jeeves Pink Gin Liqueur | Silver |
| Intercontinental Brands | TW Kempton Passion Fruit & Vanilla | Silver |
| Intercontinental Brands | TW Kempton Watermelon & Lime | Silver |
| Altia | Koskenkorva Ginger | Silver |
| Stock Spirits Group | Syramusa | Silver |
Mint
| | | |
| --- | --- | --- |
| Company | Product | Medal |
| Distillerie Côte des Saints | Nuage de Menthe | Master |
Tea
| | | |
| --- | --- | --- |
| Company | Product | Medal |
| Joseph Cartron | Thé Noir Fumé (Black Smoked Tea Liqueur) | Master |
Elderflower
| | | |
| --- | --- | --- |
| Company | Product | Medal |
| Joseph Cartron | Joseph Cartron Sureau | Master |
Confectionary
| | | |
| --- | --- | --- |
| Company | Product | Medal |
| Altia | Koskenkorva Salmiakki | Master |
| Intercontinental Brands | Jeeves Parma Violet Gin Liqueur | Gold |
| Intercontinental Brands | TW Kempton Parma Violet | Gold |
| Aldi Stores UK | The Infusionist Rhubarb & Custard Gin Liqueur | Silver |
| Aldi Stores UK | The Infusionist Strawberry & Marshmallow Gin Liqueur | Silver |
Cassis
| | | |
| --- | --- | --- |
| Company | Product | Medal |
| La Martiniquaise-Bardinet | Lejay Original Crème de Cassis | Master |
| Joseph Cartron | Joseph Cartron Crème de Cassis de Bourgogne Double Crème J Cartron | Master |
| Joseph Cartron | Joseph Cartron Crème de Mûre des Roncières | Gold |
Chocolate
| | | |
| --- | --- | --- |
| Company | Product | Medal |
| Mozart Distillerie | Mozart Pumpkin Spice | Master |
| Mozart Distillerie | Mozart Dark Chocolate | Gold |
| Mozart Distillerie | Mozart Chocolate Cream | Gold |
| Mozart Distillerie | Mozart White Chocolate Vanilla Cream | Silver |
| Mozart Distillerie | Mozart White Chocolate Cream Strawberry | Silver |
Coffee
| | | |
| --- | --- | --- |
| Company | Product | Medal |
| Cabin Pressure Spirits | Cold Brew Coffee Liqueur | Silver |
Toffee/Caramel
| | | |
| --- | --- | --- |
| Company | Product | Medal |
| Aldi Stores (Australia) | Bellucci Crème Caramel Spirit Drink | Gold |
| Intercontinental Brands | Palm Beach Pineapple & Salted Caramel Rum Liqueur | Gold |
Dessert
| | | |
| --- | --- | --- |
| Company | Product | Medal |
| English Spirit | Christmas Spirit | Silver |
Own Label
| | | |
| --- | --- | --- |
| Company | Product | Medal |
| Intercontinental Brands | Tesco Summer Cup | Master |
| Intercontinental Brands | Tesco Amaretto Liqueur | Master |
| Lidl GB | Hortus Rhubarb & Ginger Gin Liqueur | Gold |
| Intercontinental Brands | Tesco Coconut Rum | Gold |
| Intercontinental Brands | Tesco Coffee Liqueur | Gold |
| C88 Holdings | Rivulet Artisan Pecan Liqueur | Gold |
| Lidl GB | Aquine Scottish Craft Gin Liqueur Seville Orange & Damson Berry | Silver |
| Intercontinental Brands | Tesco Peach Schnapps | Silver |
| Lidl GB | Aquine Scottish Craft Gin Liqueur Raspberry & Blackberry | Silver |
Traditional
| | | |
| --- | --- | --- |
| Company | Product | Medal |
| Maison Ferrand | Pierre Ferrand Dry Curaçao | Master |
| Bellaventura | Amaretto Adriatico Bianco Crushed Almonds | Silver |
| Intercontinental Brands | Palm Beach Spiced Vanilla Rum Liqueur | Silver |
| Bellaventura | Amaretto Adriatico Roasted Almonds | Silver |
Cream
| | | |
| --- | --- | --- |
| Company | Product | Medal |
| Intercontinental Brands | Carthy & Black Rhubarb Gin Cream | Master |
| Hemisphere Brands | Magnum Scotch Malt Whisky Cream Liqueur | Gold |
| Altia | Xanté Coconut Cream & Pear | Gold |
| Scream Retail | Frejya's Crema Custard | Gold |
| Distell | Amarula Raspberry, Chocolate and African Baobab Cream Liqueur | Gold |
| Kyrö Distillery Company | Kyrö Dairy Cream | Gold |
| Ole Smoky Distillery | Mountain Java | Gold |
| Zamora Company | Licor 43 Horchata | Silver |
| Distell | Amarula Vanilla Spice Cream Liqueur | Silver |
| Distell | Amarula Cream Liqueur | Silver |
| Intercontinental Brands | Carthy & Black Espresso Gin Cream | Silver |
Irish Cream
| | | |
| --- | --- | --- |
| Company | Product | Medal |
| Aldi Stores (Australia) | O'Donnells Chocolate Cherry Flavoured Irish Country Cream Liqueur | Gold |
| Aldi Stores (Australia) | O'Donnells Irish Country Cream Liqueur | Silver |
| Aldi Stores (Australia) | O'Donnells Tiramisu Flavoured Irish Country Cream Liqueur | Silver |