SB meets… Leonard Russell, Ian Macleod Distillers
By Nicola Carruthers
The managing director of family-owned spirits firm Ian Macleod Distillers tells us what's in store for the Rosebank revival.
How has the company changed since you joined the family business? How has the spirits industry evolved in that time?
I joined the business in 1989 and so much has changed since then. As a company, we have morphed from spirit blender and whisky broker into a fully integrated distiller, blender and bottler. We acquired Broxburn Bottlers with John Grant of Glenfarclas just before I joined, so we were able to be in full control of production and shipments to our customers.
Since I joined, we have acquired three distilleries – Glengoyne in 2003, Tamdhu in 2011, and Edinburgh Gin in 2016. My friends Alex and Jane Nichol decided to sell their Edinburgh Gin business in 2016. As we were already helping them bottle and distribute it in the UK, we purchased the Edinburgh Gin Distillery and brand at the start of the gin boom. Edinburgh Gin Rhubarb & Ginger Liqueur was developed in 2014, so I am proud to say that we are the first and original rhubarb gin.
Early last year, we concluded a deal to acquire the Rosebank Distillery and we have planning permission to revive the much-loved Rosebank Lowland single malt. We are carefully restoring and rebuilding the mothballed distillery while bottling and selling the last remaining handful of casks of Rosebank, which were distilled in the early 1990s.
In terms of the spirits industry, there has been much consolidation with independent companies merging into larger groups. We remain steadfastly independent and, as such, I believe that we have a strong niche in the market. The growth of single malts has been very beneficial for us because consumers are interested in single malt distilleries due to their provenance and the premium spirits they produce. As a family-owned company, we take a long-term view and lay down stocks now for maturation long into the future. By reinvesting most of our profits in capital projects for the business, I believe we are in a strong position for the future.
The gin boom has been very interesting for us and although the growth seems to be levelling out, there is still much more potential for Edinburgh Gin. We are also looking at further innovative new brands in growing categories.
How has the coronavirus pandemic affected the business? How has the company adapted during the pandemic?
Like every business, coronavirus has presented a whole range of challenges for us to navigate and overcome. At the beginning of the pandemic, I was mainly concerned for the health and wellbeing of our staff. The entire business had to create and adopt plans very rapidly. We stopped bottling completely for two months, while a skeleton staff kept our offices and warehouses operating, and most people worked from home. We rapidly introduced cleaning regimes and physical-distancing measures at all our facilities.
As a result, we have been able to ensure continuous supply of our portfolio despite logistical difficulties caused by the pandemic. Much credit goes to the brilliant team of people working for Ian Macleod Distillers and Broxburn Bottlers who have gone above and beyond during the crisis.
At a brand level, we have kept our drinkers engaged through slight changes in our marketing activities. We introduced a comprehensive range of analogue and digital activity, including a live-streamed whisky launch from Tamdhu Distillery, and more recently, the Glengoyne fanbase helped select the latest distillery-exclusive 'Cask of the Moment'.
How is work progressing on the Rosebank Distillery? Will it still open during summer 2021?
Unfortunately, the pandemic has meant that we had to pause construction at Rosebank, however, we will continue to review the situation and look forward to getting on with the project soon. Sadly, the reopening will not be in 2021 and is more likely to be in late 2022.
What do you have planned for Rosebank when it does open?
We are rebuilding Rosebank with respect to the distillery it once was and to justify its reputation as 'king of the Lowlands'. Amazingly, we still have the original plans from the still maker, Abercrombie, and we intend for Rosebank to be very similar to how it was when it was mothballed. This means that we will continue to use triple distillation and wormtub condensers. We will ultimately have capacity for between 500,000 and one million litres of alcohol per year to start with. We will be working hard to ensure that we distil something very close to the original Rosebank new make spirit.
We are not planning to release bottles of new whisky after three years; we are going to wait to bring it out when the time is right and when the spirit quality merits the Rosebank name. We will probably not release any Rosebank other than small quantities for people to taste until it reaches at least eight years old.
The budget for building the distillery has continued to spiral upwards but, as my grandfather used to say, 'if you are going to do something you should do it properly'. As such, we need to ensure that Rosebank is as good as it can be. Our plans for Rosebank include a visitor centre, which I imagine will open towards the end of 2022.
You are also planning to build a new distillery for Edinburgh Gin. What led to this decision? 
It has always been our intention to create a world-class visitor centre and distillery in the heart of Edinburgh – our home city. It will be the single biggest investment in Edinburgh Gin's history. We need to increase production capacity, and this new distillery will allow us to triple it to allow for any future growth. We estimate that the distillery and visitor centre will be completed during 2022.
How will the new distillery compare to the other two sites?
Edinburgh Gin's original home is in Edinburgh's West End. The new site will allow us to welcome considerably more visitors and offer a much more immersive experience of Edinburgh Gin. The new distillery will also have a rooftop terrace bar, private gin tasting rooms, much larger event space and a considerably bigger retail store.
Are you worried about the impact of the crisis on distillery tourism?
Distillery tourism has had an extraordinarily difficult time. Many sectors within the drinks industry are suffering considerably, not just distillery visitor centres but the entire on-trade. We furloughed most of our visitor centre staff, but everyone is now back at work, not necessarily conducting tours but helping in other areas where our businesses has grown, such as fulfilment through our online shop.
I am confident that the Scottish drinks industry will bounce back stronger than ever, but it may take some time. We have certainly seen a spike in the number of domestic tourists visiting our site since we reopened. I think lockdown has reminded people of the great wonders available to them on their doorstep.
Which markets are the most exciting for Ian Macleod?
For many years we have been building our business in Southeast Asia and this region continues to deliver strong sales across our whole portfolio. I continue to be very excited about our potential in both Greater China and India. We have an office in Delhi, and we are enthusiastic about the future and dynamics of the whisky market in India; not just imported Scotch whisky but also locally-made whiskies. Edinburgh Gin is doing well in many markets around the world and we are very excited about expanding across northern Europe, Asia and Australia. 
How important is global travel retail for the company? What is the firm's strategy for the channel?
We have good trading relationships within the global travel retail channel and our team will continue to work on the range that we supply and the promotions we run. Obviously travel retail has had a terrible time during the pandemic and I think it will take several years to recover to previous levels. Nonetheless, the very good news is that the UK will return to duty free status for flights to the EU. Edinburgh Gin is the number one premium gin in UK travel retail, so I am feeling very enthusiastic about the potential for Edinburgh Gin and our whiskies.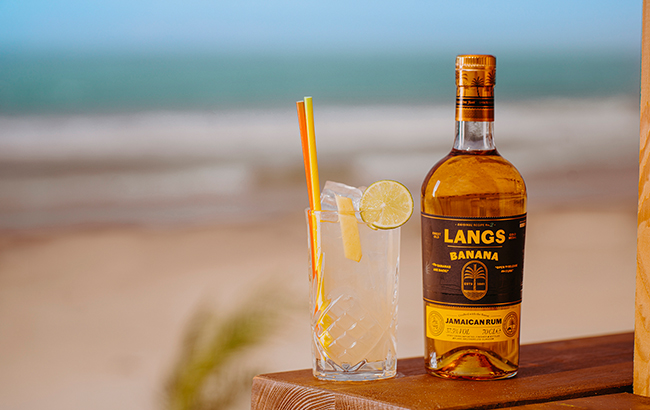 Is the firm looking to acquire additional brands? 
Acquisitions are and will remain important for the drinks industry, but as a company we have done quite enough for the time being. The next few years will be very exciting for us as we rebuild and revive Rosebank Distillery, open the new Edinburgh Gin Distillery and build further warehouses. Our focus is now on developing our existing brands and creating an innovation pipeline. For example, we have just launched Langs Banana Rum through our Langs Jamaican Rum brand.
What challenges will Ian Macleod face in the coming year?
The main challenge is the uncertainty of Covid-19, but we also have Brexit and a potential further Scottish independence referendum looming. This does not make for a great amount of certainty in planning for the future. We are already having difficulties over increased red tape following Brexit in terms of labelling requirements for example. I am proud of how the business has weathered the storm so far, and I have every confidence that we will meet and overcome any future challenges that we encounter.
What is in the pipeline for Ian Macleod over the next year?
We are looking at developing a couple of new flavours for Langs Banana Rum. We have also just carried out a brand refresh for Glengoyne. The new core range is now 100% recyclable with locally sourced packaging. The Smokehead whisky portfolio is doing particularly well now, particularly Smokehead Rum Riot.
We are also currently developing our distilleries for Edinburgh Gin, Rosebank and Tamdhu, so we are investing heavily in our brand homes and distillery tourism in general.