SB meets… Charles Braastad, Delamain Cognac
By Melita Kiely
The managing director of Delamain Cognac delves into the house's history, unique vintages, future plans and the importance of family.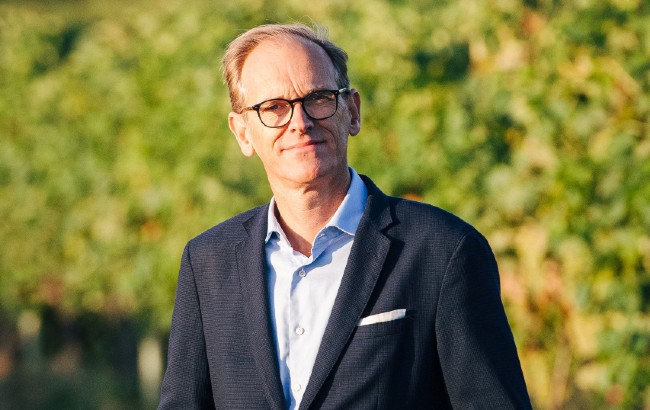 What are your main responsibilities at Delamain Cognac?
As managing director of a small, 'craft' house I have oversight of all aspects of our business, from team management and company strategy to external relations and communication. My role is as much behind the scenes as front of house. What makes my job particularly special is that for my entire life I have been aware, like my grandfathers and father before me, of the role that the House of Delamain has played in the history of Cognac and Delamain's reputation for excellence; a reputation that guides and obliges my actions as the ninth generation tasked with leading the house. I manage a business that is deeply personal to me and I have obligations to my family's history and efforts to maintain and respect everything they have left across the generations. That makes my job very special, personal and rewarding.
How important is being a family-owned company?
It is a huge advantage, both from a product perspective and a management perspective. Our relationships with growers have to be as deep and robust as the vines that produce our eaux-de-vie, and those relationships are all about trust and family. Ageing and blending take an instinct and touch that required generations to learn, and family is the conduit for that communication and the glue that ensures that relationships last long enough for inherited wisdom to be taught and learned.
With products whose finesse require that everything be right, and right for a very long time, and always against a backdrop of the beautiful but unpredictable natural world, everything from the way one plans out a year based on nature's annual cycle, to the way one guides a Cognac's development across decades, to how one interacts with people, has to be learned from family.
Family is also why it meant so much for us to have SJB (the parent company of Bollinger) become our majority shareholder in 2017. We already thought of them as family, having worked closely together for over 20 years. Both houses share the same unwavering focus on excellence; an old and prestigious family company themselves, they understand implicitly all that is involved in creating old Cognacs, the importance of passing down experience and savoir-faire from generation to generation.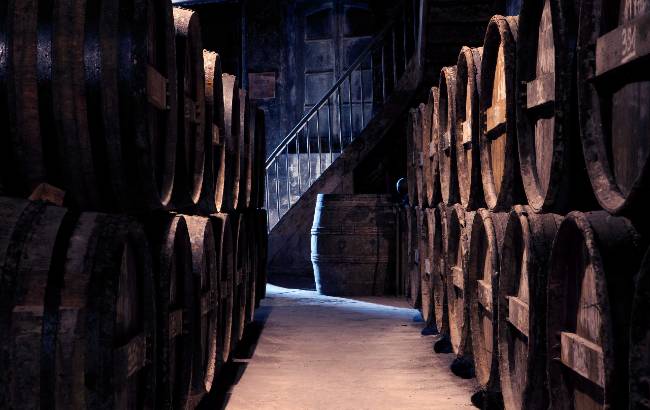 Delamain was the first house to release vintage Cognacs. How important are vintages or age statements today?
Delamain is one of only a handful of Cognac houses authorised to produce vintage Cognacs and vintage Cognacs are important for several reasons, particularly for a house such as ours that creates Cognacs only from the finest eaux-de-vie from the Grande Champagne and only at the XO-and-above level. At Delamain some of our finest offerings are very limited edition vintages, for example the Vintage 1980, just 380 bottles of which were offered as part of our new Pléiade range.
The fact that we produce small batch Cognacs is what differentiates us from other, larger houses. The certified age indication on a vintage Cognac serves as a marker, allowing drinkers to compare one Cognac with another, as well as proving the Cognac's age authenticity. From its first moments, a vintage Cognac has followed a different path, one closely monitored and regulated by the BNIC [Bureau National Interprofessionnel du Cognac].
What is so important and valuable about a vintage Cognac for a consumer is the certainty that wherever you happen to be in the world when you open your bottle, it will taste identical to another bottle from that vintage cask.
That said, remember that blending is an art form and critical to the creation of most Cognacs, including our own. Blending (in addition to oversight and ageing practices) inserts the hand of man into a process so influenced by nature and time. For most Cognacs, it is what advances nature and time into a human creation. So, whether a vintage or a blend across time, it is always important to aim for the highest expression of what nature and time can offer. In many cases that means a blend, but with a few rare eaux-de-vie, that involves a lighter touch and letting them reach a truly individual, singular expression. We are very fortunate to be able to do this and we are very excited that our Pléiade range will further allow us to extend our reach as to these Cognacs.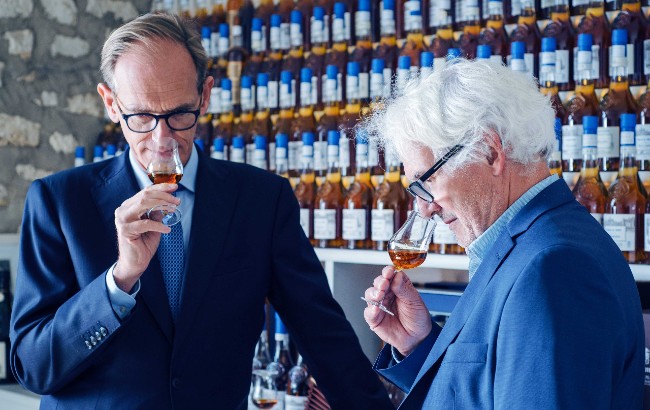 What makes Delamain stand out from other Cognac houses?
Our very long history which dates back to the arrival of James Delamain in 1759, and our role in the history of Cognac as a French patrimonial product. Also, the fact that we have survived as a family business despite the concentration of brands under the umbrella of just a few large spirits groups. This independence means that we have always been allowed to follow a path to excellence, even when that path has not been an easy one.
Pale & Dry XO is a wonderful example. A ground-breaking Cognac when created in 1920 by my great-grandfather and his brother, it defied tradition in its ethereal lightness and elegance, and was the result of an ethos centred on purity, excellence and a respect for nature. It not only set a standard for our house, it helped reinforce our own understanding of what we wanted to be; it is our liquid mission statement.
As remarkable, however, as the creation was, perhaps even more remarkable is that we have been able to maintain the Cognac (and ethos) unchanged, across a century. Today, as we celebrate those 100 years with the launch of Pale & Dry Centenaire, we are still free to follow our instincts, albeit along a demanding path set for us by those in whose footsteps we now walk. With products like Pale & Dry and now our Pléiade range, we have been able to be driven by principles and perhaps not as much by commercial necessity, which is why the Bollinger relationship has been so important. They understand that.
As a result, we are in a position to honestly and plainly say that every bottle of Delamain reflects the very best that nature, man and time working in unison has to offer. Each bottle of Delamain Cognac comes from the finest vines in Grande Champagne, is given the ageing time in old seasoned oak necessary to reach its full potential and benefits from experience and Cognac liquid wisdom passed down through nine generations.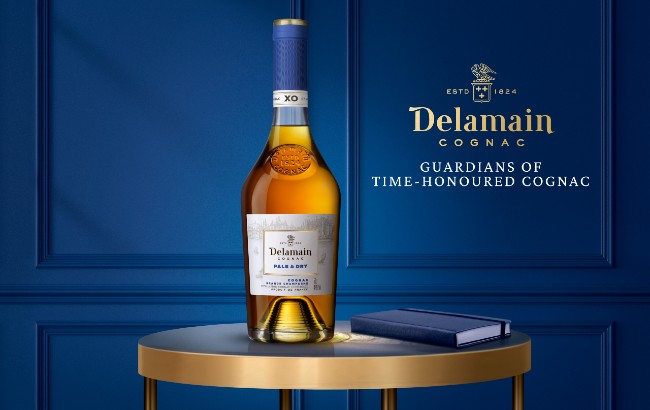 The Delamain Pléiade Cognac range launched earlier this year. What was the inspiration behind this range?
To the French, the word 'pléiade' usually refers to a collection of individually excellent literary works by different authors, individuality bound together by common artistic excellence. It is also the name of a collection of stars. That is what this range is; a group of finite, individual jewels, either vintages, single cask or single vineyard Cognacs that have been brought together within one range, and then grouped by age. In bringing them together, we are able to rationalise a number of small quantity, unique Cognacs in an understandable construct. Once a particular Cognac in the range is expired, we will bring in a comparable offering.
We describe and present the Cognacs in a uniform system, which will allow customers to build up a certain amount of comfort and familiarity with the range and enables us to build up a relationship of trust so that when we offer another unique Cognac our customers will trust the selection, even though it has never been offered before. The one difference of course is that these works, unlike literary ones, are finite, a fact that we believe will further drive interest as the range becomes more familiar.
Who are you targeting with the Pléiade range?
We are aiming these Cognacs at the adventurer/explorer, the spirits connoisseur, but also the person who wants something different, who will get as excited as we are about what a Grande Champagne eaux-de-vie can evolve into. Now for the first time we can bring to market these individual Cognacs, which due to their small scale may not have been viewed as commercially viable.
Will you be adding to the range in the future?
Yes, the whole point of the range is to keep adding to it. These are finite offerings, and by plan this will be a rolling range of very special offerings to our customers, a 'menu de l'année', perhaps not written in chalk on a menu, but certainly written in chalk on some very special casks. We will also be adding some early-landed Cognac casks, further vintages and single vineyard Cognacs. It is an opportunity to present whatever merits very special attention.
Do you operate your own vineyards or do you source some/all your eaux-de-vie from third-party producers?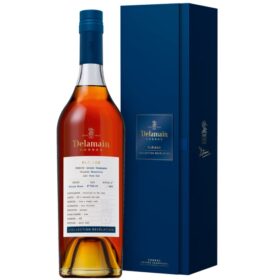 We are very happy to say that after many years we have returned to the direct cultivation of 20 hectares of Grande Champagne vines, the aptly named 'Bellevigne' vines. We also purchase young eaux-de-vie from local growers, working with the same families across generations. The reputation and history of Delamain as an ageing and blending specialist and 'gateway to the Grande Champagne' means that for 200 years we have continued to be offered exquisite quantities of older Grande Champagne Cognac by growers, who have complete confidence in our ability to craft and nurture their Cognac to their highest potential.
What can Cognac fans expect to see from Delamain in the coming year?
We will be offering bespoke, truly one-off visits, as a result of the extensive building renovations currently taking place. For the first time in two centuries, we will be throwing open the doors and unlocking hidden cupboards so that visitors can smell, breathe and taste our extraordinary history, before enjoying a tasting in the comfort of the perfect armchair or being introduced to wonderful food pairings. As regards our Cognacs, we will continue to bring more limited-edition offerings to the explorer /connoisseur – in short we will continue to reach for the stars.
What is exciting you most about the Cognac category right now?
The best and finest Cognacs are having a moment right now, and I believe it can be a long one. There has been an evolution in drinking habits, a shift towards responsible, high-end drinking. Drinkers are more and more sophisticated and there is an insistence on product authenticity and integrity. There is also a growing understanding of how Cognac can work with food and be further integrated into social experiences. Sharing our Cognacs with an ever-growing audience is extremely exciting, so for a house like Delamain this is a very exciting time.