How Sly Augustin turned adversity into success
By Owen Bellwood
After West End clubs ostracised him and his friends, Sly Augustin took matters into his own hands and now runs his own bar, the welcoming Trailer Happiness in London's Notting Hill.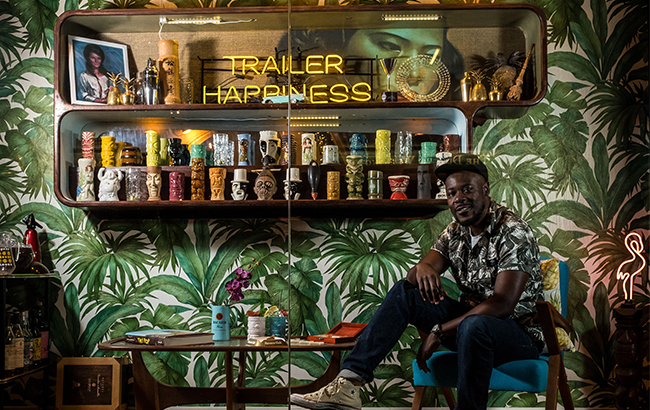 While today's bars and clubs may welcome people from all walks of life, it hasn't always been that way. For Trailer Happiness' managing director, Sly Augustin, his first foray into the on‐trade came about in an attempt to "hack" the system and ensure he and his Black friends could gain entry to clubs in London's West End.
"There was quite substantial segregation going on in the nightclub scene," says Augustin. "In many of these clubs, the only way to guarantee that you could get in was if [you were running your own] night. So that was the trick I found, to have a decent night out it was just to host it yourself and invite all your friends. Then you knew that you would all get in regardless of skin tone."
Augustin says that being a Black man was a barrier against entry in certain clubs. So, in response to this segregation, he would throw parties in high‐profile clubs such as Chinawhite. On his nights, Augustin could invite people he knew to DJ and was able to put his friends' names down on the guestlist, bypassing the strict entry rules enforced by some city‐centre venues.
"A lot of the reason why they would choose who they let into their club is all about how a certain clientele don't want to be around a certain kind of person," says Augustin. "That involves race, but it also involves class."
The segregation on show didn't appear to spread past the entry gate, as Augustin had no problem in finding venues to host his events because "the club needed people to promote it". The difficulty he faced was whether his invited guests would be turned away for not fitting with the desired aesthetic for the venue. "That could be a problem," he adds.
It wasn't the case that all Black people were turned away from London's West End, rather that any who wanted entry to this elite circle of venues may have had to alter their personalities to fit in with the "stereotypical" crowd there, toning down "any connection to their culture".
"There are certain people who will make sure that nothing overtly cultural or ethnic comes off them in conversations in their social circles," Augustin says. "That might just be the reality of their upbringing and how they grew up, but there was definitely a type of Black guy that was accepted and acceptable in those circles."
The aspects that made a person "acceptable" to select venues were all part of the "weird, political unspoken bullshit" that began to alienate Augustin from the West End. "That kind of grates on you and wears you down until you get to the point where you feel there's no point in this and there's no point supporting these kind of shenanigans. So that is how I found myself moving away from it," he says.
As a result, Augustin went in search of new venues in which to host events. While exploring smaller venues on the periphery of central London, he stumbled across Notting Hill's Trailer Happiness. "I just immediately felt the warmth," he says. "It's kind of almost like an innocence in the way the staff treat each other and interact with the customers, and I really liked that. So from that point forward I started doing a regular night at Trailer Happiness."
TAKING CHARGE
After hosting monthly events at the bar, and becoming a regular there, Augustin had the opportunity to take over the reins in 2012.
"I had been a consumer, a customer and friend of the bar's for a very long time before we got to the point of ownership," he says. "I wasn't expecting that to happen, but when it came it just kind of made sense to me. I feel like I understand the nature of Trailer Happiness and what Trailer Happiness is. That has always been the basis for my professional career in hospitality – I'm an expert on Trailer Happiness."
In the years that followed Augustin's acquisition, Trailer Happiness has continued its trajectory into the upper echelons of London's cocktail scene. Along the way it has garnered global recognition, including nominations at New Orleans cocktail festival Tales of the Cocktail for Best International High Volume Cocktail Bar at the annual Spirited Awards.
"I took over with very little knowledge, but, ultimately, the one thing that I was able to maintain was Trailer's vibe and spirit," says Augustin. "The changes that have been made have all been to encapsulate something about that business and distil and refine what Trailer Happiness is. So we are going to continue tweaking and evolving that without changing the fundamentals of what Trailer Happiness is, so that it remains what it always has been – a very inviting safe space for everybody that is over 21."
TOP TIKI DESTINATION
Now cemented in its position as one of London's top tiki destinations, Trailer Happiness, its bar team and Augustin are well regarded for their love of rum. While Augustine says he grew up appreciating Jamaican and St Lucian rums, thanks to his heritage, Trailer's association with the spirit wasn't there from the off.
Augustin says: "Obviously it's known for its tiki drinks now, but when it opened its menu wasn't particularly tropical at all, and there were lots of Brambles, Cosmos and Martinis on that first menu. It was the bartenders of the time who drove it towards being a showcase for tiki tropical drinks."
Since Trailer Happiness began mixing rum‐based tiki drinks for imbibers in west London, the reputation of rum as a staple cocktail ingredient has spread. The position of the molasses‐based spirit as "the next big thing" seems to always be up for debate, but Augustin doesn't expect rum to have a similar boom as gin.
"I don't like that statement that 'rum is the next big thing', but I understand why it's being said," he says. "I don't see rum as a trend that is just suddenly going to become like gin. Mostly because the problem with growing in the way that gin has grown is that you have to sacrifice a lot of the elements that make rum good. You can't really rush making a good rum."
Having steered the bar through one of the most challenging periods for the global on‐trade, Augustin now has grand plans for the future of Trailer Happiness that should prepare the bar for anything the coming years could throw at it.
"It's my intention to make sure that Trailer Happiness maximises its potential and really does the things that it should have been doing a while back," says Augustin. "I want to see some more exciting things happening with Trailer Happiness and rum. I want to connect more to the things that are important to Trailer, which is music and art. The Trailer Happiness brand is going to hammer home its presence outside its physical location."
While Augustin remains tight‐lipped on the details of what he has in store for Trailer Happiness, tiki fans can rest easy knowing the Notting Hill favourite is in safe hands for the years to come.