Diageo Instagram filter promotes responsible drinking
By Owen Bellwood
Johnnie Walker owner Diageo has created an augmented reality Instagram filter to encourage responsible drinking and raise money for charity.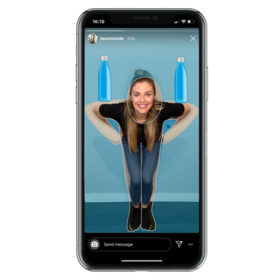 Diageo created The Balance Challenge augmented reality (AR) filter to remind drinkers about the importance of drinking in moderation and to encourage them to swap an alcoholic drink for water. Users are also encouraged to donate the cost of an alcoholic drink to international charity Water Aid through Instagram's donate sticker.
Cristina Diezhandino, Diageo chief marketing officer, said: "Drinking water as a spacer between drinks is one of the simplest ways people can moderate their alcohol intake and our new campaign is a fun and engaging way to bring this to life. We are determined to reach more than one billion people with messages of moderation by 2030.
"This campaign will also raise funds for Water Aid who we've been passionate supporters of for over a decade, helping to give over 100,000 people access to clean water, sanitation and hygiene."
The AR filter aims to demonstrate the importance of balance by allowing users to balance virtual water vessels on their bodies as they match a series of on-screen poses.
Users can participate in The Balance Challenge by clicking on the effects icon in the Instagram app and searching for 'The Balance Challenge'.
Marcus Missen, Water Aid director of communications and fundraising, said: "The Covid-19 pandemic has highlighted just how important it is that everyone has clean water and soap to help stop the spread of the disease, yet one in 10 people have no access to clean water and millions more lack decent toilets and good hygiene. Simply by doing your best balancing act and donating the cost of a drink to Water Aid, you can help get these essentials to communities that need them most, improving lives and livelihoods."
Last week, Diageo outlined its ambitions to achieve net zero carbon emissions and to increase diversity across its leadership teams.