The DB & SB Autumn Blind Tasting 2020 results
Prepare yourself a Hot Toddy and make yourself comfortable because we have teamed up with our sister magazine the drinks business to find out which tipples should be in your drinks cabinet this autumn. Here, we present the results from our inaugural competition.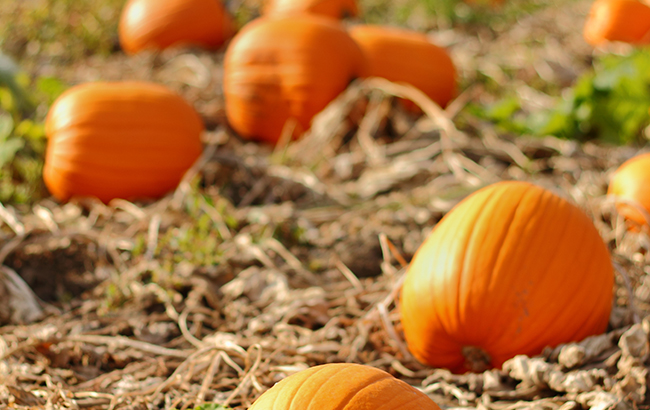 The UK was plunged into brisk mornings and shorter evenings last month, following a final wave of summer warmth. While those living in the southern hemisphere will be skipping into spring, those of us north of the equator are buckling down for chillier days, crunchy leaves and copious amounts of spiced coffee.
The turn of the seasons often marks a moment of change for people, and here at The Spirits Business, it signalled the start of a new collaborative tasting series with our sister publication, the drinks business. The DB & SB Autumn Blind Tasting was established to create a seasonal platform to celebrate the best brands in spirits, wine, beer and all the low‐ and no‐alcohol options in between.
While the wine and beer was left to the expertise of the db team, The Spirits Business focused on what it does best: spirits.
Joining me, Melita Kiely, editor of The Spirits Business, for the inaugural autumn tasting were Matt Chambers and Karen Taylor, practised spirits judges and founders of the Whisky for Everyone blog.
With our Skype link activated and the first flight poured, we settled into a full day's tasting from the comfort of our London homes. Wine Sorted again ensured each entry had been decanted into clear bottles so the tasting could be completed with total brand anonymity.
FAIR ASSESSMENT
Like The Global Masters Series, The Spirits Business wanted to guarantee that each entrant would have a fair assessment by ensuring the judges had no brand affiliations. As such, Taylor and I tackled the vodka and gin flights alone because of Chambers' ties to Eight Lands Organic Spirits.
The Vodka round produced a mix of classic styles and fruity flare, resulting in a smattering of Gold medals – five to be exact.
Calvados cask‐rested Squadron 303 Calvados Cask was one of the Gold recipients, found to be "really refreshing" on the palate with "red fruits and pink flowers" on the nose. Ukrainian vodka brand Nemiroff cleaned up with four Gold medals in this flight: Nemiroff The Inked Collection Burning Pear with flavours of "poached pears and caramel sweetness"; Nemiroff The Inked Collection Bold Orange with its "lovely bright, fresh orange peel, zesty nose"; "good Martini vodka" Nemiroff De Luxe Rested in Barrel with its "woody" palate; and Nemiroff De Luxe, enjoyed for its "creamy texture and classic style". Three Silver medals completed this flight.
"The standout of this flight for me was the Calvados‐aged vodka," said Taylor. "It had really interesting notes but also a nice boozy punch to it. Some of the flavours in this flight were really interesting."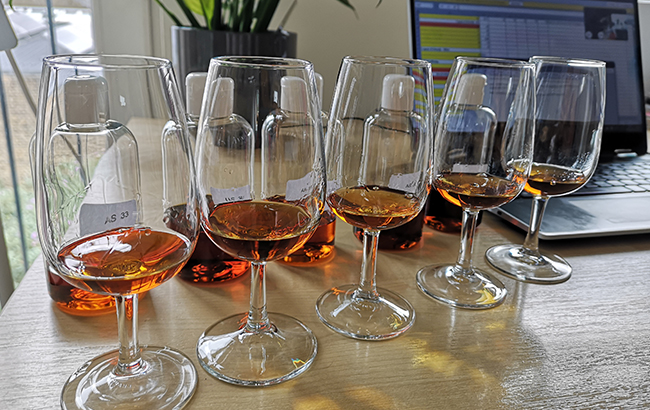 Taylor and I then turned our attention to a large flight of gin, which again presented a mix of classic styles and interesting twists. Elephant London Dry Gin and Gordon's Traveller's Edition were the first Master winners of the day.
Elephant London Dry Gin impressed with its "juniper and mandarin" nose, "zesty, pine" palate and "slight bitterness" on the finish, which "gave it more roundness". Gordon's Traveller's Edition delighted with its "juniper, cardamom" nose and "citrus" on the palate, that finished with a "spirity kick". "There are some cracking gins being produced at the moment," said Taylor with excitement, "and some really interesting experimentation with flavours going on."
Nine Gold‐worthy expressions were also awarded in this flight, including Gordon's Sicilian Lemon, which reminded the judges of "lemon sherbet sweets". The British Honey Company's English Heritage Elderflower & Rose Gin was also deemed to be deserving of a Gold, thanks to its "nice balance between the highly floral and gentler notes".
One gin in particular caught the judges' attention because of an especially interesting key botanical – tomato. Moletto Gin was praised for its clever mix of "underlying vegetal sweetness" combined with "earthiness and zesty vegetables". The round finished with six Silvers.
"The question with gin is when does it become too close to being a flavoured spirit or a liqueur," said Taylor. "I really liked the tomato gin because it was still true to being a gin but had that dominant character. You can add interesting flavours while keeping the gin character to enhance those flavour characteristics. The ones that did well were the ones where you could see there is that classic gin style but also interesting variability."
As Chambers joined us for Brandy – VSOP, a Gold medal was awarded to Calarasi Divin Special Collection VSOP. The brandy had notes of "sultanas, orange oil and caramel" on the palate. Two Silvers were also found in this heat.
"We had three very different styles of brandy," said Chambers. "One was very chocolatey, another was very fruity. You wouldn't be disappointed in this flight, but there's clearly a lot of experimentation going on so it would be hard to know what you'll get. But the quality was excellent."
As the competition ventured on to Brandy – XO, another Master was awarded to Sofia, a brandy from Moldova. The "highly fragrant, expressive" nose led to flavours of "dried orange, baking spices and toffee" on the palate. "This was by far the best one," enthused Chambers. "It was so expressive and had this vibrancy to it and a lot more depth with spices, dried fruits, other sweeter elements. It had real elegance to it."
The XO round also produced five Gold medallists, including Calarasi Divin Special Collection XO 10 Years Old, which had "big juiciness, bubble gum plus woodiness" on the palate. A Silver was also awarded.
Taylor and Chambers both felt they would have liked to have seen "a bit more" from this flight. "I would have liked to have seen much more variation of character going on," explained Taylor. "I just wanted a bigger step up in flavour with the higher age."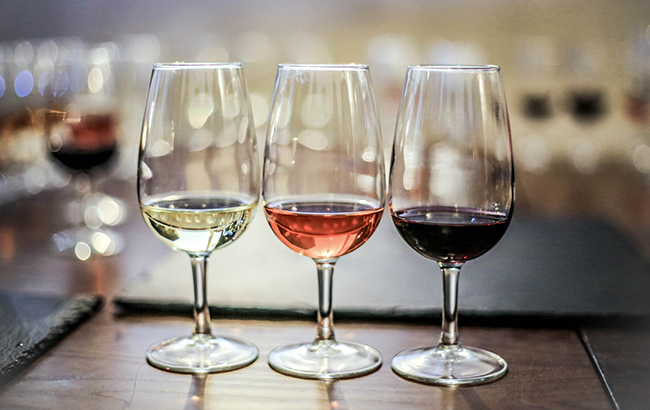 SOLID PRODUCTS
In the Brandy – Other round a Gold was handed to "fruity, nutty" Bardar Platinum 20 Years. "This was a solid, good product," said Chambers. "It had a lot going on, fruitiness, drying woody spices, caramel sweetness, and all balanced quite well." A Silver went to Martha's Family Crafted Brandy.
Spey Trutina Cask Strength collected a much‐deserving Gold medal in the Scotch Whisky segment, after delivering "chocolate and peaches" on the palate with "some maltiness and white pepper".
The Gold medals came thick and fast as we worked our way through the American Whiskey segment, starting with Filibuster Dual Cask Bourbon, which delivered "overripe tropical fruits" on the nose with "vanilla and loads of oak" on the palate". Keepr's Smoked Honey Bourbon also collected a Silver medal.
In the American Whiskey – Rye flight, Filibuster Dual Cask Rye also secured a Gold award for its "warming vanilla, toffee, caramel with just a hint of unexpected spice on the finish".
Filibuster Boondoggler also walked away with a Gold in the American Whiskey – Single Grain flight, thanks to its aromas of "chestnut peels, some fruitiness and baking spices" and "charged fruitiness on the finish".
Talking about the single grain expression, Chambers said: "I found this really interesting. It had a sweet, earthy quality and a peppery, or linseed note there. But then white chocolate."
When it came to dark rum, Fraternity Spirits scored two Gold medals with Ron Prohibido 15 and Ron Prohibido 12. The 15‐year‐old was said to have "rich jam and chocolate sauce" on the nose, leading to "fresh toasted nuts and apricot jam" on the palate. The 12‐ year‐old was found to have a "spicy nose" and a palate brimming with "caramel, brown sugar and hints of molasses and treacle".
The British Honey Company bolstered its medal haul in the spiced subcategory, with a Silver for its Keepr's Honey Spiced Rum. The judges found this expression to have aromas of "cinnamon and nutmeg" with "toffee, banana and more nutmeg" on the palate.
STRONG CONTENDERS
On to Tequila and the sector got off to a strong start. Fraternity Spirits added to its medal tally with "sweet, earthy" Corralejo Blanco, which was awarded Silver in the Tequila – Blanco round.
In the reposado flight, stablemate Corralejo Reposado Tequila also won Gold, thanks to its "fresh, zesty lime/lemon and green chilli spice" flavours. Corralejo Añejo Tequila picked up a Gold in the next flight, Tequila – Añejo. The judges liked this expression's "creamy, sweet" profile with "background spices and agave syrup".
In the top age group, Tequila – Extra Añejo, Fraternity Spirits' medal spree continued with two more Golds. The first was given to Corralejo 99000 Horas Añejo, which was "juicy and fruity with earthy agave, vanilla and cocoa". The second was given to Corralelo 1820 with "hints of fresh mint and green salad" on the nose and a "touch of woodiness, pepper and spice" when sipped.
With Tequila done and dusted, two Liqueurs were up for the taste test next. Coole Swan was awarded a Gold medal for its "nutty creaminess". Meanwhile, Lanique Spirit of Rose was found to be "rich, creamy and flavoursome, with earthy agave", which also secured it a Gold.
The tasting then explored some ready‐to‐drink options – a category that has experienced enormous growth in recent years. Three Silvers were awarded in the Pre‐Mixed flight to three "extremely quaffable" Georgian Bay Spirit Co products: Georgian Bay Raspberry Rhubarb Vodka Smash, Georgian Bay Vodka Smash, and Georgian Bay Gin Smash.
The judges noted they would have liked to have seen more natural flavours in this flight. "It's nice that there are brands creating a lighter style of drink, it's more refreshing, more summery," Taylor commented. "I just wanted the flavours to feel a bit more natural."
Georgian Bay Strawberry Smashed Soda also won a Silver medal in the Low‐Calorie Cocktail flight, again found to be "quite light, with nice strawberry flavour".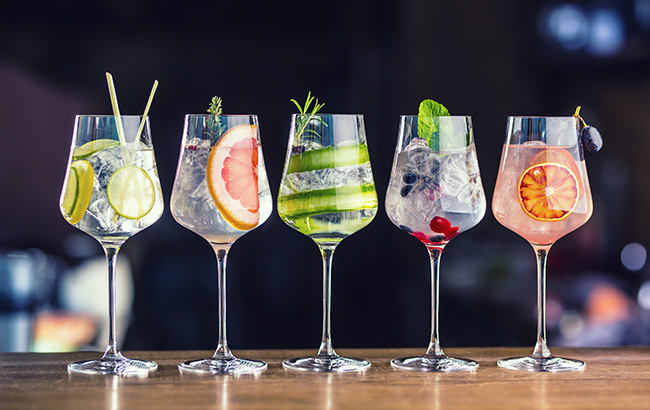 Next, the competition presented a flight of Hard Seltzers. Hard Seltzers are essentially alcoholic sparkling waters and have proven hugely popular in the US, where the category is now already larger by volume than the leading spirit category in the market, vodka. IWSR Drinks Market Analysis expects the hard seltzer category to triple in size in the US by 2023 to reach 281 million nine‐litre cases.
Safe to say, the category is positively booming – and it has been trickling out of the US to overseas markets this year, including the UK and Australia.
The British Honey Company took home three Silver medals in this round for its Keepr's Passionfruit & Elderflower Hard Seltzer, Keepr's Pomegranate & Rose Hard Seltzer, and Keepr's Pear & Ginger Hard Seltzer.
Chambers said: "All the flavours in this flight were so delicate. It's a new category and people are wanting to get products into this space. For me, the ones that had a more natural feel to the flavour did better."
TIME FOR TEA
From hard seltzers to hard tea, and the judges were hugely impressed with the next entrant from Georgian Bay Spirit Co – Georgian Bay Smashed Tea. "This tastes like 5% ABV iced tea; a really nice product," said Chambers. "It's got that late, slight bitterness you get with teas as well; really lovely."
Taylor was just as enamoured with this entry. "You could tell it had been made from decent tea, it tasted well brewed, and didn't feel at all synthetic," she commented.
Another category that has been booming lately is the low‐ and no‐alcohol sector. Among a trio of non‐alcoholic craft teas, East Forged Black Tea & Yuzu scooped a Gold medal, which for Taylor "smells exactly as I would expect", with lots of "sweet black tea and a hint of citrus". The two remaining 0% ABV teas were awarded Silver.
"Highly carbonated" Keepr's Ultra Low G&T Flavoured Drink was also awarded Silver in this flight for its "light style of lime" and "likeness to gin", while Everleaf was awarded a Silver in this round for its "nice level of bitter versus sweet versus fruit".
The judges agreed that the low‐ and no‐ABV category was a "mixed bag", delivering some "very nice products" and others that didn't quite hit the mark. "It feels like some brands are trying too hard to be something they're not, and putting in far too much extra flavour that's not needed and is not working. Sometimes less is more."
Many interesting points were raised throughout the tasting, and certain categories remained at the forefront of the judges' minds for all the right reasons. While Taylor was still excited by the hard tea, Chambers was impressed by the consistent standard seen among the brandies.
The judges also noted a need for more cohesion in the gin category. "Gin needs to figure exactly when it's a gin and when it's a liqueur," noted Taylor. "It needs clearer definitions.
"But today's tasting just shows there is such a wide assortment of products on the market, and so much innovation and creativity in the industry. There are some really exciting things being launched that consumers should look out for."
Click through to the following page to see the full results from the inaugural DB & SB Autumn Blind Tasting 2020. 
Vodka
| | | |
| --- | --- | --- |
| Company | Product | Medal |
| Squadron 303 Spirits | Squadron 303 Calvados Cask | Gold |
| Nemiroff | Nemiroff The Inked Collection Burning Pear | Gold |
| Nemiroff | Nemiroff The Inked Collection Bold Orange | Gold |
| Nemiroff | Nemiroff De Luxe Rested in Barrel | Gold |
| Nemiroff | Nemiroff De Luxe | Gold |
| Nemiroff | Nemiroff De Luxe Honey Pepper | Silver |
| Georgian Bay Spirit Co | Georgian Bay Vodka | Silver |
| Royal Mash Vodka | Royal Mash Vodka | Silver |
Gin
| | | |
| --- | --- | --- |
| Company | Product | Medal |
| Diageo | Gordon's Traveller's Edition | Master |
| Elephant Gin | Elephant London Dry Gin | Master |
| Wolftown Distillery | Wolftown Gin | Gold |
| The British Honey Company | English Heritage Elderflower & Rose Gin | Gold |
| Parkwall Taverns | McCaffrey Small Batch Irish Gin | Gold |
| Diageo | Gordon's Sicilian Lemon | Gold |
| Valentia Drinks | Valentia Gin | Gold |
| Georgian Bay Spirit Co | Georgian Bay Gin | Gold |
| Moletto Società Agricola | Moletto Gin | Gold |
| The Keep Spirits Company | Albino Flamingo London Dry Gin | Gold |
| Black Mountains Botanicals | 48% Distillers Cut | Gold |
| The British Honey Company | English Heritage St Clement's Gin | Silver |
| The British Honey Company | Keepr's British Elderberry, Mulberry & Honey Gin | Silver |
| The British Honey Company | Keepr's British Raspberry & Honey Gin | Silver |
| The British Honey Company | Dodd's Gin | Silver |
| Diageo | Gordon's London Dry Gin | Silver |
| Speyside Distillers | Byron's Gin Bird Cherry | Silver |
Brandy – VSOP
| | | |
| --- | --- | --- |
| Company | Product | Medal |
| Calarasi Divin | Calarasi Divin Special Collection VSOP | Gold |
| Château Vartely | Château Vartely VSOP | Silver |
| Château Vartely | Château Vartely Tribut | Silver |
Brandy – XO
| | | |
| --- | --- | --- |
| Company | Product | Medal |
| Barza Alba | Sofia | Master |
| Château Cojusna – MigdalP | Migdal XO – 7 Years Old | Gold |
| Château Cojusna – MigdalP | Migdal XO – 10 Years Old | Gold |
| Calarasi Divin | Calarasi Divin Special Collection XO 10 Years Old | Gold |
| Calarasi Divin | Calarasi Divin Special Collection XO 7 Years Old | Gold |
| Barza Alba | Prazdnicinii | Gold |
| Vinăria Bardar | Bardar Silver 7 Years Old | Silver |
Brandy – Other
| | | |
| --- | --- | --- |
| Company | Product | Medal |
| Vinăria Bardar | Bardar Platinum 20 Years | Gold |
| Gold Mountains Company | Martha's Family Crafted Brandy | Silver |
Scotch Whisky
| | | |
| --- | --- | --- |
| Company | Product | Medal |
| Speyside Distillers | Spey Trutina Cask Strength | Gold |
American Whiskey – Bourbon
| | | |
| --- | --- | --- |
| Company | Product | Medal |
| Filibuster | Filibuster Dual Cask Bourbon | Gold |
| The British Honey Company | Keepr's Smoked Honey Bourbon | Silver |
American Whiskey – Rye
| | | |
| --- | --- | --- |
| Company | Product | Medal |
| Filibuster | Filibuster Dual Cask Rye | Gold |
American Whiskey – Single Grain
| | | |
| --- | --- | --- |
| Company | Product | Medal |
| Filibuster | Filibuster Boondoggler | Gold |
Dark Rum
| | | |
| --- | --- | --- |
| Company | Product | Medal |
| Fraternity Spirits | Ron Prohibido 15 | Gold |
| Fraternity Spirits | Ron Prohibido 12 | Gold |
Spiced Rum
| | | |
| --- | --- | --- |
| Company | Product | Medal |
| The British Honey Company | Keepr's Honey Spiced Rum | Silver |
Tequila – Blanco
| | | |
| --- | --- | --- |
| Company | Product | Medal |
| Fraternity Spirits | Corralejo Blanco Tequila | Gold |
Tequila – Reposado
| | | |
| --- | --- | --- |
| Company | Product | Medal |
| Fraternity Spirits | Corralejo Reposado Tequila | Gold |
Tequila – Añejo
| | | |
| --- | --- | --- |
| Company | Product | Medal |
| Fraternity Spirits | Corralejo Añejo Tequila | Gold |
Tequila – Extra Añejo
| | | |
| --- | --- | --- |
| Company | Product | Medal |
| Fraternity Spirits | Corralejo 99000 Horas Añejo | Gold |
| Fraternity Spirits | Corralejo 1820 | Gold |
Liqueurs
| | | |
| --- | --- | --- |
| Company | Product | Medal |
| Coole Swan | Coole Swan | Gold |
| Lanique | Lanique Spirit of Rose | Gold |
Pre‐Mixed
| | | |
| --- | --- | --- |
| Company | Product | Medal |
| Georgian Bay Spirit Co | Georgian Bay Raspberry Rhubarb Vodka Smash | Silver |
| Georgian Bay Spirit Co | Georgian Bay Vodka Smash | Silver |
| Georgian Bay Spirit Co | Georgian Bay Gin Smash | Silver |
Low‐Calorie Cocktails
| | | |
| --- | --- | --- |
| Company | Product | Medal |
| Georgian Bay Spirit Co | Georgian Bay Strawberry Smashed Soda | Silver |
Hard Seltzers
| | | |
| --- | --- | --- |
| Company | Product | Medal |
| The British Honey Company | Keepr's Passionfruit & Elderflower Hard Seltzer | Silver |
| The British Honey Company | Keepr's Pomegranate & Rose Hard Seltzer | Silver |
| The British Honey Company | Keepr's Pear & Ginger Hard Seltzer | Silver |
Hard Tea
| | | |
| --- | --- | --- |
| Company | Product | Medal |
| Georgian Bay Spirit Co | Georgian Bay Smashed Tea | Master |
Low‐ and No‐Alcohol
| | | |
| --- | --- | --- |
| Company | Product | Medal |
| East Forged | East Forged Black Tea & Yuzu | Gold |
| The British Honey Company | Keepr's Ultra Low G&T Flavoured Drink | Silver |
| London Botanical Drinks | Everleaf | Silver |
| East Forged | East Forged Green Tea & Pitaya | Silver |
| East Forged | East Forged White Tea & Calamansi | Silver |