Irish Distillers debuts Redbreast Robin campaign
Pernod Ricard's Irish Distillers unit has created its largest marketing campaign to date for Redbreast whiskey, featuring an animated robin bird.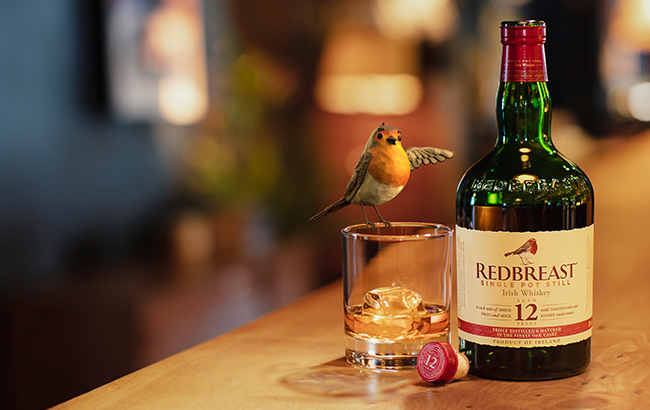 The new campaign puts the robin at the heart of its marketing efforts. Voiced by an Irish comedian, the Robin Redbreast character is a wooden bird with a "dry wit and Irish sense of humour" that stars in a number of new adverts for the whiskey brand. It is said to be an "engaging evolution" of the iconic character.
The campaign aims to increase brand awareness of Redbreast, which is the world's best-selling single pot still Irish whiskey.
"We know that the Redbreast audience is driven by curiosity and that they discover new brands that they can engage with online," said Laura Hanratty, head of prestige and speciality whiskeys, Irish Distillers.
"As we seek to widen the audience for the brand, it is a natural next step to introduce a modern day digital evolution of our revered robin that encapsulates the essence of the brand and the people who make it."
The Robin Redbreast is said to be engrained in the brand's history, on its bottle and name. First referenced in 1912, 'Redbreast' was a nickname given to the whiskey by the chairman of Dublin whiskey bonders Gilbeys, who was an avid birdwatcher. The company said the robin symbol has been synonymous with the brand ever since.
The campaign will be leveraged in the brand's key markets of Ireland, the UK and Germany, as well as "significant marketing spend" in the US. The campaign's launch was initially delayed by the Covid-19 pandemic.
Hanratty said the new campaign is the "largest ever developed for Redbreast in terms of production and media".
The CGI character will feature in a series of digital creatives for the brand, with a number of ads shot on location at Midleton Distillery in Cork, home to Irish Distillers' portfolio.
Robin Redbreast has been created by The Public House with CGI development produced by Jelly London. The campaign will be rolled out across global marketing channels from 1 October.
'Ambitious growth plans'
In Pernod Ricard's fiscal 2020 results, Redbreast's sales grew by 14%, led by the US and Ireland.
The company has "ambitious growth plans" for Redbreast, with a three-year plan and a 20- and 30-year plan, Hanratty added. It is the second priority for the firm after Jameson, the world's biggest-selling Irish whiskey.
In addition, Redbreast has announced a new global partnership with bird conservation charity, Bird Life International, to support the organisation on its mission to conserve birds. As well as raising funds for Bird Life, the partnership will include the launch of Redbreast's first limited edition value added pack next month.
Check out the video below to find out more about Robin Redbreast.